---
Are looking to become a real estate agent and looking for best online real estate schools in Missouri? This guide will show you the top 8 in the state.
Taking the leap to become a real estate agent in Missouri is a wise first step. This can lead to a successful career in various areas of real estate. Whether you want to help home buyers find their perfect home or become an investor yourself, you will need to become a real estate agent first.
Getting started can be overwhelming especially when looking at all of the real estate schools in Missouri.
Choosing from the top online real estate schools in Missouri can be difficult because they are all great schools. But not every school is a good fit for every student. We put together a list of the best online real estate schools in Missouri to help you find the perfect fit for you and your lifestyle.
---
1. Colibri Real Estate: Best Online Real Estate School In Missouri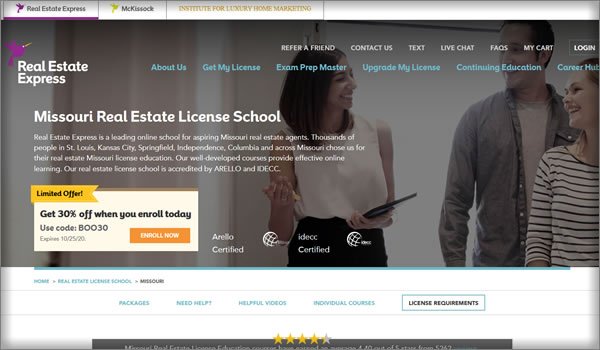 As one of the top online real estate schools in Missouri, Colibri Real Estate sets the bar high. Students can expect a high level of education. This contributes to the success of the school and the students.
Course Features
They do offer several different learning packages to choose from. This can be overwhelming for Missouri students. Colibri Real Estate understands this and puts together videos that walk students through different packages. One of these videos is below:
They want you to make the right choice for you and your needs. Instead of choosing a package, you don't need one that won't be as helpful, Colibri Real Estate wants students to be comfortable and fully satisfied.
Of the four packages that are offered by Colibri Real Estate, three of them are $300 or less. The top package is still under $400.
These options are very affordable and offer something that can fit into any budget. Each of the packages builds upon the others; check out this quick comparison to learn more!
The first package only has the course, the books, and instructor support. For those that are motivated self-starters, this is a great package. But for those that need a little more guidance, the other three can offer help.
The second package adds the don't pass don't pay guarantee, exam prep, and the basic prep for success membership. The don't pass don't pay guarantee would make this package a worthy choice.
But if you still need more than you can go to the next package, which is the most popular for Missouri students. The most notable addition to this package is the instructor Q&A.
None of the packages include the post-licensing courses so if you choose this school you will need to keep that in mind.
Pros and Cons
Pro – Instructor Feedback: Having access to the instructors to ask them questions is invaluable when it comes to launching your real estate career well. Fortunately, Colibri Real Estate offers this with their online courses.
Pro – Satisfied Students: Students tend to be very satisfied with Colibri Real Estate and their Missouri licensing program. The website shows over 5,000 reviews with an overwhelming majority being positive.
Pro – Guaranteed to Pass: Colibri Real Estate guarantees that you will earn a passing grade on your real estate exam if you complete their course successfully. If not, you'll receive a full refund!
Bottom Line
Colibri Real Estate should be your first choice above all others. They have a ton of excellent resources to ensure you can starting working as a Missouri real estate agent as soon as you're ready.
Colibri Real Estate: $205 Off Ultimate Learning Course
34 uses today
Last Used: 2 days
Colibri Real Estate: $182 Off Ultimate Learning Course
35 uses today
Last Used: 6 days
---
2. The CE Shop: Online Real Estate School In Missouri
The Missouri Real Estate Licensing course through The CE Shop is one of the many state courses this national chain has to offer. Even though they have a hand in several different states helping prospective agents reach their goals, they are not stretched too thin.
Course Features
They have features available that are not often found in other online real estate schools in Missouri. The most notable feature is their free trial. Any student that is interested in The Missouri Real Estate Licensing course through The CE Shop is able to sign up for a free trial.
They also have a video demo as well which you can see below:
This online school has a few different packages they offer to the Missouri students. Ranging in price from $155 to $245, every option is affordable.
Which package students choose will be determined by what they need from the course and how much of a self-starter they are.
With the basic package, the students have to be more motivated. There aren't as many features as it is basically just the course.
As the packages move toward the more expensive range they add exam prep, business building, and the post-licensing courses that will be needed in the first year.
The highest package is the better value when it comes to cost vs features.
Pros and Cons
Pro – Always Up-To-Date: The CE Shop is one of the best online real estate schools in Missouri because they keep up with the industry trends. If the slightest thing changes, they update all their courses.
Pro – Try Before You Buy: The free trial helps make the decision easier for Missouri students. Seeing the platform and the way the course is laid out puts students at ease with the program.
Con – Instructor: Although The CE Shop can proctor your exam, they don't offer any personal instruction with a teacher or tutor. If that's what you're looking for, consider Colibri Real Estate instead.
Bottom Line
The CE Shop is very transparent about its online real estate courses in Missouri. This adds to the overall satisfaction rate that is enjoyed by this school, and it makes for a great resource if you want to pass quickly!
Enjoy $117 Off on The CE Shop Real Estate
39 uses today
Last Used: 6 days
Save 40% on The CE Shop Real Estate Courses
34 uses today
Last Used: 9 hours
Get 30% on The CE Shop Continuing Education Course
33 uses today
Last Used: 5 days
30% Off on The CE Shop Pre-Licensing Education
41 uses today
Last Used: 3 days
---
3. Prep Agent: Online Real Estate Classes in Missouri

This course will act like your personal agent, helping you understand the necessary vocabulary and best practices when taking your real estate exam and in your subsequent career. It's also a great way to get some quick studying in before your exam, especially if you only have a month (or even a week) to prepare.
Course Features
State and national study materials
Interactive flashcards
100+ audio and video lessons
100+ page real estate eBook
Pros and Cons
Pro – Group Classes: Every week PrepAgent lets you sign up for live group learning webinars. This lets you interact with other students and learn from your peers and teachers.
Pro – Bonus Content: Included with this course are a set of flashcards, e-books, worksheets, and study guides.
Con – Limited Support Options: Currently you can only contact instructors for help via email. PrepAgent could benefit from adding live chats or office hours as support options in the future.
Bottom Line
Prep Agent's content is engaging in a way other courses struggle to match. I highly recommend trying this course out.
---
4. CompuCram: Missouri Real Estate License Course Review

This computer cram course mostly focuses on improving your vocabulary, so you may prefer one of our top courses that have more substantial materials. Still, this is an excellent choice if you have the discipline for self-study.
Course Features
Web-based platform compatible with all devices
Pre-assessment generates a custom study schedule
Exam readiness score tells you when to take the exam
Vocabulary building questions
Six month access period
Pros and Cons
Pro – Integrated Learning: Each aspect of this course feeds into another one to reinforce everything you've learned.
Pro – Regular Updates: CompuCram frequently updates their course to match the real estate exam. Doing so ensures that their students only work with the most relevant information.
Con – No Audio or Visual Content: CompuCram currently doesn't include any audio or video lectures.
Bottom Line
I recommend CompuCram for anyone who needs a light study course to brush up on their real estate knowledge.
---
5. Mbition: Missouri Real Estate Schools Online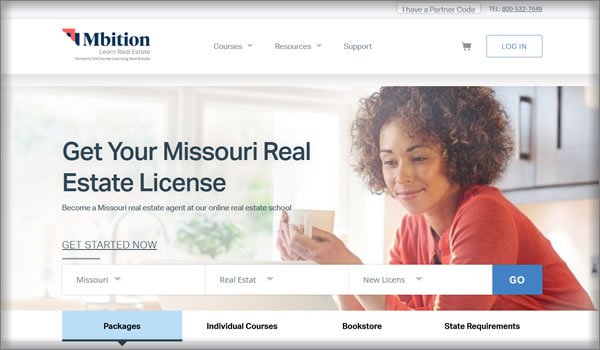 Mbition, another online national chain, is one of the best online real estate schools in Missouri. This would be a great choice for real estate classes in Missouri.
Not only do they make sure all of their course material is up to date, but they have 40 years of experience under their belt.
They know what students need to be successful in the long run of their careers and they teach those things. Mbition is a school that has a high success and passing rate. Also, like all of the schools on our list, is nationally accredited.
When looking for online real estate classes in Missouri, Mbition should be on the list of schools to check out. They offer three different packages and all of them are affordable.
Two of the packages are under $300 and one of them is under $200 so Mbition is not a cost-prohibitive school.
Since real estate practice requires some business math, Mbition offers a course called Math Masters with every package. On top of the pre-licensing course, you will also get some extra math help that will be beneficial in the real world.
Every package also comes with instructor support and technical support. They know students take these classes during all times of the day and night. That is why they make themselves available to help.
When you get into the higher packages they add extras such as exam prep. This is a great help for those that struggle with testing. If you think you might have an issue passing the test the first time it would be wise to get the top package.
This package includes even more exam prep help as well as a pass the first time guarantee. Anytime there is a passing guarantee it is a great choice of package. This shows the confidence the school has in its ability to prepare students.
Mbition also has resources available for purchase. The bookstore has books that can help you along the way if you are interested. They also offer broker licensing programs and continuing education.
---
6. Kaplan Real Estate Education: Missouri Real Estate Course Online
Few online real estate classes in Missouri rival what Kaplan has to offer. This school is the name in exam prep. Most people have heard of Kaplan because its reputation precedes it.
Kaplan leads the pack when it comes to real estate schools in Missouri. Students are highly satisfied and Kaplan has a high passing rate. However, they are one of the more expensive real estate schools in Missouri.
They do offer a few choices when it comes to package deals. If you want to split up the cost you can take the 48-hour course separately from the 24-hour course. This could be easier on the immediate budget.
To just take the 48-hour Missouri licensing course Kaplan charges $229 while the 24-hour course, which is also required, is $149. Both of these have to be taken before you can sit for your state licensing exam.
If you are more interested in a package deal, Kaplan offers that as well. The basic package with exam prep is $329. This is a better value for the student than taking the courses separately.
The addition of exam prep for Missouri students is valuable and will help you pass the first time.
The top package is the career launcher package. It is the highest-priced package but comes with more than just real estate classes in Missouri. This package gets you ready for your career.
When it comes to getting ready to become a real estate agent, real-world skills matter. Kaplan understands this as one of the top real estate schools in Missouri.
That is why the top package they offer has a real estate accelerator course. This is eight hours of real-world training. The career launcher package also has a live national study group to give students an edge.
Any package choice you make with Kaplan will have you prepared not only for the exams but also for your career as a real estate agent.
---
7. 1st Choice Real Estate School in Missouri
1st Choice Real Estate School is a Missouri real estate school that only serves that state. This is not a national chain. However, like all of the other schools on this list, it is accredited.
This real estate school focuses fully on the state of Missouri which means that all of the course materials are updated often. They are kept accurate for optimal student learning.
There are two packages available to Missouri students through 1st Choice Real Estate School. The most popular package is called "The Complete Package." This has everything students need to become a licensed real estate agent.
It has the complete state and national course material that is required as well as some extras. The extras include exam prep materials for the state, national, and math exam components. 1st Choice wants to make sure students are adequately prepared to pass the first time.
This package is more expensive than some of the other schools on our list. For the complete package, students can expect to pay $358 for the course. They do offer another package for students as well.
The works package is a step above the complete package. It includes all of the things that are included in the complete package with the addition of two textbooks.
These books are physical books and will arrive at your home via UPS. This package is more expensive but is still under $500. Students that choose this package will pay $460.
If a completely on-demand class is not what you are looking for then you can choose to take a webinar course. 48 hours of the course are taught by live webinar while the other portions are still online as the other packages are.
These are more expensive and you will be required to attend the live classes. The webinar courses are $525 for students.
---
8. Career Education Systems: Real Estate Classes in Missouri
Career Education Systems is a real estate school that serves other states as well as Missouri. They also don't only offer online courses. They have in-person options as well.
There are two options for Missouri residents depending on what they are pursuing in the real estate world. If they are just getting their license for the first time, they have the online sales-person course for Missouri residents.
They also have a brokerage licensing course for those ready to take their career to the next level. Either one of these courses will be executed well by Career Education Systems.
Their courses are set up differently from the others on this list. This is an audio and visual presentation course. The platform is different but is great for different types of learners. There is a final quiz that students have to take.
Once the quiz is done the certificate can be printed from home so the students can move on to the next licensing requirements quickly.
This is a user-friendly and straightforward real estate school. The course is also affordable at less than $300.
---
Pre-Requirements For Real Estate Licensing in Missouri
Missouri has only one prerequisite that will need to be met before registering for pre-licensing courses. All prospective real estate agents must be 18 years of age or older to qualify.
If you meet that requirement then you can continue on to the requirements for real estate licensing in Missouri.
---
Requirements for Real Estate Licensing in Missouri
This state requires 72 hours of pre-licensing coursework to be completed through one of the accredited real estate schools in Missouri.
Once you have completed the course you will need to pass the final exam to be eligible for the state licensing exam. The next step is to take and pass the state exam.
If you pass you will be required to have a background check and fingerprinting. If you pass those then you can apply for your license and begin your new career.