---
Career Education Systems is one of many real estate schools serving the Midwest, particularly Missouri and Kansas. When searching for a pre-licensing school, CES is one that you may come across as a top choice. In this Career Education Systems review, we've rounded up everything you need to know about this real estate school, including if it's the right choice for you to get your pre-licensing education.
---
UPDATED: December 2023
Our Overall Rating

---
Overview Of Career Education Systems
Career Education Systems is committed to preparing students so that they are more than great agents but also dynamic and adaptable. The school operates on the assumption that things are constantly changing in the real estate world, and any agent should be able to work with the shifts, continuing to offer quality services. This is especially true as technology becomes more popular and agents must work harder to keep up with demand.
CES was founded by Mark Barker in the early 1980s. Mark Barker brings a unique set of skills to the table as a leader in adult education. The school claims to be number one in the Midwest, leading both Missouri and Kansas real estate students to success for over 35 years.
More on Mark Barker
Mark Barker is a bit of a trailblazer in the real estate industry and brings a unique set of skills to the table for students to soak up. He currently serves as the school's president, overseeing operations of the biggest real estate school between Chicago and Denver.
Mark had his start after becoming licensed and when he attended an REEA conference. However, his interest grew from a young age due to his father owning his own real estate company. From there, Mark created the Career Education Systems school and funneled his knowledge into students hoping to learn across the Midwest. With an early start, Mark learned how to hone his early-on skills in order to harness them and empower a new wave of real estate professionals.
Today, he still operates as a broker in both Kansas and Missouri. He earned a master's degree in adult education and has earned the highly coveted Distinguished Real Estate Instructor designation. He is one of 110 instructors in the world to have earned this distinction from the Real Estate Educators Association.
Mark also served as the International President of the Real Estate Educators Association at one point. Paired with his teaching of GRI coursework in over 40 states, Mark Barker is an excellent leader for Career Education Systems.
School's Mission Statement
Since being founded in 1980, the school has educated over 50,000 students, helping to lead each and everyone toward a successful career in real estate. This is according to their dedication to help students recognize their true potential as real estate professionals.
When looking at the school's mission statement, it is easy to see their high standards and drive reflected in their operations. In essence, Career Education System's mission statement is to provide students with the best real estate education on the market. To do so, the team at this real estate school is committed to providing the best possible service while continuing to grow and progress in their teachings.
Secondary goals include providing quality education at an affordable price to keep a strong team of faculty and staff dedicated to progressing students' learning.
Other Staff
While we go too deeply into the other instructors or staff at this real estate school, it's important to note that it is not a one-man operation like it once was long ago. Mark Barker has grown his business to the point of operating in two states and with a wide-ranging team specializing in different aspects.
The Kansas City Ward Parkway Location, the flagship location, includes instructors:
Conrad Miller
Richard Wright
Mark Barker
Tracy Coughlin
Brad Barker
Dave Duncan
Larry McMillin
Danielle Biggins
and administrative staff:
Peggy Sitler
Michelle Argudo
Kristin Scott
Rebekah Maher
The Northland, Wichita, and St. Louis locations also have different staff:
Northland Kansas City Instructors:
Jay Swearingen
Mark Barker
Richard Wright
Brad Barker
Wichita, Kansas Instructors:
Mark Barker
Heather Holmes
Donnis Crane
St. Louis, Missouri Instructors:
Bob Busboom
Mark Barker
Sally Peyton
---
In-Depth Look At Career Education Systems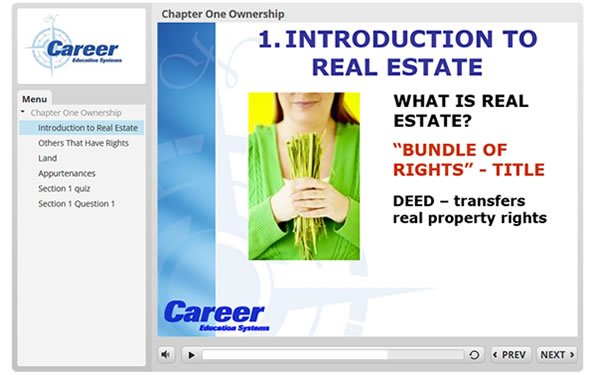 This school offers plenty of flexible options for its real estate learning. Though the school offers courses for both Kansas and Missouri in pre-licensing, broker licenses, and continuing education, we will focus on the school's pre-licensing coursework, which can be completed online or in a classroom setting. For both options, there is limited information on what is actually included with the course.
In-Person Learning
Classroom courses can be further divided between its two locations, Kansas City, St. Louis, and Wichita. These courses consist of all necessary information as outlined by state requirements.
In Kansas, students must complete a 30-hour pre-licensing course prior to taking the state exam. Included in this course are simple math techniques and topics related to law, rules, and regulations in the state. Once students have passed their state exam, they must then take a 30-hour practice course. This practice course covers the following issues and provides, well, practice for dealing with them:
writing contracts
taking a listing
working with buyers and agency issues
comprehensive financing
comparative market analysis
home styles and building terms
From there, students may apply for their license with the state. The schedule for these courses completely varies, though they remain flexible in nature. With the option of evening, day, or morning classes, people of all backgrounds have access to a live study option. In-person courses at all locations follow this general format and include relevant Missouri or Kansas material. However, prices, as you will see below, do vary depending on the state, despite the curriculum remaining the same. The primary reason for this is because Missouri requires 48 hours for its first course part and 24 for its second.
Online Learning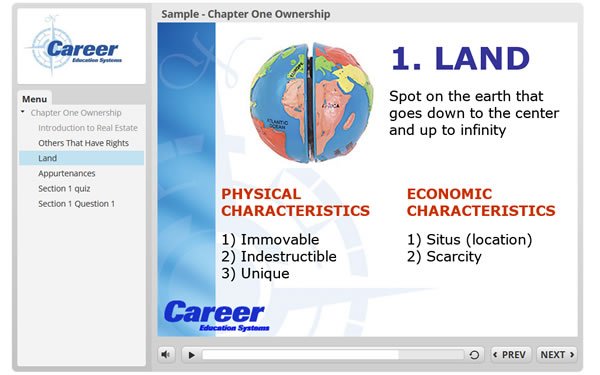 The online learning option can be completed entirely remotely with the same benefits and high level of quality as in-person coursework. Luckily, students are able to study across devices and operating windows. More specifically, students can participate on a desktop or laptop and, for the best experience, should use Internet Explorer or Firefox to complete their work.
Diving deeper into the online layout, students will be learning via audio and visual presentation. In total, the course consists of six chapters, with content divided equally among them. In each chapter, students will be able to review what they've completed before moving forward with the next.
Students are able to login and exit as they wish their progress to be saved throughout. This means that students can study on the go, in between work breaks, early morning, weekends, and so on. The student will just need a login username and password to access their progress, which allows multi-device usage as well.
Also organized into online learning is a final quiz at the end of your coursework. The final quiz has 50 questions, and students must receive at least a 75% in order to pass. If a student is unable to pass at first, they will be given an alternative quiz. From there, students who pass can print their certificates and move on to the state licensing exam!
If a student is on the fence about whether this school or learning style is best for them, they can access a course demo/sample. This sample allows students to navigate one chapter, including the course content, the quiz, and more.
---
Career Education Systems Pricing
Course pricing will depend on the course mode a student selects and where it is based. At the time of writing this review, these are the prices:
Missouri Salesperson pre-exam (online) – $295
Kansas Salesperson pre-exam (online) – $195
Practice Course – Wichita, Kansas City, St. Louis (online) – $200
Kansas or Missouri State Law – $55
Kansas City In-Person Courses – $250
Wichita In-Person Courses – $250
St. Louis In-Person Courses – $345
---
Pros And Cons Of Using Career Education Systems
Listed below are the pros and cons of Career Education Systems.
Pros
Pass Guarantee
If a student does not pass their state licensing exam on the first go, they are eligible to re-access the course and sit back through it for six months for free. While other schools offer refunds or retake vouchers, this is a fair trade as well.
Course Samples
This real estate school offers a sample for online learners to check out before purchasing. While it's difficult to translate this benefit to in-person learning, students can at the very least understand the course layout ahead of time.
Excellent Reviews
Nothing speaks quite as loudly as great customer reviews do. They can elevate a school's promises and outlined curriculum, adding real-world insight into the program. In the case of this real estate school, they receive excellent marks in multiple aspects, from their instructors to their flexibility.
Course Flexibility
Speaking of flexibility, this school offers learning in multiple modes, making it accessible to a wide variety of students. Regardless of whether someone wants to study online or in person, there is an option here. Furthermore, if a student wishing to attend in-person has a family or another job, different time slots make learning on their schedule possible.
Affordability
Overall, the prices at this real estate school are very affordable. Compared to market value and the high praise that CES has received, the price ranges are inclusive. Additionally, students can choose the program level that works for them within their budget.
Well-Qualified Local Instructors
Students have direct access to excellent instructors when taking the in-person training and the occasional access for online course enrollees. All instructors are well-versed in the local Midwest markets as licensed real estate professionals who have thrived. In enrolling at this school, students are able to absorb extra knowledge and experiences that these instructors can provide.
Prorated Refunds
This may be a positive or a negative, depending on the time of cancellation and each unique case. For students who cancel after class has begun, they are only eligible for a refund based on the prorated amount factoring in the time that they did attend class. So, if a student attends one week of classes, which is 10% of the entire course run, then they will only be refunded a maximum of 90% of their original payment.
Some students may disagree with this setup, especially because other schools use an all-or-nothing model, but for others, it is a fair compromise when deciding later on that the course does not work for them.
Long-Standing History
This school has been in operation for over 35 years, which means that they have mastered a system that works for them. Students won't have to suffer through a new school with growing pains but will instead have easy access to well-established professionals willing and able to assist students.
Cons
Limited Contact Options
There are only a couple of ways to reach school officials on the website, and they include a contact box and email. This isn't ideal if there is a pressing issue that requires immediate assistance, especially if you're taking the online class and often studying outside of normal business hours.
100% Attendance
Students are required to attend 100% of their course sessions in order to receive a certificate of completion. This means if one session is missed for whatever reason, a student will need to attend another one to make up for the time lost. Most other programs allow for a slight grace period, such as 5-10% absence, but this school requires 100%.
No Career Assistance
Many schools, specifically ones that operate on a smaller scale, will provide their students with career placement assistance. CES does not offer any sort of support, and they leave it up to students to find placement after being licensed. This doesn't necessarily take away from the school's merit, but it does not add to it.
Conclusion And Verdict
To top off this Career Education Systems review, we are going to take a look at alumni's reviews of the school. This process is beneficial in order to give a more well-rounded idea of what the school has to offer and individual experiences. This real estate school has a handful of reviews across multiple sites like Facebook, Indeed, and Yelp for us to take a look at.
Reviews on Facebook total 4.8 out of 5 stars, and alumni offer high praises for the instructors and thoroughness of the school. This praise is no surprise given the robust backgrounds of the instructors, specifically the school's president. Given that the school also offers continuing education courses, some of the reviews mixed in are centered around this option, but most reviews translate across the school unanimously.
Another reviewer on Facebook praised the instructor's ability to make the class comfortable and light-hearted while also remaining informative. Across all reviews, the consensus seemed to be that in-person courses were excellent.
When we look at the school's reviews on Indeed, reviewers also rate the school very highly, with an average of 4.7 out of 5 stars. Across all reviews, students think highly of the school's teachers, positive environment, good career preparation, and affordability.
More specifically, students have said that instructors were very knowledgeable when presenting information. Another user loved the school's flexibility when it came to in-person coursework. The ability to attend classes during the morning, day, or evening, meant there was greater accessibility. Complaints included the wish for more branch or satellite offices across the two states so that students who want to attend in-person without long commutes are able to.
At the time of writing this review, the school is not BBB certified. Without accreditation from the Better Business Bureau, the school's business practices and ethics are not enforced by the company.
Final Verdict
Given all of the information we've collected while compiling this Career Education Systems review and combing through the website's offerings and student reviews collected over the years, Career Education Systems may be a great option for pre-licensing coursework. With experienced instructors in a localized market, the unique insight that this school can provide for Missouri and Kansas students is a plus.
Even though this school may be a good choice for some, if you're looking for the best online real estate school in Missouri or the best real estate schools in Kansas,  we would suggest using Colibri Real Estate or The CE Shop. Both are top choices and offer much more for the money.
---
---