---
With so many real estate school options, it's crucial you take time to consider which is best for you thoroughly before fully committing. Important factors to consider are online adaptability, versatility, cost, and curriculum in order to make a well-rounded decision. Today, in this in-depth Real Estate U review, we will be discussing Real Estate U, a virtual real estate schooling system that serves many border states and continues to expand since its creation just eight years ago. We know how overwhelming it can be to choose an online real estate school. In an effort to help narrow down your choices, we will be discussing Real Estate U's origins, offerings, and pros and cons in this guide.
---
UPDATED: October 2023
Our Overall Rating

---
Overview Of Real Estate U
Real Estate U is a school available across the country, though it originated in New York back in 2013. Andrew Anic and Ciprian Morariu initially created the school as a series of courses on real estate investing. Those courses included How to Buy Your First Multi-Family Property and Self Directed IRAs, which would later become a full-fledged real estate school. Or, what is now being marketed as Real Estate U. Real Estate U did not become a licensing school until the following year in 2014 after being accredited by ARELLO and the New York State Department of Real Estate. And, of course, every subsequent state's approval as more licensing courses was added across the country.
Though the school offers various options for education, ranging from post-licensing courses and continuing education, the most notable is the pre-licensing coursework. Providing courses for students of all backgrounds in every state, Real Estate U is a viable option for your pre-licensing coursework. With nearly eight years in service, Real Estate U is one of the younger online real estate schools on the market. However, it has quickly made a name for itself since its inception.
Currently, the school serves the following states, namely heavily populated states with notoriously strong economies and port cities: Washington, California, Texas, Florida, Georgia, Michigan, Missouri, New York, North Carolina, Pennsylvania, South Carolina, Tennessee, and Virginia. At this time, 60,965 are currently taking a course with Real Estate U, but overall, 100,000 students have completed the coursework successfully, later going on to become agents in their respective states. Their primary mission is to provide accessible and affordable real estate coursework to anyone interested in pursuing a professional career in real estate.
In-Depth Look at Real Estate U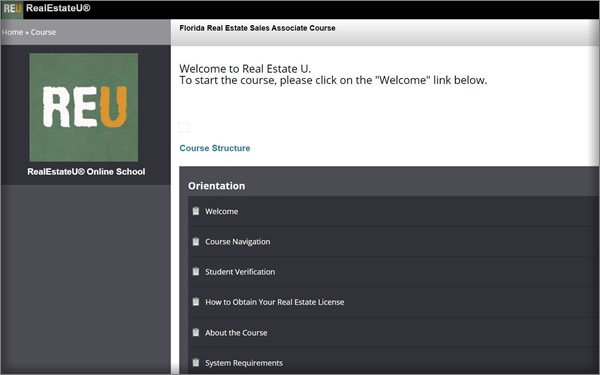 Real Estate U offers quality education while maintaining simplicity and cost-effectiveness when it comes to the actual coursework. Depending on the state you need to become licensed in, Real Estate U's coursework is adapted to the requirements. For example, in California, your coursework will consist of the three 45-hour courses as required by the state, while the New York portion consists of the one 75-hour licensing course as required by New York state.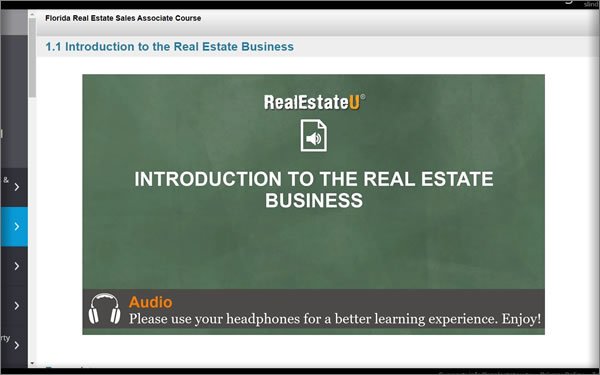 When opting for Real Estate U, you will benefit from a completely virtual experience where you will get to study on your own time and navigate the course as needed. In general, you can also expect your pre-licensing coursework to consist of on-demand lessons, video tutorials ranging in length, step-by-step directions, helpful graphics, memory cues, access to qualified instructors, and more, all designed to give you a well-rounded learning experience. Additionally, you will be quizzed and provided real-life scenarios to work through as you navigate the coursework.
These can come in the form of a fill-in-the-blank-follow-along, multiple-choice question set, sample questions, practice exams, and the obligatory midterm and final before going for the actual state salesperson exam. These tools help guide your studies and identify any spots you may be struggling with before moving forward.
Real Estate U posts all of its coursework online, which is highly beneficial for those curious about what the school may focus on. In places like California, where there are three mandatory 45-hours courses, the state also outlines the general scope: Real Estate Principles, Real Estate Practice, and Legal Aspects. However, in other states, such as New York, you are able to receive a breakdown of course lessons before committing.
For example, New York Real Estate U's coursework is as follows. Lesson 1: License Law & Regulations, Lesson 2: Law of Agency, Lesson 3A: Legal Issues: Estates & Interests, Lesson 3B: Legal Issues: Lien & Easements, and so on.
The course structure will vary from state to state and program, so you'll want to check your specific state's page before making any decisions. To give an example, we'll turn to the Florida pre-licensing course. However, most courses will follow this general layout.
Course Structure Example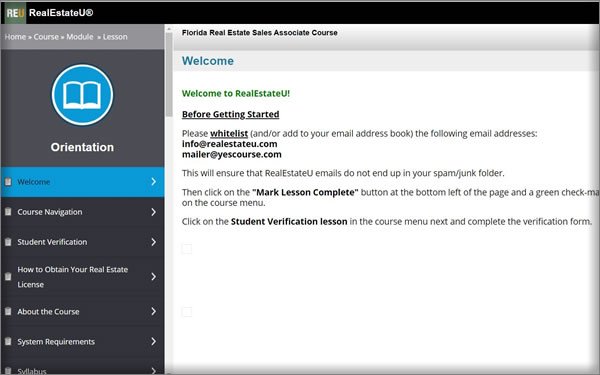 Before getting into the core coursework, you will first need to attend Real Estate U's orientation, which offers an overview of what to expect in your course and an overview of Real Estate U as a whole. You can then expect to launch into the coursework, and in Florida, it is 63 hours, mainly containing prerecorded lecture audio.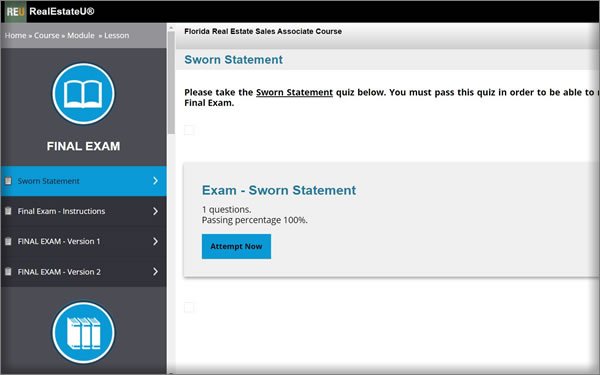 Once you have completed all coursework, you will be able to take your final exam, which is not to be confused with the state licensing exam. You will need to pass your Real Estate U Final Exam before you can be awarded a Certificate of Completion and before you can schedule your state licensing test.
Support
As for support, Real Estate U offers an online contact form, email, and access to their social media networks, including Facebook, Twitter, and LinkedIn. There is also a comprehensive FAQ list to help aid in commonly asked questions. Unfortunately, the site does not offer a live chat option or direct access via calls for users looking into obtaining their real estate license, those with technical issues, and general coursework questions.
Real Estate U Pricing
Real Estate U offers affordable pricing across the board, though it varies depending on the state. Rather than offering packages, Real Estate U offers the base fee for the state's licensing coursework and an add-on for exam prep and post-licensing courses where applicable. So, you can essentially build your own package based on your needs. However, there are not different levels with different perks like competitors.
If you were interested in the real estate exam prep course, that rate remains the same for all states at $49 (originally $75). The following are a quick glance at each state's pricing, which primarily falls within the $100-$200 price point.
California – $149 Pre-licensing Coursework (135 hours)
Florida – $99 Pre-licensing Coursework (63 hours)
Georgia – $175 Pre-licensing Coursework (75 hours)
Michigan – $149 Pre-licensing Coursework (40 hours)
Missouri – $199 Pre-licensing Coursework (72 hours)
New York – $149 Pre-licensing Coursework (75 hours)
North Carolina – $399 Pre-licensing Coursework (75 hours)
Pennsylvania – $199 Pre-licensing Coursework (75 hours)
South Carolina – $299 Pre-licensing Coursework (90 hours)
Tennessee – $199 Pre-licensing Coursework (90 hours)
Texas – $299 Pre-licensing Coursework (180 hours)
Virginia – $149 Pre-licensing Coursework (60 hours)
Washington – $169 Pre-licensing Coursework (90 hours)
Wisconsin – $399 Pre-licensing Coursework (72 hours) | Does not offer exam prep option
Pros And Cons of Using Real Estate U
Pros
Online Flexibility: With completely online coursework accessible across devices on-demand and on your schedule, Real Estate U offers great flexibility for pre-licensing programs across the country. While this may not be the best learning style for everyone, many find the ability to access their courses across devices whenever needed a major plus.
Pricing: Real Estate U boasts self-proclaimed "accessible" coursework, so it is very important that the pricing does not pose a barrier for hopeful students. Thankfully, Real Estate U does offer low prices that are far below competitors. As seen in the above pricing section, the coursework generally falls between $100 and $200, which for the basics, is not bad.
State Catered Curriculum: Because Real Estate U is a national brand, it is very important that it still offers state-specific coursework for students. While there is a national portion on state real estate exams, there are typically more state questions. Thus, any good real estate school must cover the material extensively and considerately.
Browsing through the different offerings in states across the country, it is clear that each program is state-approved and offers coursework to prepare students for excellent careers in those spaces.
Coursework Outline Available Online: We always appreciate when real estate schools post their curriculum online for students to take a look at before committing. In our eyes, it's a win-win with students being able to assure the coursework will work for them, and the school will need to process fewer returns as a result. It's not so much that different schools have vastly different lesson plans, but it's a way for potential students to ensure the layout works for them prior to purchasing.
Easy to Add Exam Prep: Exam prep is a huge help for nervous test takers to feel more prepared and ready to pass their state exams. We like that Real Estate U offers this add-on for nearly all states they offer pre-licensing coursework in. For a relatively affordable price that is equal across the board, it's a great bonus for the already reasonable prices to get the most out of your time at Real Estate U.
Refund Policy: Staying true to its flexible nature, Real Estate U offers refund policies for those who are not more than 50% through their course and who are less than 30 days from purchase. Though Real Estate U does charge a fee to execute this refund, it is good to know that should the course not work out for you for whatever reason. You have options to receive your money back and put it toward something better suited for your learning style.
Time for Completion: Real Estate U offers a scaling completion timeline for all courses. The more hours your course requires for pre-licensing coursework, the longer you will have to complete the work. For example, Washington's 90-hour pre-licensing coursework has 12 months to complete. On the other hand, Florida residents taking the required 63 hours of coursework will only have six months to complete. This time limit does include the final exam, so you will want to be careful in not cutting it too close if you need to retake, but overall we  appreciate the flexibility these timelines offer.
Cons
No Pass Guarantee: Real Estate U does not offer a pass guarantee or money back for failed tests on the first try. This is undoubtedly due to the low prices and lack of tier options, but we  prefer when schools imbed this into their packages to give students a layer of security, even if it's rarely needed. Becoming a real estate agent can be expensive across the board when it comes to time, energy, and monetarily. A pass guarantee or credit toward the retake would be beneficial.
No Package Tiers: We would like to see more package options from the Real Estate U team. Some may view the stripped-down, individual pre-licensing packages as a positive because there are no-frills, but we appreciate schools that offer advanced packages for students. This way, it is easy to compare offerings, and those who require extra assistance will not have to go elsewhere to find it.
No Online Support: An important factor of any online course is access to help immediately upon need. Real Estate U offers email, online contact form submission, and social media messaging, but there is no online, live support which is a major detriment for students.
Suppose you're experiencing technical difficulties like your course suddenly not allowing you to log in, or course even questions prior to purchasing. In that case, you'll have to wait for a member of the team to get back to you with no guarantee of when that can be.
Not Universally Offered: Real Estate U is a relatively new company compared to counterparts who have deep roots in the real estate schooling sector. Because of this, the school does not offer services in every state, which may exclude a majority of prospective students.
Real Estate U Review Conclusion And Verdict
Given all of the above information regarding Real Estate U, the last thing to analyze is what actual students think of the course via Real Estate U reviews. Across the board, including the Better Business Bureau, Yelp, and Trustpilot reviews, Real Estate U reviews excellent for online real estate courses.
The most common complaint is that the course style does not work for the student who purchased the course. It's important to remember that Real Estate U is an entirely web-based platform in which learning is done exclusively online. With prerecorded lectures and a bulk of the information coming from textbooks, glossaries, and other online materials, you will want to be sure you're comfortable with that learning format before purchasing Real Estate U.
Generally speaking, I think Real Estate U is a great budget-friendly option for those who require little assistance when it comes to learning and is comfortable with an online learning platform. We  would not recommend Real Estate U for anyone who requires a bit more interaction or one-on-one time to thrive in an academic setting. If you want more interaction, we would recommend AceableAgent.
This guide is designed to provide an overview of the school and help you make a definitive choice in your online real estate school choice. In the end, based on the Real Estate U reviews and course offerings, we are pleased to recommend this institution as an easy-to-use and efficient course to fulfill your pre-licensing requirements.
---
---