---
Many people are interested in getting a real estate license in California as the earning potential is high, and you can schedule hours to fit your needs. Licensing requires the completion of an approved course of study at one of the many online real estate schools in California.
Each person learns differently, so most schools try to provide a combination of audio-visual and tactile learning content. Some people have flexible schedules and are more comfortable attending in-person classroom-focused real estate schools. Other people are busy holding down a job, a family, or other commitments that make it a necessity to be able to access course material at their convenience, such as that provided in online real estate classes in California.
Classroom Instruction vs. Online Learning
You can receive your real estate licensing instruction in a physical classroom setting or via online video or text-based instruction. Both methods offer advantages. Classroom courses provide access to a physical instructor and the camaraderie of working with other students. However, online real estate schools in California allow students to complete coursework on their schedule in the comfort of their home.
California boasts approximately 40 online real estate schools. There are advantages and disadvantages to each real estate school. Some students prefer just the basic course materials required to meet state guidelines, while others want to take advantage of additional study aids and resources. Whatever your preference, there is a real estate school that can provide what you are looking for. In this guide, we recommend nine of the best online real estate schools in California to help you find the right one.
---
Real Estate Express (#1 Best Online Real Estate Schools In California)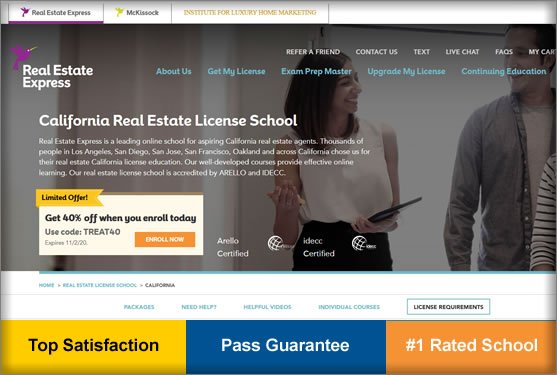 Of all of the accredited online real estate schools in California, Real Estate Express offers the most choices in course options and supplementary aids. They offer four reasonably priced online pre-license course package options In addition to the opportunity to purchase courses individually.
The most basic package is priced at $119, including the California Real Estate Principles, California Real Estate Practices, and six different elective courses to fulfill the state's required 135 hours for your California real estate license. Additionally, you will receive 3three eBooks and instructor support.
The highest level package is priced at $449, including everything the Basic package offers plus exam prep practice exams, a 90-day Boot Camp, an exam-cram video, a printed textbook, and a one-year professional development membership. That is everything you would need for initial licensing and renewal licensing!
Real Estate Express's online course is text-based and features end of chapter quizzes and an Instructor Q & A, which provides live access to industry professionals to answer any questions. Successful completion of the end of course final exam earns a completion certificate.
We consider Real Estate Express to be one of the best online real estate schools in California for reasonably priced pre-license real estate courses from a reputable nationwide company.
---
The CE Shop (#2 Best Online Real Estate Schools In California)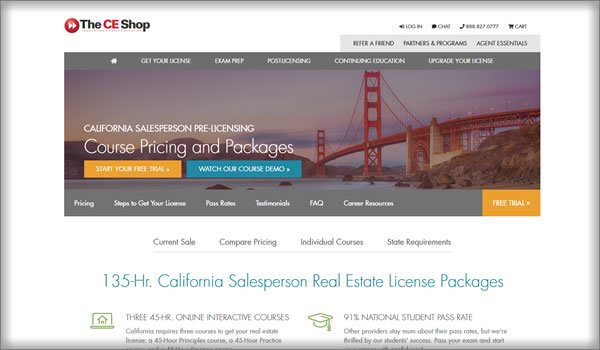 The CE Shop offers some of the most engaging course material, which combines reading passages with real-world decision scenarios. The scenarios provide an opportunity to apply what you've just learned, so you are prepared to pass the exam.
Online text-based pre-license courses include Real Estate Practice, Real Estate Principles, and Real Estate Finance. In addition to the course, The CE Shop offers downloadable reference materials and 24/7 access to instructors and tech support.
Their proprietary e-learning platform is accessible from your phone or another mobile device. The CE Shop's website is one of the easiest to navigate.
While real estate schools in California are not required to publish their student pass rates, The CE Shop claims a 91% student pass rate. That may be why they offer 30 days to try out the course and receive a money-back guarantee if you are not satisfied.
Innovative course material, reasonable pricing, and several continuing education options make the CE Shop an excellent choice for pre-licensing and continuing education courses.
---
AceableAgent (#3 Best Online Real Estate Schools In California)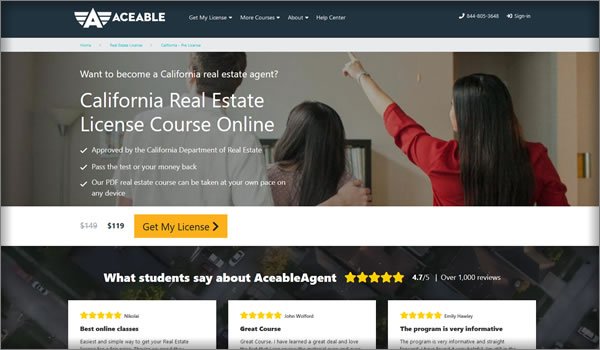 Aceable Agent has been in the online education business since 1992. However, their online real estate courses in California just received accreditation in 2020. Their pre-licensing course includes the most updated Real Estate Principles, Real Estate Practices, and Legal Aspects of Real Estate offered in a self-paced PDF format.
The Course has been written by experienced real estate professionals and is easy to read through. Courses are downloadable to any desktop, and specifically designed for use with any mobile or tablet device.
Each course is priced at $119 and is followed by a final exam. Successful completion of the course earns you a course completion certification. Aceable Agent is so sure you will find success with their classes that they guarantee to refund your money if you don't pass the state licensing exam by the end of the third try.
While not the most comprehensive online real estate license prep option, Aceable Agent is an affordable, accredited option.
---
360Training (Agent Campus)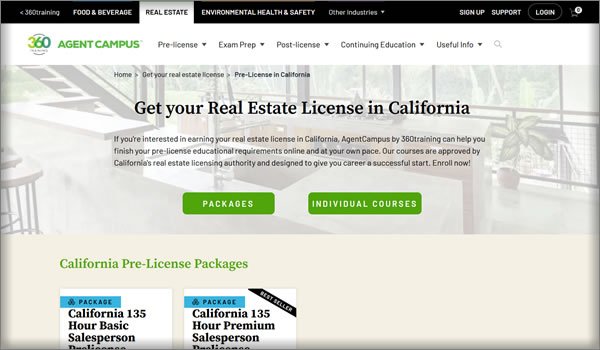 360Training has been in this business for over 20 years. They claim to have helped over 4 million people obtain their real estate license and continuing education for license renewals in 10 different states.
The company offers a comprehensive spectrum of pre and post-license real estate education courses and exam preparation aids. Online content is easily accessible and organized to deliver important concepts and repeat them throughout the course to promote retention.
Their salesperson pre-license Package in California is priced at $79 and includes the three mandatory real estate courses as well as a math practice course. The Premium upgrade includes everything in the basic course plus the Exam prep course with practice tests and is priced at $115.00.
Online chat and phone support are available from student mentors seven days per week. Unfortunately, courses are not very mobile-friendly as they load slowly, and some content may not appear clearly.
Unlike many other real estate schools in California, 360Training does not guarantee that you will pass your real estate licensing exam. You do receive a certificate of completion for each completed course.
360Training is a long-standing company and offers some well-organized pre-license courses at the lowest price of all the schools we reviewed.
---
Allied Schools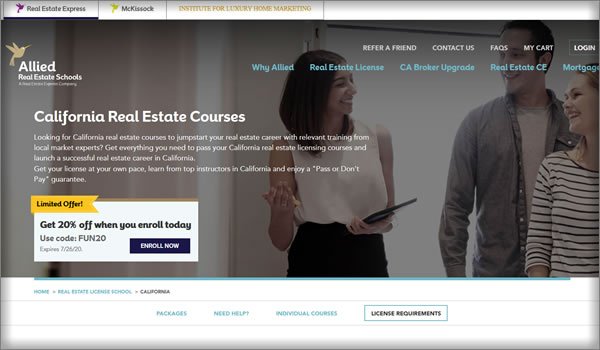 Allied Real Estate School is a popular choice for those interested in one of the most affordable, approved online real estate courses in California. Unlike many other real estate schools, they only offer online courses in California and Texas.
You have the option of purchasing courses individually or taking advantage of their FastTrack packages. The Basic FastTrack program includes the two required Pre-license Courses and one of seven elective courses, eBook study downloads, practice exams, and access to live instructors and 24/7 support.
When you upgrade to premium and premium plus packages, Allied provides exam-cram videos, digital flashcards, eBook dictionary, hard copy textbooks, and membership access to webinars, job aids, and professional development courses.
Allied Schools are so confident that you will pass the California Real Estate licensing exam on the first try that they offer a 100% Money Back Guarantee if you don't.
---
OnCourse Learning (Mbition)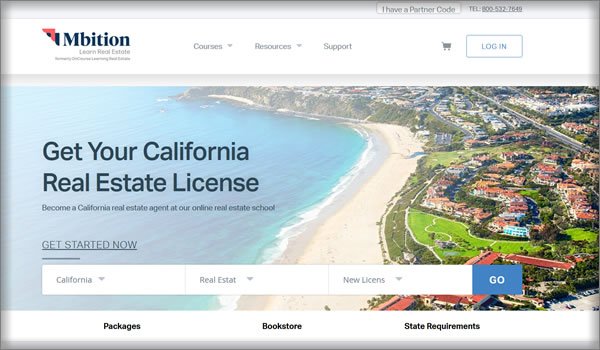 Mbition (formerly known as OnCourse Learning) is one of the well-recognized online real estate schools in California with a nationwide presence in 41 states. They offer text-based online learning delivered in small modules that can be easily read and understood.
Silver, Gold, and Platinum solutions range from $129 to $339. All course packages include three courses required for real estate licensing in California, such as Real Estate Principles, Practices, and Real Estate Finance in eBook format inclusive of exams and instructor and technical support.
Upgrades to gold and platinum packages provide Mbition's proprietary MathMaster tool to help students understand the math required for real estate transactions and prepare for the licensing exam. Mbition also offers other study aids and interactive review games for enhanced content retention.
Mbition courses and exam prep tools are all optimized for mobile devices. Student support is available both online and via phone.
Mbition is a budget-friendly course program with unbeatable test prep study aids and resources.
---
Kaplan Real Estate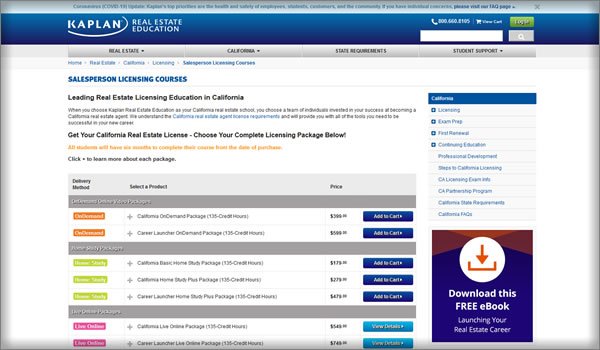 Kaplan is one of the most well-known providers of licensing exam preparation and continuing education courses. They offer both physical classroom and online courses in real estate.
Kaplan offers a variety of state-approved home study packages, live online classroom packages, and online video packages taught by some of the best instructors in California. While course packages are at the higher end of the price spectrum, Kaplan includes many extras in their course packages.
Course study packages that do not involve live teachers are priced from $179 for the basic home study package to $399 for the basic online video package. Live teacher online, or in-class packages start at $550.
Kaplan excels at providing interactive learning opportunities within the curriculum and keeping abreast of the real estate laws and standards. However, support for online courses is limited to 24/7 phone support.
While they offer some of the pricier online real estate classes in California, Kaplan is the leader in online test preparation.
(READ OUR KAPLAN REAL ESTATE SCHOOL REVIEW)
---
CA Realty Training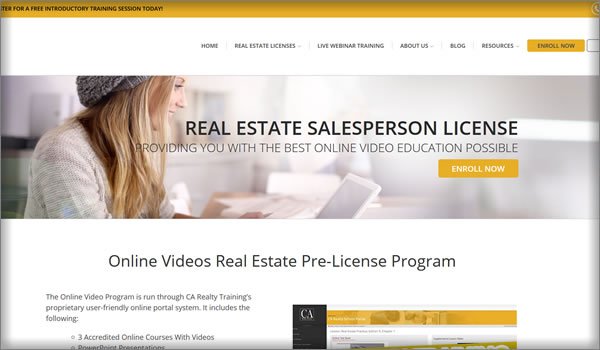 CA Realty Training is one of the few real estate schools in California that is headquartered in California. Offering licensing courses just for California has allowed them to provide in-depth learning materials that go beyond the basics.
CA Realty training offers real estate licensing course packages, which range in price from $75.00 for one class to $155 for the full licensing package, including exam prep and eBooks. Their licensing courses include the two mandatory courses plus a choice of one of six electives and are delivered via a combination of correspondence and online training,
Supplemental training and advanced courses are available for $157 to $187. Their premium course offers live webinars, hardbound textbooks, and online video courses for $399.
Instructors are knowledgeable, experienced training experts that know how to engage students in the learning materials. Online courses and exam prep resources are well designed to keep learner's attention and immerse them in the review process.
Reasonably priced real estate licensing course packages with an in-depth focus on California's market plus a free introductory training session make CA Realty Training a wise purchase decision.
---
OnlineED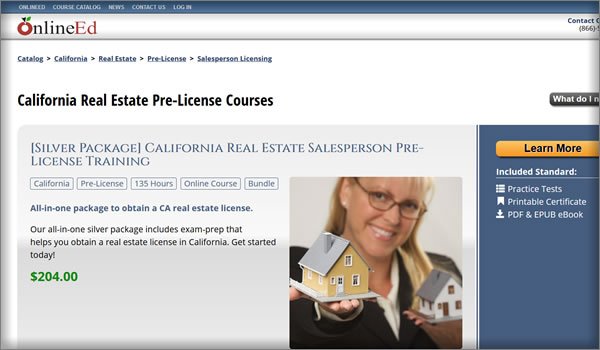 OnlineEd is another of the well-known real estate schools in California that have been in business for a while. Since 1998, they have offered the required real estate license courses Real Estate Principles, Real Estate Practices, and Legal Aspects of Real Estate as the elective course.
Their course packages are the lowest priced of the online real estate schools in California that we review. Their Bronze, Silver, and Gold course packages range in price from $99 to $264.
The basic Bronze package includes the online course, a PDF and epub book for download. The Silver package has everything in the Bronze package plus practice tests and the Gold package includes everything in the Silver package plus bound textbooks.
OnlineEd provides licensing courses for salespersons and brokers, as well as continuing education and professional development courses. The California Association of Realtors endorses them for their professional development courses.
While they don't offer all the bells and whistles of other online real estate courses, OnlineEd is a solid pre-license course choice that is easy on the wallet.
---
Other Online Real Estate Schools In California
The list above is our top 9 choices for the online real estate schools that offer the best pre-license education for California. The list below are other schools that are actually located in California but still offer online or home study courses. We listed these real estate schools because they responded to our request for information and each had very good response times:
Accredited Real Estate Schools, Inc.
Access License Schools
Affinity Real Estate Services
America West School of Real Estate
Approved Real Estate Academy
Chamberlin Real Estate School
First Tuesday
JLG Real Estate Training
License Masters
REL Real Estate & Loan School
---
What's Required To Get A Real Estate License In California?
Real estate is an excellent career with the opportunity to earn good money. It is one of a handful of professions in which you are able to receive your certification in less than one year.
You will need to comply with the following requirements to be eligible for the Salesperson real estate exam in California:
You must be 18 or older to sit for the licensing exam.
The California Department of Real Estate requires 135 hours of real estate education from one of the many approved real estate schools in California, focusing on real estate principles, practices, and one elective.
Some real estate or law courses can be accepted in place of up to 45 of the 135 required hours. However, you must still complete the remaining 90 hours in an approved pre-license education program.
You must satisfactorily pass a background check. You are required to get fingerprinted at a local law enforcement agency.
You must pass the salesperson real estate licensing exam with a score of 70% or more.
To conduct real estate business in the state of California, you will need to be licensed and work with a licensed broker.
What You Should Know About The California Real Estate Exam
The Salespersons Real Estate exam consists of 150 multiple-choice questions and lasts for 3 hours. Don't bring anything into the exam room except a current, valid photo ID.
The exam is delivered electronically at the majority of test locations and focuses on these seven areas:
Practice of Real Estate and Disclosures 25%
Laws of Agency and Fiduciary Duties 17%
Property Ownership and Land Use Controls and Regulations 15%
Property Valuation and Financial Analysis 14%
Contracts 12%
Financing 9%
Transfer of Property 8%
The Salesperson Real Estate Exam in California can be challenging. However, you can expect any of the Online Real Estate Schools in California that have been reviewed in this guide to prepare you to be successful on the licensing exam.
If money is not an issue, purchase some of the additional study aids and resources that these companies offer to make your studying more effective. Be sure to take advantage of opportunities to ask questions of their knowledgeable instructors as well.