---
In this review of the best online real estate schools in Arkansas, we will cover many aspects. Things like scheduling, price and curriculum are important to be mindful of when choosing. With those factors in mind, you can find an online real estate course in Arkansas that's right for you.
The real estate market in Arkansas has been steadily growing for the last few years. The population growth alone is enough to encourage new builds and new buyers from all over. Between 2010 and 2018, the population of Little Rock, Arkansas increased by 5.9%.
This boom in population can only mean one thing: there is a need for housing. A need for housing means that there is a need for people to sell that housing. This is why now might be a great time for you to look for real estate schools in Arkansas.
The median home value in Arkansas is $133,924. In the last year, though, the rates have appreciated by 4.45% and 8.45% in the last two years. This means that home values are on the rise and with them come commissions.
One of the benefits of beginning a real estate career in Arkansas is the low cost of entry. While housing prices are on the rise, those prices are relatively low. This means that buyers and renters are clamoring for position in the market and you are there to mediate.
---
1. Colibri Real Estate: Best Online Real Estate School In Arkansas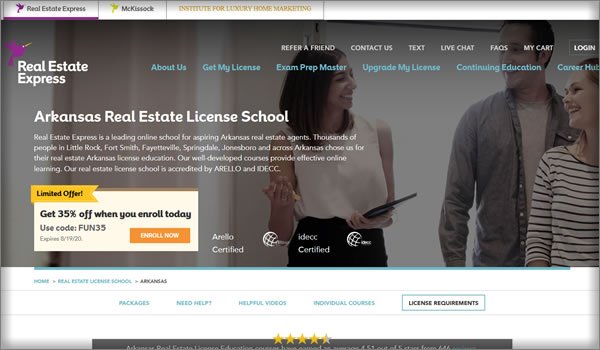 Colibri Real Estate offers education packages that can be chosen based on your needs. They are a little more basic than some of the other online real estate schools in Arkansas. However, they do offer a few perks that might suit the right person.
As far as complete education packages go, Colibri Real Estate is relatively low priced. A very basic package will run just over two hundred dollars which is quite low. However, this package would only be suitable for those who are disciplined and self-reliant.
One of the benefits of using Colibri Real Estate for your real estate school in Arkansas is the Q&A. Some of the packages offer instructor Q&As where you can ask questions and clear up any misunderstandings. All of the instructors are state approved, so this is a good opportunity to ask any Arkansas-specific questions.
Colibri Real Estate is a good choice for those who have some experience already. The basic package is affordable but still satisfies the minimum requirements. Because of this, it might not be the best choice for true beginners.
Colibri Real Estate offers a 90-day boot camp by Sherri Johnson that is meant to be a career kickstarter. In this extra course, you will receive tips for lead generation and proven strategies for generating results. This could be worth its $100 price tag just for the lead generation tips alone.
While it is an accredited real estate school in Arkansas, Colibri Real Estate is not specifically targeted to the area. However, they have everything you will need to pass the Arkansas real estate license exam so they are a great choice.
(READ OUR COLIBRI REAL ESTATE  REVIEW)
Colibri Real Estate: $205 Off Ultimate Learning Course
41 uses today
Last Used: 2 days
Colibri Real Estate: $182 Off Ultimate Learning Course
39 uses today
Last Used: 6 days
---
2. The CE Shop: Online Real Estate Course In Arkansas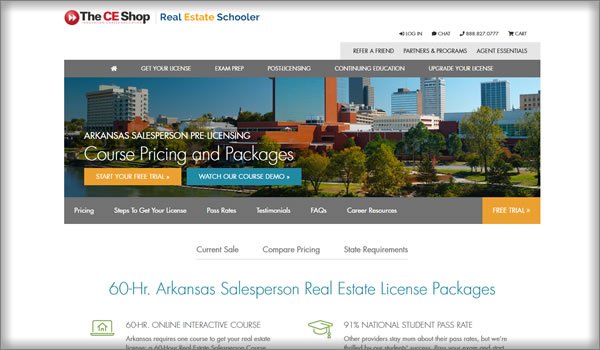 The CE Shop has a huge variety of packages available if you are looking for real estate classes in Arkansas. No matter what level of knowledge you are at when you start, they have a package to fit. However, they all satisfy the basic education requirements for an Arkansas real estate license.
Many of these packages are extremely thorough. Some contain extras like test prep and Arkansas-specific market analysis. For these reasons, many of the packages are on the pricier side of the spectrum. However, depending on how prepared you want to be, it might be worth it.
Some of the extra features that are included with the Arkansas license packages are very useful. For example, the AR Sales Pre-Licensing Premium Package includes three extra courses. These courses cover things like building your sphere, building your business and an intro to commercial real estate.
The CE Shop is ideal for people who want to dive head first into the business. They offer packages that are top of the line and include everything you need to get started. This makes them a good choice for people who want the most preparation.
The CE Shop offers an exam prep-specific course that will help guide you through the final test. This could be especially useful if you want to have an idea of what the exam is like. Many people like a lot of preparation and sample questions to ensure there are no surprises on test day.
Because of their slightly higher prices, The CE Shop might not be best for part-timers. The extra courses in the packages would not be of use to people just looking to sell on the side. If you don't need all the extra classes, there's no reason to take them.
Enjoy $117 Off on The CE Shop Real Estate
35 uses today
Last Used: 6 days
Save 40% on The CE Shop Real Estate Courses
39 uses today
Last Used: 9 hours
---
3. Mbition: Arkansas Online Real Estate Classes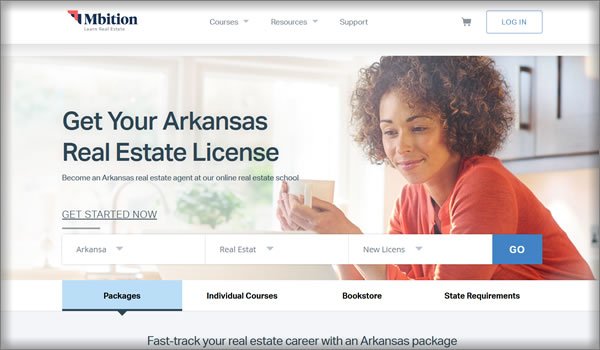 Mbition is one of the larger online real estate schools in Arkansas. They offer three different packages for completing your coursework. All of their packages include the basic Arkansas Salesperson Pre-Licensure curriculum.
The prices of the various class packages are competitive with many of the other online real estate schools in Arkansas. A basic package that includes the Arkansas real estate law curriculum and a MathMaster refresher is under $400. Because of this, they are a good option for those who want to sell real estate as a side hustle.
If you decide to spring for the Arkansas Real Estate Pre-licensing Platinum Solution, you get more features. With this package, you receive preparation specific to the Arkansas exam. This makes it a good option for those who like the most prep before an exam.
Even though the basic packages don't come with many bells and whistles, they are still effective. Real estate is a business where self starters can thrive. Odds are, if you need your hand held through the education, you're going to have a tougher time. A basic package should be enough if you already have the right attitude.
When working with Mbition, you get the added benefit of their network. They are not just a real estate school. They offer classes in all kinds of subjects and accreditations. Because of this, they have 24-hour support which could come in handy during late-night study sessions.
One of the downsides of using Mbition for your online real estate courses in Arkansas is the impersonal touch. While you do work with an instructor, many of the modules and tests are computer automated. This just reinforces the need for the real estate student to be a self starter.
---
4. Kaplan Real Estate Education: Online Real Estate Course Arkansas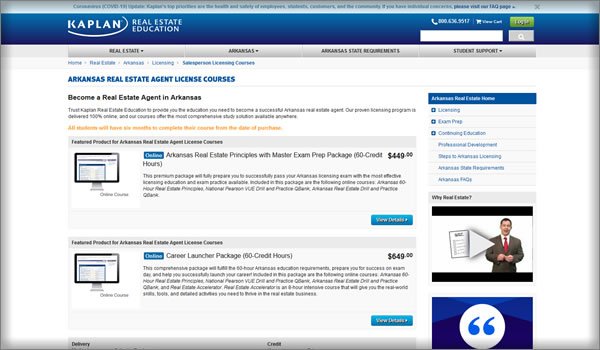 Kaplan Real Estate Education has been helping people get their real estate license for years. They have packages that will fit into nearly any schedule. Their Arkansas Real Estate Drill is designed to get you well versed in Arkansas Real Estate law.
Kaplan's education packages are on the pricier side of the spectrum. With their premium Career Launcher Package topping out at $650, it is a big investment. However, the extra money might be well spent for someone who likes to be prepared.
Some of the extra features that come with the Career Launcher Package are tailored to the Arkansas market. The Real Estate Accelerator is an 8-hour class that will help you get started in your market. That head start alone is worth the extra money.
Kaplan's complete package is ideal for someone who wants the best possible start to their career. This is definitely the option geared toward the overachiever. With so much preparation, you can focus on being the best agent you can be.
Kaplan offers a package that includes a Master Exam Prep module. This exam prep could be useful for those who don't like to be surprised on a test. The Exam Prep Module will help you get used to the idea of the final exam.
Some of the information that is included in these extra courses might not be of value to everyone. If you already have connections in the Arkansas real estate market, these extras might be a waste of money. The secret to success when you are starting out is a low overhead.
(READ OUR IN-DEPTH KAPLAN REAL ESTATE SCHOOL REVIEW)
---
5. Mid-South Real Estate Academy: AR Real Estate School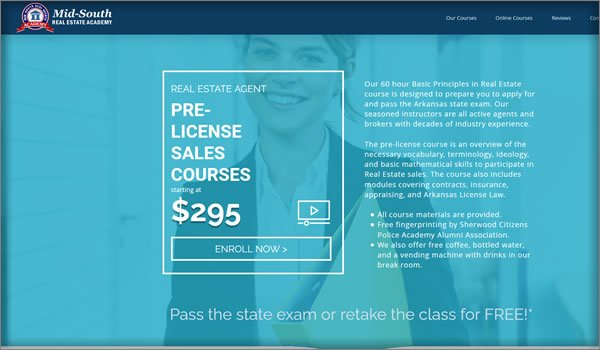 When looking for the best online real estate schools in Arkansas, there are many options. Finding an affordable one with everything you need is the hard part. Luckily, Mid-South Real Estate Academy has comprehensive basic class packages.
The instructors for even the most basic packages are active agents. This means that they can help guide you through the real-world process of licensure. They can also offer valuable advice of what to do once you are out in the working world.
The basic pre-licensure sales courses start at under $300. These include an overview of things like vocabulary and math skills. In addition, they also cover Arkansas License Law, insurance and contracts. All of these things are specifically geared toward Arkansas agents.
Mid-South Real Estate Academy is perfect for students who want to get the most for their money. These courses may not come with any of the fancy test prep or hardcover textbooks, but they're informative. Having the real-world expertise of an Arkansas-licensed agent at your disposal is invaluable.
One of the major benefits of getting your license with Mid-South Real Estate Academy is the scheduling. They offer flexible schedules for classes including courses on weekends only. This makes them a great choice for people just looking for some extra income or a second career.
The biggest downside to the Mid-South Real Estate Academy is simply that it is so basic. If you are going to need a lot of test preparation, they may not be for you. However, their courses do come with a "Pass The First Time Guarantee." This could offer peace of mind to those who are the most nervous about the exam.
---
Other Online Real Estate Schools In Arkansas
Arkansas Real Estate School, Inc.
Clark Long School of Real Estate
Northwest Arkansas Real Estate School
The Big RED Real Estate Development School
---
Requirements for an Arkansas Real Estate License
In the state of Arkansas, there are a number of requirements for obtaining your real estate license. First, you must complete 60 hours of a required pre-licensing course. Then, you must pass a stringent background check that may take up to two weeks.
After you pass your background check, you will receive a letter of Exam Eligibility from the Arkansas Real Estate Commission. This letter will include instructions for scheduling your exam. After that, you must secure a broker firm where you will work and hang your license.
Although this may all seem like a lot, the pre-licensure courses are going to take up the most time. Of the 60 hours of education you need, 30 of them need to be in basic real estate principles. These will be specifically applicable to the state of Arkansas.
Signing on with a brokerage is another important requirement for getting your real estate license in Arkansas. By doing this, you will gain valuable experience that will help you get your bearings in the business. Should you want to start your own brokerage, this experience will be even more valuable.
After you sign on with a brokerage, you will have to complete 18 more hours of post-license education. This must be done within six months of your license being issued. This post-license education will review what you have learned and make sure you are up to speed.
---
Final Thoughts
Even though many of these online real estate schools in Arkansas seem the same, they all have pros and cons. Finding the one that is right for you will depend on many factors. How much time you have and what you plan to do with your license are huge considerations.
If you feel that you need more preparation, then it is wise to spend the money on a premium package. Many of these packages offer pass guarantees, so they have a vested interest in you passing. This can ease some of the test anxiety.
All of the above online real estate courses in Arkansas offer post-licensing education as well. After you have worked at a broker for a few months, you must complete 18 hours of continued education. If you are already comfortable and familiar with your school, the choice is already made.
This post-licensure requirement will also give you an opportunity to check out other online real estate classes in Arkansas. From there, you can decide if you want to continue your education further to become a broker. Many agents do this so they can diversify their portfolios and get agents working under them.
No matter how you plan to use your real estate license, there are a lot of options for getting it. By knowing what you are willing to spend and the time you need to put in, you can avoid headaches. By knowing the requirements in Arkansas and what you should be learning, you can make the right choice.