---
In this guide we reveal the top 3 best online real estate schools in Oregon to help you get your pre-license education and start making money.
Real estate in Oregon can turn into a well paid dream job that provides agents with the work and life balance we all want. In order to achieve this goal as a real estate agent, prospective students will need to attend accredited real estate schools in Oregon.
Choosing where to take your online real estate courses in Oregon can be overwhelming. That is why we did the research and put together a list of the three best online real estate schools in Oregon to get you started.
---
1. The CE Shop: Best Real Estate School In Oregon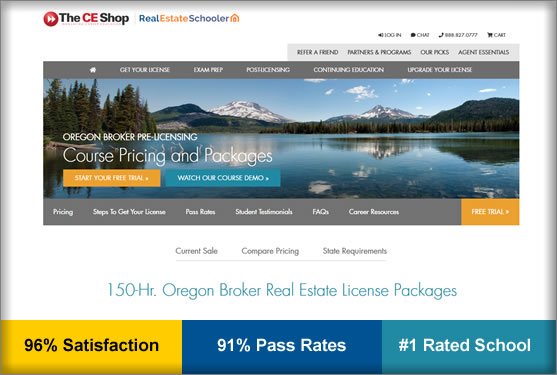 The CE Shop is one of the best online real estate schools in Oregon, if not the best school. This is a school that has been around a long time and has the experience to give students the best education possible.
This helps launch successful real estate agents into the field that have found their dream job. One thing that students appreciate about the CE Shop is the demo video they provide.
Not every school is going to be for every student. It is hard to tell what the platform is going to be like and how they deliver the material. That is why The CE Shop did a demo video. You can watch this video below:
It walks prospective students through what they can expect if they choose to do their online real estate courses in Oregon through The CE Shop.
But if the demo isn't enough for some future real estate agents, This is one of the online real estate schools in Oregon that offers a free trial.
The trial course lasts for five days. That is plenty of time to decide if this platform and style of teaching is suitable.
If students decide to pursue the pre-licensure courses there are a few different packages that are offered to the students of Oregon.
All of the packages come with certain features such as the courses required, career resources, ebooks required, flashcards, digital resources that can be downloaded, study schedule, glossary, and webinars that are led by instructors.
However, as the packages increase, so do the features but they all build on each other. The basic package is better for people that have some experience in real estate already.
The standard package comes with exam prep edge for both the national and state of Oregon exam. It also includes a pass guarantee.
Real estate classes in Oregon can be tough because of the hours involved. But the build your business value package makes it easier by adding the business building course to help launch your career on the right foot.
If you want to prepare for the first year of your career now you can choose the premium package. This one comes with the post-licensing courses that are required for your first year of renewal.
Every agent will have to take the post-licensing courses in order to continue practicing real estate after the first year. Choosing a package that already has that included is a good choice. But you can take the course separately later.
The course that is required is broken down into seven interactive sections to facilitate learning. Using this course will help students not only pass the exams but also become fantastic real estate agents in Oregon.
Online real estate schools in Oregon, such as The CE Shop, are designed to be up to date with the most recent information.
Enjoy $117 Off on The CE Shop Real Estate
39 uses today
Last Used: 6 days
Save 40% on The CE Shop Real Estate Courses
35 uses today
Last Used: 9 hours
Get 30% on The CE Shop Continuing Education Course
33 uses today
Last Used: 5 days
30% Off on The CE Shop Pre-Licensing Education
38 uses today
Last Used: 3 days
---
2. Mbition Review: Online Real Estate Course In Oregon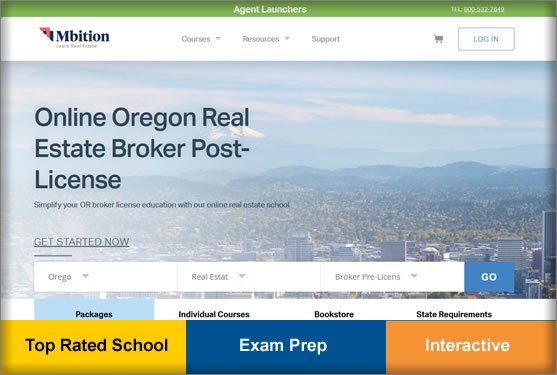 When it comes to real estate licensing in Oregon Mbition is a school that offers real estate classes in Oregon. They are dedicated to making sure students get the education required for licensing. When choosing which of the online real estate schools in Oregon to take your courses with, Mbition is a top choice.
As one of the top real estate schools in Oregon Mbition is fully accredited.
Mbition not only offers the pre-licensing courses to become a licensed real estate agent and broker in Oregon, but also everything else you might need during your learning and career. Choosing this from the other online real estate schools in Oregon will have you on the right track.
With a bookstore full of all of the resources needed to maximize learning, students will have the necessary information at their fingertips. If they are looking for a learning package that will provide them with just what they need, Mbition real estate school has three packages to choose from.
Since the Oregon courses are not just for real estate agents but also for brokers, the packages are more expensive but they have the features required along with some extras to make learning easier.
The first package that is available to students in Oregon is the Mbition Silver Solution. This Solution has what is needed for basic learning to pass the exams. It is more geared towards those that have some experience or are motivated self-starters.
Most of the online real estate schools in Oregon offer some type of basic package. This package comes with the technical and instructor support that can be helpful when issues arise. As well as the real estate exam prep toolkit.
The toolkit is designed to give students a basic preparation for passing the exam. This is a general prep course. The next packages include specific Oregon state and national exam prep.
The Gold Solution also includes a pass the first time guarantee for students. If you don't pass the first time Mbition will pay your next exam fee. There are conditions so make sure you find out what those are.
The final package, the platinum package, builds on the first two. Everything the gold package contains is in the platinum choice as well as the printed textbook.
None of the packages include the post licensing courses so you will need during the first year of practice. But Mbition does offer these courses as well.
All of these choices are under $500 for the full packages. These are affordable choices when it comes to brokerage pre-licensing. You can truly work for yourself by breaking out of the 9-5 grind with a brokerage license and real estate training.
---
3. AYPORealEstate: Oregon Real Estate License Online Courses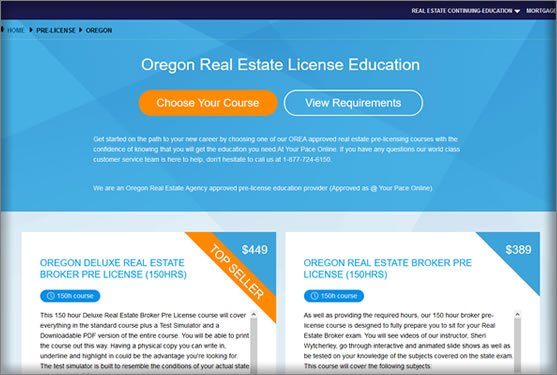 Another one of the top real estate schools in Oregon, AYPORealEstate schools has many options for learning in Oregon. When it comes to real estate schools in Oregon, AYPORealEstate is a good choice.
They are fully accredited and approved to offer online learning opportunities for students in Oregon. They have the experience and dedication needed to help students achieve their long term real estate goals.
The website is easy to follow and user friendly. Which takes the guesswork out of choosing a course or package.
When it comes to choosing a package, there are two that AYPO offers for students. There packages don't contain a lot of extras. Instead they focus on providing students with what is necessary for success in the course and on the exams.
The first package that students can choose from is the basic Oregon real estate broker pre-license course. This has the course material that can be completed on your schedule as well as seven tests that will be taken during the course.
There is also a final exam and a bonus quiz for practice. The topics that are covered in this package are the following.
Brokerage
Property Management
Agency Law
Contracts
Practice
Law
Contracts
This package is $389 for students to enroll. It covers everything that is imperative to Oregon real estate practice.
All of the courses that are offered by AYPO are self paced and on-demand. If you are looking on the accreditation website to find out if this school is there, you will need to look for "At Your Pace Online." AYPO will not show up.
The second package that is available is the Deluxe package. This has all of the features the basic package has. But it does add a downloadable PDF of the course as well as the test simulator.
Practicing to take the exams is a sure fire way to be fully prepared for the exam. Their state of the art test simulator has been preparing students in a way that other exam prep courses can't.
Mimicking the actual exam will give students the confidence needed to pass the exam on the first try. However, they do not guarantee that students will pass the first time.
AYPO is similar to the other real estate schools in Oregon that are on our list in that they are a national chain. They serve real estate students in states other than Oregon. Even so, that is completely up to date on the real estate laws and best practices within Oregon.
Real estate schools in Oregon, such as AYPO prepare students for careers, not just exams.
---
Oregon Real Estate License Pre-Requirements
As with any state, Oregon has pre-requirements that must be met before students are eligible to complete the requirements.
Every state is different so it is imperative to make sure that you check your particular states pre-requirements before starting a real estate program.
With Oregon, students must be 18 years of age or older. They also must have a high school diploma or GED. Students can also have an international equivalent.
---
Oregon Real Estate License Requirements
The requirements that Oregon put in place are similar to that of other states. But they do have some variants. In Oregon, for example, every agent that wants to be licensed must get a brokerage license.
This must be completed at one of the accredited real estate schools in Oregon.
This requires pre-licensing coursework of 150 hours. But you also have to apply for your broker's license before taking the course as well as pay a $300 fee.
After completing the course you will need to pass both parts of the exam as well as get fingerprinted and pass a background check.
Once the background check clears your license will be issued.