---
Accredited Real Estate Schools is a real estate school serving California students, helping them to obtain licensing. The school offers online real estate courses and in-person learning and maybe one of the many you come across in your research for a quality education option. We've rounded up everything you need to know about the school in this Accredited Real Estate Schools review, and everything is below for your consideration.
---
UPDATED: February 2023
Our Overall Rating

---
Overview Of Accredited Real Estate Schools
Accredited Real Estate Schools was formed in 1995, which means the company has been in operation for nearly three decades. The school was formed in Northern California's Fair Oaks before relocating to Carmichael in 2004. In 2016, the company moved operations back to Fair Oaks, only 12 years after the first move.
Not only is this real estate school locally owned and operated, but it is also a family business. The school has long been serving the Sacramento-Metropolitan area and has since become fully approved by the Department of Real Estate.
The school is committed to providing students with a unique and wholesome learning experience. As such, they've worked hard to create their own materials and course offerings. They produce and publish the school's exam prep materials and their own continuing education courses.
Not only do they offer pre-licensing coursework, but it also offers exam prep, and continuing education, all approved by the state. They are committed to providing students with a quality education that stands the test of time and leads them to become great professionals.
School's Instructors
Behind every great school is a strong team of professionals to help teach and guide students. At this time, this real estate school has four instructors.
The first is Bryan Church, who became a broker in 1988. He has extensive experience selling and buying different types of real estate, including homes, apartments, commercial, and land.
In addition to practicing real estate, Bryan also is a builder and developer. He became the Director of Education in 1995 when the company first opened, and he has since held that position.
Next are Don and Judi Belanger, who each bring unique experiences and knowledge to the table. This married couple has been real estate brokers for over three decades and enjoys sharing their unique insight with students. Their experience includes residential, commercial, and land purchases and sales.
The two have also received awards for their work in real estate, and before Accredited Schools, they also produced their own real estate content and led teachings for other institutions. Both are accredited by the Graduate Realtors Institute and NARS' Real Estate Certification Institute.
Lastly, there is Schyler Church. Schyler holds a license in California, Hawaii, and Florida. As such, she has experience in both local and far-reaching markets, bringing in unique insight.
As the last name suggests, Schyler is the daughter of Bryan Church, and together, they produced the textbooks used in the courses. Though young, Schyler has experience in selling and purchasing properties for clients, representing both single-family and multi-unit transactions.
This instructor breakdown goes to show the school's unique offerings and perspectives, as well as their qualifications to lead other students through the hefty process of becoming a licensed California real estate agent.
---
In-Depth Look At Accredited Real Estate Schools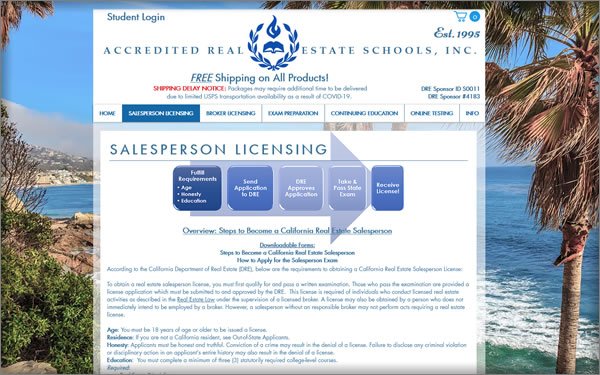 This school offers both online and in-person live course sessions for learning. While the overall curriculum might remain the same, the mode will vary. Below is a further breakdown of what to expect from both.
Live Course Instruction
In-person learning takes place in Fair Oaks, California, the one location they currently own and operate out of. The courses can be completed in 54 days from enrollment as the state only allows for a certain timeline. You might also choose to study the live sessions at home via live stream.
The course includes three courses, Real Estate Principles, Real Estate Practice, and an elective of your choice. With each course, you can expect a textbook, exam, and certification of completion.
You can also expect a live exam prep course as well, included in your purchase. Instructors will go over all necessary exam-relevant information, including advice and important concepts. You will also receive a workbook to work through and an online question bank for studying.
The question bank includes over 3,500 questions, and you'll have access for one year to ensure you pass with flying colors.
The course schedule is pre-outlined for the year, and you will need to choose a specific session to commit to for your studies. For example, a student must choose August/September, October/November, or November/December. Within those month blocks, there is a set time each week to meet.
As mentioned above, you must take the principles and practice courses, but you also must choose an elective. At the time of writing this review, the available electives are finance and appraisal. For such a big portion of your education – that's not much variety.
Online Course Instruction
Online learning, also known as home study at Accredited Real Estate Schools, comes in two formats. The first being an all-in-one pre-licensing package, and the second being an individual course purchase option.
If you must break up payments or have time constraints, individual course purchases can be a great option, but for the most part, the package deal is the way to go for ease and price savings. All requirements are the same as in-person courses, except they are in the online format.
However, you are able to self-pace your studies and work when it is convenient to you, not the school or instructor. Online courses may be completed in a minimum of 18 days and a maximum of one year.
These requirements are not school mandated but rather the California Department of Real Estate. Upon finishing all of your online learning materials, you will then be able to take online exam preparation via videos. You will also have access to the online question bank with 3,500+ questions and unlimited access for one year.
Individual online courses don't include exam prep like other courses, and they are generally more expensive when broken down. For more information on pricing, read below.
Combo Instruction
If you would prefer a hybrid option, this school does offer what they call a combo option, half classroom, half at-home. This course method is a great option for those that want in-person learning but requires a bit of flexibility or even a more affordable price point.
The course is laid out so that the actual course materials are studied online, and the exam preparation portion takes place in a classroom. So, for the first part, you will take the actual course with the required materials online and complete that as if you were only taking online classes
Once the entire course is completed, you will then be able to go into live instruction for exam prep. The exam preparation takes place over eight nights. Instructors will recap all that you've learned in your online course as well answer any questions, and guide you through passing that exam.
When in-class, you will be given a workbook to navigate while your instructor speaks. You can then take that workbook home to study further or simply save it until the next in-person meeting when you continue to work through it.
Included in this package is access to the online question bank with over 3,500 practice questions. You will be able to access the software for a year, leaving plenty of time to study or revisit foreign concepts long after you've passed the licensing exam.
The online mode does offer a basic package that strictly includes the necessary coursework requirements and not exam preparation. It is an extremely stripped-down but affordable online version of the courses.
This package is a great option for students who simply need to go through all of the state-required materials but want a little extra help before exam day.
---
Accredited Real Estate Schools Pricing
With so many different offerings, this school's pricing ranges quite a bit. However, all prices are laid out clearly online.
Basic – only includes the three required courses – $169
Basic Plus – includes three required courses and exam prep practice questions – $219
Complete – includes Basic Plus offerings and interactive state exam prep workbook and 18-hour state exam prep online video – $319
Classroom – Complete offerings (except for the 18-hour state exam prep online video) and live, on-site classroom exam prep (8 nights) – $399
Complete Classroom – Classroom offerings and live, on-site classroom tutorials of home study courses (6 nights) – $678
Clearly, the prices vary widely between packages. Beginning at $169 for the minimum requirements, all the way up to nearly $700 for the decked-out plan. What works best for you will be unique to your needs and whether you strictly want to remain online or if you would like to also learn in a classroom setting.
---
Pros And Cons Of Using Accredited Real Estate Schools
Pros
Flexible Packages
This school offers amazing flexibility for students. Catering to those who want to work online or in person, this is a great option for all needs and really narrows in on different learning styles.
Flexible Prices
With flexible options comes flexible pricing, and they do not disappoint. Ranging from an inexpensive option for the bare minimum upward into the all-inclusive territory of $700, there is an option for everyone regardless of budget.
Family Owned and Operated
There is nothing quite like studying at a school that is locally owned and operated, better yet, family-owned and operated. These schools are able to offer a unique perspective that national brands cannot, despite trying to.
Unconditional Money-Back Guarantee
So long as you have not used your course and it is within seven days of purchase date, you can return your home study courses. As for in-person classes, you must request at least three days before the first day of class to qualify. In both cases, a $25 fee is administered.
Extensive Exam Prep
The amount of exam prep this school provides is rare. You might be provided a list of practice questions OR a study guide at other schools, but here, you have access to everything. It's almost as if the school puts more emphasis on exam prep than the actual courses, which may be a big plus for some students.
Work Smarter, Not Harder
This seems to be the school's go-to phrase for their business model, and we have to admire the transparency. Everything this school does is designed to help students pass on their first try. To do so, the school has organized content to mirror the state exam, such as how it's divided up and taught.
Cons
Poor Website Design
Unfortunately, a busy website can really detract from what matters. We found the Accredited School's site to be crowded with different colored text, icons, moving objects, and figures. The overall feel was a bit overwhelming compared to other sleek, intuitive web pages offered by competitors.
Limited Contact
Contact is available via an online contact form or via email or call. However, it is only available on weekdays between 9:30 and 6 pm Monday-Thursday and 9:30 – 2 pm on Friday. Weekend and late-night studiers are out of luck!
Conclusion And Verdict
Analyzing Reviews
Another important component of this Accredited Real Estate Schools review is to consider what past students have to say about this course. Online reviews are a bit limited to Indeed and Yelp, yet both offer promise.
Yelp users rate the school 4 out of 5 stars, and Indeed users rate the school 4.7 out of 5 stars. Not bad! Students unanimously praise the school's exam prep process, and the extent of that offering is very visible online.
Additionally, 83% of students said the school was affordable, 75% said it had good teachers, 67% said there was a positive environment, and 58% said that the school was good career preparation.
Other favorable aspects, according to Accredited Real Estate Schools reviews included, flexible class hours, hands-on training, and of course, the school's ability to bring unique, local insight to the course.
Final Verdict
There are a few things we would like to see changed at Accredited Real Estate Schools, primarily the website. However, overall, the school seems to have created a great program that offers students a quality education efficiently and effectively.
With the school's local origins and the team's diverse backgrounds, national brands would have trouble matching the tools and insight that this school has. Not to mention the extensive flexibility with the combo, in-person, and online courses to suit every lifestyle and price point.
With all of this information in mind, we are happy to recommend this real estate school as a fulfilling California-based real estate school option. However, we also recommend checking out the site and making sure it is navigational for you. Because of the semi-strict money-back guarantee, you'll want to ensure ahead of time that you are pleased with as many aspects as possible!
With that being said, if you really want the best California real estate school, we would recommend Colibri Real Estate over Accredited Real Estate Schools. We feel they are a better choice overall.
---
---