---
The decision to get a real estate license in the state of Washington is not one that should be taken lightly. With so many things to consider and decisions to make, it's easy to get overwhelmed. Luckily, there are several of the best online real estate schools in Washington that can help you along the way.
Knowing your learning style and scheduling requirements can help you pick the right school for you. We have also compiled a list of the best online real estate schools in Washington. By carefully considering what each one has to offer, you can make the right decisions regarding your real estate education.
---
1. Colibri Real Estate: Best Online Real Estate School In Washington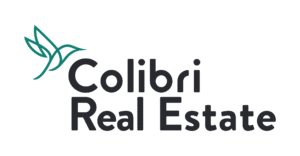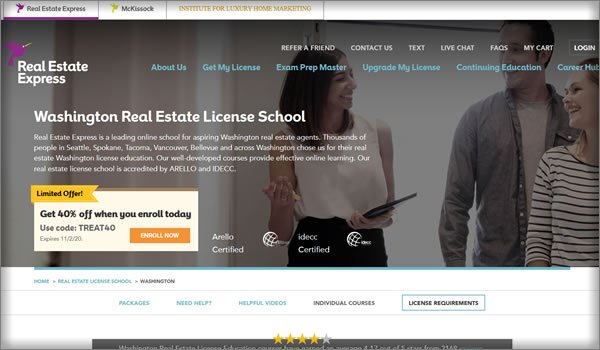 Over the years, Colibri Real Estate has serviced over 400,000 students. Since 1996, they have been using this experience to hone their curriculum and make sure they are offering the most up-to-date real estate courses. Because of this, you can be sure that you are getting the most current information for the state of Washington.
Course Features
This online service offers real estate classes in Washington that are easy to understand and accessible to all kinds of people. Due to their many years of experience, they are able to cast a wide net with their courses. This kind of open attitude toward education is why they have been able to stay on top of the game for so long.
Their most basic package comes in at just over $130. This package is designed for people who already have some sort of real estate experience and know that they are disciplined, independent learners. It includes the two required online real estate courses in Washington as well as three real estate ebooks and instructor support.
Their exam prep package has all the same features as the basic one. The only difference is that you get a little bit of extra preparation for the state real estate exam. This comes in the form of exam simulations and study guides. It also includes a pass or no pay guarantee.
The exam prep plus package includes a few things that will not only help you in the exam, but also in your career. This package gives you regular access to an instructor that is currently working in the state of Washington. Other online real estate schools in Washington don't offer this kind of personal connection.
Colibri Real Estate offers an ultimate learning package that not only includes fantastic instructor support and exam prep, but also career help. It includes a membership to their professional development program that can help you establish a social media presence as well as understand the ins-and-outs of Washington real estate.
Pros and Cons
Pro – State Instructors: Colibri Real Estate may offer materials for every state in the country, but they don't opt for a one-size-fits-all approach. To ensure their materials for each state are specific and accurate, their courses are taught by instructors in that state who can be contacted if students have any questions.
Pro – Live Support: Speaking of contacting your instructors, the Exam Preparation Plus package includes regular Q&A sessions with your instructor. Since these are livestreamed webinars, it's a great way to speak with a real estate professional face-to-face and learn more about the exam and industry.
Pro – Time Saving: One of the best services offered by this company is the 90-day exam prep Boot Camp. This is an accelerated study schedule that ensures you understand everything necessary to pass your licensing exams on one attempt.
Bottom Line
For one of the best digital versions of a traditional classroom course, I recommend Colibri Real Estate. They have excellent state-specific instructors and curriculum, making it the ideal choice if you have a lot of time to study or need a quick cram session.
Colibri Real Estate: $205 Off Ultimate Learning Course
34 uses today
Last Used: 2 days
Colibri Real Estate: $182 Off Ultimate Learning Course
33 uses today
Last Used: 6 days
---
2. Aceable Agent: Online Real Estate Schools in Washington

With a much more narrow focus, Aceable Agent provides study materials for a select few states; Washington is one of them. Because of this, you can expect a personalized curriculum that goes into great detail about state-specific components of both Washington State's licensing exams and overall real estate market.
Course Features
Aceable Agent currently offers three different packages for Washington real estate professionals:
The Essentials: This package offers the bare minimum necessary to sit for the exam. It meets the 90-hour real estate requirement, includes more than 800 state-specific practice questions, and provides proctoring services when it's time for you to take the test.
Ace The Exam: This package includes everything in The Essentials, plus over one hundred audio and video lessons that explain real estate concepts in greater detail. You also get more than 3,000 additional practice questions and a 100-page exam prep eBook.
Ultimate Interactive: In addition to everything included in Ace The Exam and The Essentials, this package includes an hour of private tutoring and weekly live webinars. The biggest benefit to this option over Ace The Exam is access to live instructor support, although the other courses also offer support options.
Pros and Cons
Pro – Great Support: No matter what package you choose, Aceable Agent offers an excellent support team to solve any problems you might encounter. Although if you're looking for more instructor support, it's a good idea to choose their Ultimate Interactive package over the other two.
Pro – Proctor Included: In addition to meeting the state-specific hour requirement, Aceable Agent includes proctoring for your exam with all of their online real estate courses. This means you can accomplish every step necessary to become a real estate agent in Washington through this site!
Con – Variety: For the most part, Aceable Agent offers multiple-choice practice questions that are identical to those found on real estate licensing exams. This is an effective way to study for any test, but it would be nice to see some variety in the types of study material they offer.
Bottom Line
Aceable Agent is a very close second if you're studying to become a real estate agent in Washington. Check them out if you want a great support team and complimentary exam proctoring.
$128 Off on Aceable Agent Premium Exam Packages
41 uses today
Last Used: 10 hours
Up to 30% Savings on Aceable Agent Exam Packages
35 uses today
Last Used: 17 hours
---
3. The CE Shop: Washington Real Estate Schools Online Review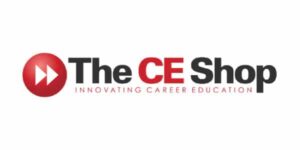 The CE Shop is one of the premiere real estate schools in Washington. They have been helping students through the process of getting their license for many years. This wealth of experience is one of the reasons their classes are so popular and effective.
Course Features
The state of Washington requires you to complete 90 hours of education. These hours are split up into a 60 hour fundamentals course and a 30-hour practices course. The CE Shop offers both of these in their education packages so you can get all of them done in the same place.
They offer many different education packages to cater to a wide variety of students:
The most basic package consists of the required 90 hours of education only. At only $225, this is a great package for someone who is confident in their learning skills and scholarly abilities.
They also offer a standard package that includes the same 90 hours of courses with a few extras. These extras include an exam prep section and a pass guarantee. For just $40 more, this package could be a great deal for someone who wants that little bit of extra preparation.
The value package at The CE Shop is possibly their best deal. This package includes everything listed above as well as a few extra courses geared toward helping you build your business. They could be extra helpful for someone who does not have a lot of business experience. These business courses are geared specifically towards the state of Washington and could be invaluable for the right person.
The premium package is the most comprehensive one that they offer. Many real estate schools in Washington have premium packages, but this one takes care of you for a full year. At $430, it also includes your first license renewal which is a requirement in the state of Washington.
Pros and Cons
Pro – Satisfied Students: The CE Shop has been gathering student surveys since 2015 and have come up with some amazing results. These surveys found that 97% of their students have been incredibly satisfied with their results upon completing their courses. With those kinds of outcomes, it is no wonder that they have remained as popular as they have.
Pro – Free Content: The CE Shop provides several sets of free material independent of their courses. This includes e-books, practice tests, and a real estate dictionary.
Con – Price: The price for CE Shop's course bundle is slightly higher than some of their competitors. However, it frequently goes on sale for much lower prices.
Bottom Line
The CE Shop has so many different packages that they are sure to have one that will best fit your education requirements. That's because they offer an all-around excellent prep course for prospective real estate agents in Washington.
Enjoy $117 Off on The CE Shop Real Estate
38 uses today
Last Used: 6 days
Save 40% on The CE Shop Real Estate Courses
35 uses today
Last Used: 9 hours
---
4. Mbition: Real Estate Classes in Washington State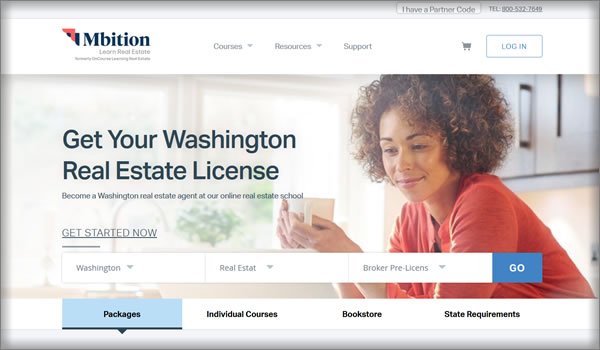 Mbition is a real estate school in Washington that is one of the innovators and online real estate classes. Formerly called OnCourse Learning, they have been in the industry for years. Because of that, they are able to understand what most students need the most in order to get their real estate license.
One of the things that sets Mbition apart from other online real estate schools in Washington is their comprehensive textbook bundle. For just $100, you will receive copies of reference books that can come in handy throughout your career. Many people find that having copies of textbooks facilitates their learning and allows them to retain more information.
There are a wide variety of packages offered by Mbition that can suit many educational needs. Their most basic pre-licensing package comes in at just under $200. This includes all the required education hours as well as an exam prep toolkit and instructor support.
Their pre-licensing gold package includes all of the above features as well as some exam prep and a pass or no pay guarantee. People who need a little extra help with the Washington state real estate exam might benefit from spending an extra $50.
For just under $300 you can take the pre-licensing platinum package. This package is focused on the day-to-day practices of an actual real estate agent in Washington. It also includes copies of the textbooks which, as we have discussed, can be very beneficial for certain types of learners.
The difference in price between these packages is more or less negligible. If you feel like you could benefit from more exam prep or a copy of the textbook, it might be worth the money. The difference between the most basic package and the most comprehensive one is only $100.
---
5. Kaplan Real Estate Education: Online Real Estate Course in Washington

Kaplan has been a pioneer in the online learning industry for many years. They were one of the first web-based schools to offer education and training for all kinds of trades. One of their main focuses, though, is their school of real estate.
Kaplan has an interesting take on how their classes can be completed. Since you have to complete your 90 hours of education in separate chunks, they allow you to purchase them separately. This could be very valuable for students who are wary of spending too much money all at once.
Kaplan offers a few different complete packages for finishing your education hours. Their most basic complete package comes in at around $250. This price is a bit higher on the spectrum than some of the other real estate classes in Washington. Because of this, you may want to think about what you can and can not afford.
Their middle-of-the-road package is just under $300 but comes with comprehensive exam preparation. This exam prep consists of live webinars that focus on studying with other Washington-based students in a group setting. Many people find that working in a live-streamed type of format is incredibly beneficial due to the other students and the in-person instructor.
The most comprehensive package that Kaplan real estate offers is their career launcher package. This package includes all of the live study groups as well as the exam prep that comes with the other options. However, it also comes with a real estate accelerator course that gives you 8 weeks of career coaching. This could be incredibly helpful for someone just starting out in the business.
At just under $500, this career launcher package is quite a bit more expensive than other real estate classes in Washington. The benefits that you receive from this real estate accelerator course could end up paying for themselves, though. Since it is geared specifically towards the state of Washington, you can be sure you're getting the most relevant information.
---
6. 360Training (Agent Campus): Washington Real Estate Classes Online
At Agent Campus, their courses are powered by the team at 360training. 360training is a premiere online education platform that has been proven effective over the course of many years. Other schools have even sub-contracted the 360training format to teach in their industries.
Because of this, they are able to offer a more streamlined and accessible experience. For people who are just starting to dip their toe in the water of the real estate industry, this could be invaluable. When learning how to navigate the business, you want your classes to be as easy to understand as possible.
Unlike other online real estate classes in Washington, Agent Campus only offers two different education packages. Both are on the lower end of the price spectrum compared to other real estate schools. Because of this, they might be a good choice for people who are trying to get their license on the side.
The basic package offered by Agent Campus comes in at just $125. This includes all 90 hours of required education as well as a real estate math course. Many students find that math is one of the more challenging aspects of becoming a real estate agent. Having this focus on the math aspect is an incredibly beneficial feature.
Their premium package includes everything in the basic one but for just $40 more, you receive a course in client communications. Real estate agents must be able to effectively communicate with their clients. By getting this specific training, you can be sure that you will be able to work with a wide variety of people throughout your career.
With the prices being so low at Agent Campus, it could be the best option for many people. Not everybody can afford to throw a lot of money at their education in order to get ahead. Because of this, they could be the best choice for people who are working full-time in other positions or want to sell real estate on the side.
---
7. Rockwell Institute: Washington State Approved Real Estate Schools
Rockwell Institute is well known as one of the best online real estate schools in Washington. They have been training students since 1974 and have experience in the local real estate market that is incredibly relevant and helpful.
One of the things that Rockwell Institute offers that other real estate schools in Washington don't is a free online course demo. Many times, when looking at online real estate courses in Washington, you may wonder what the actual courses will be like. With Rockwell Institute, you can take a look and get a good feel for what the on-demand web-based courses will consist of.
They offer a pass or no pay guarantee for everyone who takes their courses. This is a great feature and shows that they can put their money where their mouth is when it comes to their system. Seeing as they have served over 150,000 students, this is a major plus for their reputation.
They also boast an 81% pass rate for the state real estate exam. This is compared to the 66% pass rate for students who went to other schools. This, combined with the guarantee, should be able to appease even the most nervous test taker.
The pricing for Rockwell Institute is a little bit on the higher side compared to other real estate schools in Washington. However, at under $500, you can choose whether you receive individual, self guided lessons or live webinars with an instructor.
This package also includes textbooks and a Cram Course designed to help you study for the exam. Many students find that this intensive course is incredibly helpful to them in preparing for the state exam. This could be the explanation for Rockwell Institute having such a high pass rate for the exam.
---
8. Realestateschool.org: Online Real Estate Training in Washington State
Formed in 1983 as Tape Ed Real Estate School, Realestateschool.org was the first distance learning school in Washington. This kind of familiarity with the process as well as the state's market could make it a great option for aspiring agents.
The approach at Realestateschool.org is based on multimedia and repetition. By utilizing many different media formats like audio video, they are able to present the information in an interesting and engaging way.
Their most basic package comes in at around $300, putting it at the top of the price spectrum. However, this package includes a one hour, one-on-one phone call with an instructor currently working in the Washington real estate market. This kind of hands-on experience is so valuable to a newcomer that the price might be less of a concern.
For just $30 more, you can get Realestateschool.org's platinum package. This package includes everything that comes with the basic package with a couple of extras. One of the most important extras this package comes with is a series of cram videos. These videos are comprehensive and designed to help you get ready for the state real estate exam.
The fact that Realestateschool.org has been so connected to the state of Washington for such a long time is one of its best qualities. If you are interested in the local market and how best to approach it, this could be the real estate school for you.
---
How to Get a Real Estate License in Washington
To get your real estate license in Washington, you must first be a high school graduate and be 18 years of age. You must also complete 90 hours of real estate education within a two year period. If you do not finish within that time frame, you may have to start your education over again.
After completing and passing your real estate classes, you must then pass the Washington state real estate exam. After passing that, you will then be fingerprinted and a background check will be run on you before you can apply for your real estate license. As long as you have chosen the best real estate school for you, this process should go relatively smoothly.
---
Final Thoughts on Washington Real Estate Schools
By reading this list of the best online real estate schools in Washington, you are already setting yourself up for success. The road to licensure is not without its challenges, but picking an institution that is catered to your learning style will make the journey that much easier in the long run.