---
Choosing a real estate school to study at can be a daunting option with so many options out there. To help relieve that burden, we're reviewing schools to give you insight into which are worthy of your time, energy, and money and which should be avoided. Below you'll find an extensive Cooke Real Estate School review, including its pros and cons.
---
UPDATED: October 2023
Our Overall Rating

---
Overview Of Cooke Real Estate School
This real estate school has been helping students navigate the real estate profession since the 1970s. In fact, the school was established in 1972, nearly fifty years ago, and continues to operate and provide services to students.
The company concept began shortly before its doors opened. Frank Cooke, owner and operator of Cooke Real Estate School obtained his own license in 1970. He emerged in the real estate business serving part-time in Florida.
First, he was part-time, then full-time, and eventually, he went on to create this real estate school. Out of a necessity for better options and training for agents like him, Frank Cooke made sure to create something special.
Since that point, this real estate school has gone on to be licensed in 15 states and D.C. More expansion is on its way, and Cooke Inc. hopes to offer more quality real estate education options to people across the country.
Cooke Real Estate School's sister company is the Cooke Real Estate School Headquarters, and they are both headed by Cooke Inc. The Cooke family works hard to provide students with a quality education.
As such, they have thousands of students under their belt as alumni. Because they know how important a qualified real estate professional is, they are committed to creating the best environment for the new wave of agents to thrive.
This is done by staying up to date on best practices and modalities. More information on their courses and learning formats can be found below, but it is important to mention how important that is to their core mission.
The Instructors and Staff
Equally important to a school's facts are its instructors and the team behind the name. While we won't go into all details here, there are a few pertinent ones to know before enrolling at Cooke.
Frank Cooke Jr. is the current president of the real estate school and oversees staff and teachings. Helping him is his wife, Beth Cooke, who is the vice president and director of the program.
The staff continues to trickle downward with a video conferencing, technical, administrative assistant, registrar, website & LMS developer, course developer, and of course, plenty of well-qualified instructors.
Instructors range from licensed appraisers and real estate agents to mortgage brokers. Some have decades of experience in the industry, while others have gone on to win awards and sell millions of dollars in real estate. Cooke has gathered quite an impressive array of instructors, regardless!
---
In-Depth Look At Cooke Real Estate School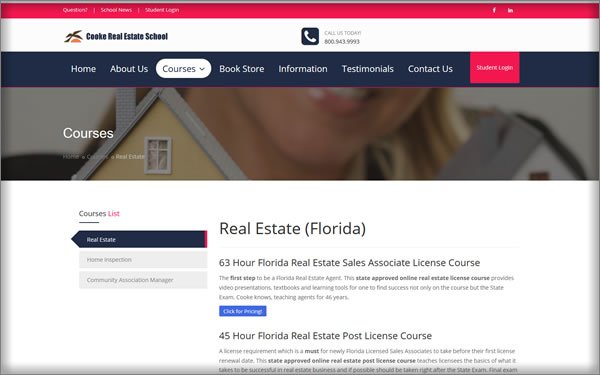 Cooke Real Estate School offers a few different licensing courses, including home inspection, but this review will focus on pre-licensing. The site is extremely easy to navigate, and on it, you can find information specific to your state for the courses.
Cooke offers courses in multiple states across the country. For this review, we will select Florida as our entry point to better understand the course layout. While most of these features are across the board, states have different requirements, and thus a course offering will vary state to state.
Licensing courses in the example state of Florida are only offered online. Unlike many competitors, there are many package tiers, which means students can select the package that makes the most sense for them and their needs.
School Packages
Included in the Bronze Package is the online course, all required textbooks, including Florida Real Estate Principles, Practices, and Law Florida Real Estate Sales Associate Candidate Handbook, Florida Real Estate Law Book. The course also includes an interactive study group with a weekly seminar aimed at having students interact.
From there, the packages continue to scale upward. The Silver Package offers all that Bronze does, but also additional textbooks, including Florida Real Estate Exam Manual and Mastering Real Estate Math. It also includes an extra online course, Florida Exam Prep Course.
The Gold Package includes all that the Silver Package does but also includes The Language of Real Estate and Up textbook and Running in 30 Days guide.
Lastly, the Platinum Package includes all of the Gold Package offerings and a little bit more. You will receive an additional textbook, Sales and Marketing 101, and an extra online course, Sales and Marketing 101.
General Course Topics
Regardless of the chosen course, you can expect all state-mandated topics to be covered. The outline for your home state or the state you hope to be licensed in can easily be found online. For our Florida example, there is an extensive list of topics.
Students can expect to learn The Real Estate Business, Titles, Deeds, and Ownership Restrictions, Legal Descriptions, Residential Mortgages, Appraisals, and more!
Course Layout
The course format is standard for an online class. Lessons will come in the following formats: sessions and chapters, video presentations, vocabulary matching, quizzes, practice exam, final exam preparation, and the final exam.
The bulk of your time in class will be spent navigating the sessions and chapters. This is a convenient way that Cooke breaks down all of the complex principles you must learn. Students will navigate the online sessions as they correspond with their main course textbook. The two sources work in tangent to give you a well-rounded perspective.
Depending on the state, students may be required to be in class for a certain amount of hours to receive credit for the course. In Florida, there is no such requirement, but regardless, Cooke will monitor your "seat time." This will help you keep track of the time spent studying and learning, even if not a requirement in your state.
Once you've completed all the coursework and passed the school's exam, it's time to take the state exam and apply for your license. Cooke will assist along the way and make sure you have everything you need for the process, including a certificate of completion.
In fact, students will have access to Cooke instructors and support throughout their entire process, pre, and post-enrollment. For instructor support, you will have access to questions during business hours on weekdays. You can email questions online or use the live chat function in your student portal.
If there is a technical difficulty, you can email the school through the same school for instructor support or call a toll-free number during business hours. Regardless, all forms of contact are limited and will not allow for late-night or weekend communication.
---
Cooke Real Estate School Pricing
Cooke Real Estate School only offers their schooling online, so the difference in price is based on different package tiers.
Bronze Package (least amount of benefits) – $259
Silver Package – $299
Gold Package – $379
Platinum Package (most amount of benefits included) – $479
---
Pros And Cons Of Using Cooke Real Estate School
Pros
Excellent Reviews
Across the board, Cooke has a ton of great reviews for its program. Nothing proves a school's credibility quite like alumni reviews. In the case of this real estate school, they're overwhelmingly positive, which attests to the school's mission and adherence to it.
Course Pricing
Everyone has a different price point that they are comfortable with spending for their education. Some people don't mind spending a bit extra for benefits, while others cannot afford that uptick in price. Cooke offering multiple packages and pricing levels means more students can access the course at their pricing level
Multiple Package Tiers
Speaking of pricing, this real estate school has multiple tiers. With the varying options, students can not only select one based on their price range but also on the level of assistance they need. While some students may want all of the bells and whistles, others only need the bare minimum. With Cooke, they're able to make a selection that is best for them.
Exam Preparation Add-on
The courses will have light exam preparation for students, but beyond that, there is an extensive add-on for those that desire extra assistance. Included in exam preparation are practice quizzes, recaps, and other study materials that help you feel prepared for that final exam.
Comprehensive Course Outline
This real estate school places all relevant information on its site to be accessed by potential students. Making everything, including course outlines, accessible for prospective students to view pre-purchase means less dissatisfied customers and more transparency, earning another level of respect.
Bonus Course Offerings
If you would like to hone in on a particular subject or refresh your knowledge, Cooke offers individual classes. At the time of writing this review, Florida bonus classes included a Real Estate Ethics Course (3 hours), Core Law Class (3 hours), Escrow Management (4 hours), and even reciprocity courses.
Expansive Coursebook Inclusion
Not only is there a standalone bookstore on Cooke's website, but books are included with every package tier. The higher you go up in tier, the more books included with your purchase. While only one is necessary to navigate the course online, the others will help to prepare you for exam day and becoming a better real estate professional. Bonus: shipping is free on these textbooks and will be delivered in as little as two days!
Cons
Limited Support
Any support is better than no support. However, Cooke only offers support according to an outdated business schedule. If a student is studying on the weekends because they have a full-time job or children to care for, they're out of luck if an issue arises on the weekend.
Six Month Access
The courses expire after six months, at which point students will need to repurchase or pay a fee to extend their access. While this isn't the worst course expiration time limit on the market, it is not ideal for those that have emergencies.
No Refund
Regardless of how far you have made it into the course, the time span, or the percentage completed, no student is eligible for a refund. Once you've purchased the course, you may not receive a refund. If something were to come up, even as simple as not liking the teaching style in the course, students are out of luck.
Conclusion And Verdict
Alumni Reviews
To round off this Cooke Real Estate School review, it's important to look at what other students have said about their courses. At the end of the day, reviews and experiences with a product speak equally as loud if not louder than the information listed on the site itself by those that run the school.
Upon looking at Indeed, Facebook, and the Better Business Bureau (BBB), Cooke rates highly for the most part. Cooke is not a BBB accredited school. This means that it has not earned a stamp of approval for its efforts in solving issues and perpetuating best business practices.
While lacking the accreditation is not necessarily a negative, it does not do the school any favors to not have it. The silver lining in lacking BBB accreditation is that it is better than having a negative BBB score.
As for Indeed, the school received a 4.7 out of 5. Praises included the instructors, value for the price, and job placement assistance after licensing. Facebook reviews boasted similar high praise, though a 5 out of 5 stars on the social media platform.
Students cited the school as helping them to pass their exam on first attempts, excellent instructors, quick-problem solvers, and more. In assessing the reviews and Cooke's own claims, it is clear that this school stays true to its intentions and has outlined an excellent program to do so.
Final Verdict
Cooke Real Estate School is highly recommended. Between the school's reviews from alumni and our own research of their offerings and benefits, Cooke proves to be a cut above all the rest. Offering flexibility in course design, affordable prices, and well-qualified instructors, Cooke is a viable option for your real estate education needs.
There are a few issues that might pose a risk for students, but overall, the issues are not inherent. For example, statistically, most students will not need a refund and thus won't need to worry about that policy. But, we fully recognize it's not ideal.
We recommend giving the school a shot, though it's important to review the website for your state's specific offerings at Cooke and to understand the detriments. Because they conveniently list everything you need to know online, it's easy to see everything you need to know upfront.
This way, you can avoid any surprises and make sure the learning style, layout, and structure are all going to lead you toward success! We admire this school's transparency, which makes it a great option for those that thoroughly research and ensure it's what's best for them.
Although Cooke Real Estate School may be a good choice for some, we still recommend Colibri Real Estate over this school. Colibri Real Estate is a better overall choice and has a wide variety of state options available for students.
---