---
Rowlett Real Estate School is A Florida-based real estate option that offers both online and classroom courses for real estate professionals. However, this school is one of many, and it's important to consider all options before making a decision. Below is everything you need to know about this school in our Rowlett Real Estate School review.
---
UPDATED: February 2023
Our Overall Rating

---
Overview Of Rowlett Real Estate School
Based in and serving Florida real estate students, Rowlett offers a comprehensive education for professionals. Unfortunately, the website does not have much information regarding its origins and offerings.
However, the site does say that its instructors and staff are friendly and that the school values its students greatly. Like many real estate schools, their entire purpose is to help students pass their licensing exam on the first attempt. They also strive to prepare the next wave of real estate professionals so that they can be successful in the career field.
The school operates with a small core team. Because we don't have much information on the school, we will break down who is leading the group to better understand what values and experience they bring to the table.
Paula Stone – Student Support
Paula is a student support specialist who helps with online and classroom students. She works with students to help resolve issues and answer questions. If you're reaching out with questions before purchasing, chances are you will speak with Paula.
Things Paula frequently works on include refunds, course extensions, and login issues. Paula also helps students apply for their licenses when ready. Lastly, Paula is also licensed as a real estate instructor, so she can provide assistance with concepts and may frequent the classroom.
Captain Wayne Rowlett GSI – Chief Administrator and Owner
Referred to as Captain Wayne, he is a real estate instructor at Rowlett Real Estate School. He recently obtained his SGI Certification and operates as a newly approved Gold Standard Instructor. He brings this unique training to Rowlett and works as a real estate investment trainer and coach to help students understand the industry.
Judy Rowlett – Officer Manager and Co-Owner
Judy is married to Captain Wayne Rowlett and also helps to oversee the operations aspect of Rowlett Real Estate School. She is a licensed real estate instructor and broker while helping to co-own and operate Rowlett with her husband. Judy brings years of office management and accounting experience to the table, making her a perfect addition to operations. You may also work with her when it comes to course completion certificates and classroom registration.
Paul Jensen – Instructor
Paul is the lead instructor for the Destin, Florida location. In addition to being licensed himself, Paul also works as a sales associate and media technician for Rowlett. As such, he often assists with the video and audio production at Rowlett when not busy instructing courses. He also is frequently available for discussions about real estate and provides guidance during his office hours.
---
In-Depth Look At Rowlett Real Estate School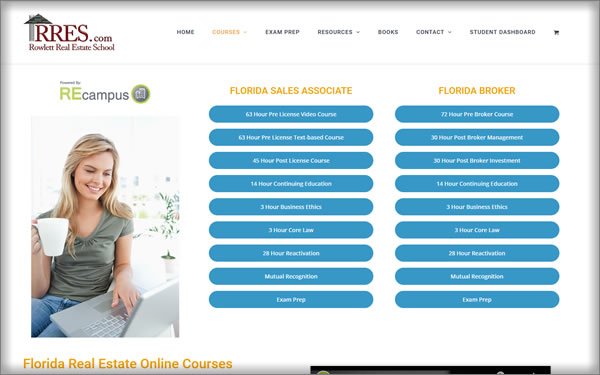 Rowlett Real Estate School offers courses in multiple layouts, including a narrated video course, pre-license text course, and live classroom training. Within each of these courses are multiple package options that can be catered to each student's unique needs.
Rowlett Real Estate School Narrated Video Course
The fully narrated course comes in three package options, basic, premium, and super pack. All of the options and tiers feature narrated lectures and guidance at the forefront.
Super Pack Breakdown (Narrated Video Course)
This is the highest costing and most value-packed option for coursework. Included in this package is a 63-hour narrated video course offered via REcampus. Students will enjoy animations and explanations that help to break down complex information.
Students will be given six months in order to complete their course work and will then have two attempts to pass the final course exam before moving on. While studying, students have the ability to stop and start as they please and reach out to instructors for support as necessary. At the end of every chapter are review questions and a practice exam.
Super Pack also includes a Booster Shot Review, which the school considers the most valuable study aid available. This add-on is a great way to drive home what you've learned and help you crash-course study for the exam. The Booster Shot is a unique benefit of the package and cannot be purchased separately.
Similarly, a Booster Shot is available for math as well. Students can touch up on real estate math skills and practice problems. Again, this add-on is not available separately. The Super Pack also includes state exam prep videos and Math Made Easy exam prep videos in which instructors further break down course offerings.
Premium Breakdown (Narrated Video Course)
Premium is a step down from Super Pack and features a fraction of the benefits. Students will, of course, have access to the 63-hour coursework as mandated by Florida. Additionally, they will only have six months to complete, and instructor support is available where needed.
If a student cannot pass the course final exam, they may need to retake the entire course again. The remaining course material details are all in line with the Super Pack option.
Students who select the Premium course option also have access to the drill and practice Qbank. This is a great benefit when it comes to exam prep. Formally referred to as the Florida Real Estate Sales Associate Drill and Practice Qbank, this function helps to simulate different test environments.
Participants will be able to wade through full licensing exams, custom quizzes, hyper-focused topic tests, and more. There is a Performance Tracker, which will help students find areas they lack in and also compare to peers across the state. In the Qbank are 500+ questions, and students will have access for six months from purchase.
Basic Breakdown (Narrated Video Course)
The last and least inexpensive option that Rowlett offers for pre-licensing packages is the Basic Video Course. This purchase simply includes six months of access to the self-navigational course and no other benefits. Students will be able to take a 100 question practice exam upon completion and have access to instructors. Overall, this tier level is very limited in offerings.
Students are on their own for exam prep and will not have any of the additional benefits as offered in the Super Pack or Premium options.
Rowlett Real Estate School Pre-License Text Course
This is a completely online and self-reliant course option for students. They will not have the benefit of narrated videos or anything similar. Instead, students are left with the necessary course materials and must navigate the course at their own pace and discretion. While this may be a major benefit for some students, many first-timers and those that rely on guidance may not be successful. Below is a breakdown of the package tiers for the pre-license text course.
Basic Breakdown (Pre-license Text Course)
The least expensive option of the group, the basic course, also known as the Florida Real Estate Principles, Practice, and Law Online Course, is limited in offerings. Students will receive materials that amount to the 63-hour pre-licensing work as necessary by the state. Students will have six months to complete and have a 100-question practice exam at the end of the course.
Premium Course (Pre-license Text Course)
Included in the Premium Course is all that basic includes plus a Sales Associate Qbank. So, students will have the same benefit of the first option, including six months to complete, but they also receive a form of exam prep.
The Florida Real Estate Sales Associate Drill and Practice Qbank are filled with hundreds of questions. These questions address the Florida-centric questions, all aimed at helping you pass the exam. Students are able to pinpoint areas that they're weak and build custom exams to reflect those areas. Students will also have six months of access to this perk as well.
Rowlett Real Estate School Live Classroom Training
Last but not least is the live classroom training option. Though it is the most expensive of the three-course layouts, it offers the most assistance. Only available in Panama City, classroom sessions mean students can gain help at the moment and thrive off of peer and instructor interactions. This option is considered a step up from Narrated Video Courses. Within this option are a live in-person option and a livestream option.
As for the timeframe, courses are offered throughout the month and accommodate different days of the week and times of day, such as morning or night. Most of the courses are only a week in duration and will operate as a normal workday, like 8:30 am – 5:30 pm.
In-Person (Live Classroom Training)
These live sessions are a fantastic way to learn in the moment with an engaging format. Students are able to sit and learn via gull guidance and professors who offer personal anecdotes.
Students will need to select the time and days that work best for them. As mentioned above, most times are modeled after the traditional workweek and offered year-round. You will need to find a date and time that works best for your situation to show up and attend.
One of the benefits of this course is that you won't need to navigate it on your own and can instead rely on an instructor's day-to-day teaching. This takes some of the policy adherence out of the question so that students can focus solely on learning.
Livestream Learning (Live Classroom Training)
If a student cannot make it to the campus, such as if they don't want to commute, live streaming is a great option. Students will just need to choose a date and time, which coincides with in-person meetings and attend via computer for class.
Not only can students benefit from all of the interaction, but they can do so comfortably from home.
---
Rowlett Real Estate School Pricing
The pricing will vary depending on the course format and the package within each that you select.
Live Classroom Training – $425
Live Classroom Training Livestream – $365
Basic Narrated Video Course – $239
Premium Narrated Video Course – $279
Super Pack Narrated Video Course – $299
Pre-license Text Course Basic – $199
Pre-License Text Course Premium – $244
---
Pros And Cons Of Using Rowlett Real Estate School
Pros
Multiple Learning Formats
Students will benefit from flexible learning formats, primarily online and in-person. This means that students who can't commute to campus have an avenue for learning with Rowlett. It also means that students who don't do well online can opt for a live session to learn in person instead. Both options lead to high-quality learning.
Multiple Package Options
Within every learning format, as in online or live, there are different package offerings. Students will be able to choose between names like basic and premium to select the one that best works for their needs.
Great Support
Rowlett's support comes in multiple formats, and it is broken down between instructor and tech support. Students can contact the school via the school's phone or email. Also, Paula Stone, the student specialist, works holidays, weekends, and nights. She offers her personal phone for contact at any time so that students are never without help, even if outside of normal business hours.
Florida Centric School
This school was built in and continued to operate out of Florida. As such, all of the instructors are well-versed in Florida real estate and can offer specific insight into the local market. A school built from the ground up in the state of Florida guarantees values and principles that can't be matched.
Extended Accessibility
Rowlett allows up to six months of access to online courses. However, they also offer prices and the ability to purchase extensions. Students may extend in intervals of one, three, or six months.
Cons
Refund Policy
Students can receive a refund only if this has not been longer than seven days and so long as a student has not gone past Unit One. If one or more of these things have passed the mark, no refund is permitted.
Pricing
While pricing ranges between the format and package inclusion, the overall cost of Rowlett is affordable for most students. If a student requires the cheapest option but still wants to study at Rowlett, there are prices around the $200 mark. For those who can spend extra and want more benefits, the higher cost programs may be worthwhile. However, they are not the best priced Florida real estate course option. You can find better pricing with the Florida course with Colibri Real Estate.
Conclusion And Verdict
Now that we've broken down all of the most important aspects at Rowlett Real Estate School, it's important to take a look at what fellow students have to say about the institution. To wrap up this Rowlett Real Estate School review, we'll take a look at reviews on sites like the Better Business Bureau, Facebook, and Yelp.
When it comes to reviews on Facebook, the school scores an average rating of five stars. Alumni praise the school's instructors, specifically Paul, for making learning interesting and engaging. Another reviewer mentioned that there was a sense of comradery amongst students, which made it easy to seek success as a whole.
When it comes to Yelp, another Rowlett Real Estate School review praised comprehensive material, which led to many successful attempts at passing on the first try. Additionally, most students say they would love to come back for continuing and post-education learning.
Lastly, the BBB, or Better Business Bureau, is a great source for better understanding how a school conducts business. According to BBB, the school is accredited and maintained and has an A+ for its business practices during the last thirteen years of business.
Final Verdict
Rowlett Real Estate School is a great option for real estate learning. The school is dynamic, offering multiple class formats and packages within each format. While maintaining a high level of quality, the school manages to cater to different learning needs and prices. Overall, Rowlett is an excellent option for all students.
That being said, there are still better options for Florida real estate schools. Our top choices would be either Colibri Real Estate which has better pricing and more options or AceableAgent.
---
---