---
Larson Educational Services is a multi-divisional school covering mortgage, real estate, insurance, and more. For this Larson Educational Services review, we will focus on the real estate services provided by this school, particularly the pre-licensing coursework. You'll find everything you need to know about the school below, including whether it's the best option for your real estate education.
---
UPDATED: February 2023
Our Overall Rating

---
Overview Of Larson Educational Services
This institution prides itself on providing quality education options for new and continuing education professionals. Real estate is at the forefront of the school's curriculum, but here you can find multiple specific routes that might lead you to a promising specific career.
The school began back in late 2008. Family-owned and operated, the school first opened in Fort Meyers and has since grown to have multiple locations in Southwest Florida, including Naples. Though the school first opened its doors in 2008, operations and the business itself began long before, back in the 70s.
The school is headed by Rick Larson, who also co-founded back in 1970. Though back then, it was known as PROSOURCE Educational Services instead. When the company continued to grow and develop into appraisal, insurance, contractor services, there was a rebrand. With the help of co-owner Joe Coyne, the school was sold to Kaplan Professional Schools, which is owned by the Washington Post.
Since these origins, the school has been able to educate 500,000 individuals progressing thousands of careers forward. Primary goals for the school include helping students both pass exams and gain a valuable skill set to propel their careers forward.
More of Larson's Story
The school began operations in 2008, which was a tough year for the American economy, given the recession. A lot of the fallout from the recession was directly related to the real estate industry, such as mortgage and credit crises.
It was an ambitious time to open the school, and the curriculum certainly reflected it. Siblings Brad Larson and David Larson worked together to open the first location in Southwest Florida.
Their mission was modeled around bringing a fresh and innovative take to real estate education catering to a younger crowd. At the time, the brothers were only 28 and 25, so the promise of educating youth during a tough time while remaining high-energy and high-tech was attractive.
The first-ever class offered by Larson was in 2008, and the class size was only nine students. During the first year, 744 certifications were given in real estate and similar pathways. From 2008 and onwards, the school grew to teach over 50,000 classroom sessions and hundreds of thousands of students.
Larson Educational Services Team
Since its origins, the school has grown quite a bit in the size of its team. Today, you can find nearly a dozen employees who help run the school in the classroom and with operations. A big chunk of the team is the Larson family, including Brad Larson, David Larson, and Rick Larson. Each of the Larson's has been a part of the team since "day one," but many other newcomers have joined.
---
In-Depth Look At Larson Educational Services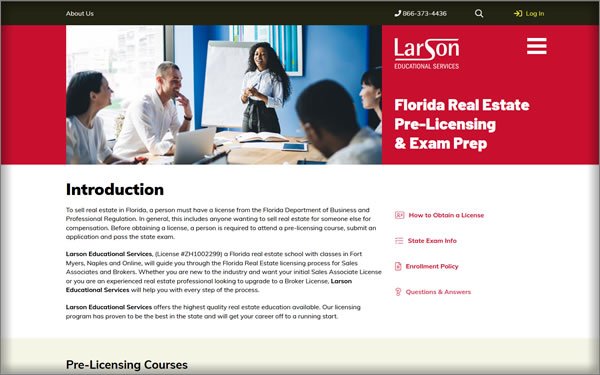 As this guide previously mentioned, courses are offered in multiple areas. For the sake of this guide, we will focus on real estate and, most specifically, pre-licensing work. The school provides an education that is deemed appropriate by the Florida Department of Business and Professional Regulation.
The courses are crafted to help students pass their exams via flexibility. As such, courses are offered in both online and in-person formats. In-person classes are available in Fort Myers and Naples.
Larson Educational Services Classroom Course Breakdown
The classroom courses at Larson are led by well-qualified real estate professionals with the proper training and certifications. Not only are these leaders designed to help provide unique insight into the career field, but they also know what it takes to pass the exam.
When studying in person, you'll have direct access to instructors and peers to ask questions, interact with, and learn from. One of the greatest benefits of classroom learning is immediate assistance with any issues, whereas online is more self-reliant. Rather than waiting days for an answer, you can receive same-day ones, oftentimes right in the moment.
Another big part of the classroom learning at Larson Educational Services is the ability to network early on. You're able to connect with your instructors but also fellow students who come from all walks of life and may be able to supply you with everything you need as a leader.
The school works hard to provide fun, high-energy learning to keep students engaged. As the school was founded by a young team, they understand the importance of engagement. This also counts toward the effort of creating a comfortable learning environment.
Covered in this course are fifteen class units navigated by your instructor at a predetermined pace. Also included in your tuition is a 400-page course manual that covers content, questions, and glossary terms. Students will receive an exam prep in their tuition for free that contains 200 questions and is available upon registration.
Students can register by visiting the website and checking out the upcoming schedule. At the time of this review, courses are scheduled out into the next year and feature both campuses. Additionally, students will be able to choose the days and times they attend to best accommodate their needs. Evening, weekday, and weekend are all choices aimed at working with all students.
Once a student pays tuition, they will have limited access to the course for one year. Students won't be able to sit in class again, but they will have a year's access to LarsonLIVE, which is an online mode for their coursework that allows for refreshers.
Online Self-Study Course Breakdown
Online courses at Larson provide flexible learning options while still maintaining a high quality of service. However, the school states that these schools would be best suited for someone who has previous real estate experience rather than someone who is new to the industry. This is because the online courses are very self-reliant and don't leave much room for extra assistance like in-person training does.
This course method is also best for those that are proficient in technology and feel as though they can navigate the course properly alone. With that being said, this is an extremely convenient way of learning that doesn't require long commutes or a schedule adjustment to attend. You can study when and where you want, all from the comfort of your home. This is a great option for those with another full-time job, families to care for, and similar.
All in all, online learning can be a great option for most at Larson. It follows the same curriculum as the in-person courses but also allows for flexibility, which is necessary in today's world.
The self-study option is the least expensive but includes the least amount of benefits. Students will have access to nineteen class units covering everything they need to know for licensing. It also includes an eBook with nearly 600 pages covering content, questions, and a glossary featuring important terms.
Self-led students also benefit from one-year access upon payment for their tuition.
Online Instructor-Led Learning
The third option at Larson is online instructor-led learning. It features video-on-demand courses that are a more direct alternative to in-person coursework. Within the course are lessons that may be reviewed at their own pace, practice questions, embedded videos, and other supplementary resources like exams.
To further break this down, students will have access to fifteen class units that cover every major component of the licensing exam. As for the on-demand video instruction, students can watch videos at their leisure with instruction from the team at Larson.
As they instruct, they will weave in their own examples and stories that help to drive home key concepts. While it is not a live version, as in you can speak with them in the moment, this is a hybrid option for those that want video lectures supplementing their self-study and reading.
Speaking of reading, students will also have access to an extensive workbook with over 400 pages. Inside are learning content, questions, and a glossary with all of the information you need to know, like definitions and terms. Unfortunately, the school does not shop for these workbooks, so if you would like a physical copy, you must be able to pick one up from the Fort Myers or Naples locations. Though, there is an e-book version if you're not able to commute for a physical copy.
Lastly, this course includes a one-year tuition policy in which you will have access to your course from the date of paying tuition for one year.
---
Larson Educational Services Pricing
Because there are three-course options, the prices vary quite significantly depending on the format selected. Below is a breakdown.
Online Instructor-Led
The cost of this course is set at $399. It includes the 63-hours of sales associate training that is mandated by the state of Florida.
Online Self-Study
This course costs $245. It includes 63-hours of self-study, effectively fulfilling the hours required by the Florida real estate board.
In-Person Classroom Courses
Though classroom sessions vary widely in regards to time and days, the price is the same for all days, times, and locations, $439. Included in this price is the required 63-hours commitment led by real estate professionals.
---
Pros And Cons Of Using Larson Educational Services
Pros
One-year Access
Upon registration, students have up to one year of access to their course. This is true for all formats, including online instructor-led, online self-study, and in-person classroom training. Though for classroom training, the access is not via more live sessions but rather LarsonLIVE. Regardless, students will enjoy a long period of access, meaning no rush and a safety net if something goes wrong.
Affordable Pricing
Overall, Larson is an affordable school, regardless of the learning mode you select, though self-study is the cheapest. Even the most expensive option, classroom learning, is affordable when compared to other school's cheapest alternatives.
Flexible Learning Options
Students have the ability to choose between online self-study learning, instructor-led online learning with on-demand videos, or classroom learning. All of these methods mean flexibility for the student and the ability to select the mode of learning that works best for them.
Exam Prep
Included in the classroom layout option is an exam prep for free. Otherwise, students will need to pay a nominal $29 for access to Larson's exam prep. With that being said, eBooks included in the course do have some exam prep materials included.
Locally Owned and Operated
Larson Educational Services benefits from a unique insight into the local real estate market and what it takes to thrive in the same place they're instructing. Big national brands often promise catered learning to the state you reside in, but nothing quite beats smaller-scale schools and their unique perspectives of the place they operate in.
Positive Reviews
The reviews for Larson are overwhelmingly positive. Factors that are praised often coincide with what Larson has made a big push to accomplish. Areas like high-tech, high-energy learning in the business model are all things alumni praise.
Cancellation and Refunds
If a student needs to cancel their course registration, they may do so before the start of class and receive a 100% refund. So long as the registration was not more than six months ago, a student won't need to pay a $10 processing fee. Students are not eligible for refunds if they already completed all of the class sessions or took the final exam.
Sleek, Easy to Navigate Site
This school has created a great website that allows students to easily navigate and find what they're looking for. There are far too many outdated sites on the market, and luckily, Larson is not one of them.
The Larson Difference
Larson Educational Services' creators have outlined a list of positive differences that their school follows. Among them are different instructors, classrooms, materials, services, and more. This difference is what drives the school and contributes to what makes it shine.
Cons
Technical Support
Unfortunately, if a student has a technical issue, the option for assistance is email or phone call. However, these calls for help will only be returned during business hours, so if you're studying after work or on weekends, it may take days to receive a response.
Conclusion And Verdict
To round out this Larson Educational Services review, it is important that we look at what other alumni have said about the school and its offerings. To do so, we look at sites like Yelp and Indeed to better understand the kinds of experiences students had.
Across multiple platforms and according to testimonials on Larson's own website, the school has excellent ratings and reviews. On Facebook, the school has over 200 five-star reviews with alumni praising the instructors both for their knowledge and friendliness.
The school also has similar results on Yelp with five stars from those that have left reviews. One Larson Educational Services review saying, "The course material, instructors and the impeccable customer service is top-notch. I have had experiences with other schools, and I can honestly say Larson is at the top. I will be back for my Post-License course!" Not bad for a relatively young school.
Indeed shows similar votes with an average of 4.8 stars. Another important place for reviews is the Better Business Bureau. However, the school does not currently have a profile there or accreditation. While this isn't a major red flag, it is something to note for students who might be concerned.
Overall, the reviews for Larson have been overwhelmingly positive. Even on their own website, the handful of reviews highlighted are positive and showcase all the school has to offer.
Final Verdict
With all of that being said, we are happy to recommend Larson Educational Services to students looking to further develop their real estate careers. This school offers flexible learning options that are comprehensive and organized in a fun format. Pairing those basic features with the school's high reviews, Larson is a great choice for Florida residents to receive their pre-licensing coursework.
However, Larson Educational Services is not our choice for the best real estate school in Florida. If you need to get your real estate license in Florida, we would suggest Colibri Real Estate or AceableAgent over Larson Educational Services.
---
---