---
This Brooklyn School of Real Estate review navigates the school's unique background, course offerings, and pros and cons that may affect your decision on choosing the best school for your needs. As one of New York's many options, it's important that you take time to understand the school and make sure that it is the best option for your needs. We've broken down everything you need to know in this guide in hopes that you make the right choice.
---
UPDATED: November 2022
Our Overall Rating

---
Overview Of Brooklyn School of Real Estate
Brooklyn School of Real Estate, or BSRE is a New York-based real estate institute. The school has been in operation since 2001 and is a state-approved school, authorized to instruct students and supply certificates of completion when all state-mandated hours have been completed. The school offers coursework for all real estate professionals, such as brokers, inspectors, and appraisers, but this review will focus on the pre-licensing offerings.
BSRE prides itself on being a one-stop-shop for all of your real estate education needs. From coursework to any of your needs post license, the school focuses on providing students with value and efficiency consistently. In enrolling here, you will have access to all 75 hours of the New York state required pre-licensing coursework via flexible schedules and intimate learning environments.
Unfortunately, BSRE's website does not offer much information on the school's origins or its team, which is a major detriment when comparing different schools in the area. Whenever you're advertising services, especially so for in-person interaction, it's important that there are up-to-date pictures and about pages that inform customers. Without knowing who these people are, their individual names, or what they look like, it can be difficult to make sure the instructors are well-qualified. Omitting that information may lead to safety issues as well.
---
In-Depth Look At Brooklyn School of Real Estate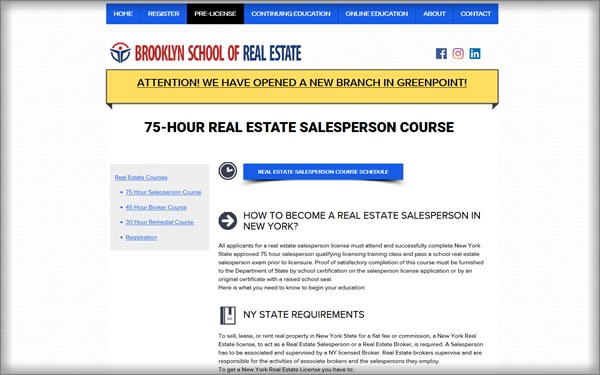 BSRE offers both online and in-person learning. Though there is a caveat with the online learning that will be discussed below. This flexibility is great as it includes more students and caters to different learning styles.
At the time of writing this review, there is only one course tier option which is the 75-hour Real Estate Salesperson Course. This course includes free private lessons and covers over twenty topics including but not limited to legal issues, licensee safety, taxes and assessments, property management, mortgage brokerages, real estate mathematics, municipalities, human rights and fair housing, and land use regulations.
Once you purchase your course, you're able to begin attending classes immediately. Additionally, the sessions, or topics, do not need to be completed in a specific order. Students are free to choose when and what they study at any given time so long as it is all completed in the end. So, if you purchase your course package when session number #14 is being taught the next day, you won't need to wait until #1 comes around again, you may begin with #14.
As such, BSRE advertises that students can complete the coursework in only 19 sessions, so long as you're able to attend them all. This means that you will need to be present for each of the required topics when they come into rotation. It is an interesting business model and free-flowing structure that we have not seen before.
Sessions operate throughout the week beginning with 9 am morning sessions and ending with 6 pm evening sessions. If you were to take morning and evening classes three days a week, rather than either or, you could potentially complete the entire coursework in as little as 10 days. The school advertises this option as being convenient as you can drop in and take a course wherever you see fit.
Once you've completed all sessions, it is time to take the final course exam. This exam must be taken in-person and will be proctored. In order to pass the exam, you need a 70%. From there, you will earn a certificate of approval from the Brooklyn School of Real Estate, which is a requirement to schedule the state licensing exam. Now that we've covered the in-person learning, let's dive into online learning.
The online education is completed via a partnership with Mbition, another online real estate company. Because online learning is not directly offered through the BSRE, we do not want to speak too much on it as it has more to do with Mbition than this Brooklyn-based school. We will only discuss it where necessary.
Mbition is a national real estate brand that we often praise for its simplistic but wholesome online offerings. We would encourage anyone who is interested in online learning to visit our reviews on Mbition. You might also consider going with another school as Mbition is not directly tied to the Brooklyn School of Real Estate. If you were hoping for an intimate school in online form, this is not it. Even the exam prep is done online through Mbition rather than an in-person add-on, though the school does offer one private session in their pricing which may be used for exam preparation.
As for the in-person schedule, BSRE is offering morning courses on Monday, Tuesday, and Wednesday for pre-licensing at the time of this review. Keep in mind this school is very comprehensive and they're constantly offering other courses as well for those seeking certification in appraising, mortgages, and more. You'll want to be sure when checking the schedule that you're planning to attend a course that will count toward your license and not another.
---
Brooklyn School of Real Estate Pricing
When it comes to pricing, this real estate school remains neutral as we don't consider it too high or an especially good deal for what it is offering. For the 75-hour coursework, a textbook, and a private lesson, the price is $350. This price is strictly for in-person learning and does not include online learning as the online learning is done via Mbition and has its own inclusions and pricing not unique to Brooklyn School of Real Estate.
Simply for reference, Mbition's online coursework for a New York licensing program is $229.99 for the basic package and $344 for a deluxe package.
---
Pros And Cons Of Using Brooklyn School of Real Estate
Pros
In-Person Coursework
It's not often that real estate schools offer in-person learning as an option, though smaller, local brands typically do. In the case of this real estate school, it solely offers in-person learning with its own curriculum. These learning settings are great for students to interact with peers and instructors in real time.
Accessible Support
Support is great at this real estate institution as there are multiple ways to access help when needed. If you're attending a live class lecture, you can ask the instructor or faculty any questions.
If you're online and have general questions, BSRE has a standard contact page with phone, fax, email available. If you decide to take the online coursework, which will then switch you over to the Mbition interface, you will have access to great online support for your coursework.
Local Brooklyn Perspective
Smaller schools like BSRE are great for providing students with unique insight that is nearly impossible to receive on a general online learning platform. This is because these courses are usually taught by locals who live in and serve the area.
They can then offer anecdotes and real-life examples to keep the class interesting and as informative as possible. Also, if students need assistance on where to go after obtaining their license, the instructor will have firsthand knowledge of the best thing to do based on market trends.
Extensive Course Topics
The school lists all of its topics online so that students have an idea of what will be covered prior to purchasing a package. In total, there are 20 offerings at BSRE, and the list is extensive, covering the most important parts of local and national real estate policies and laws.
Cons
Outdated Website
This issue applies both to BSRE's interface and the content on their website. We found it difficult to navigate the site as it was poorly organized, and dense with text on the homepage, which made it impossible to know where to go for what we needed sometimes.
In contrast, despite all of the text, some of the most important information was missing from the website completely, specifically on the about page. It is vital that prospective students know the faces and names of a local school such as this one. Yet, there is no information available beyond the school's opening years and its offerings.
Online Option via Partner Site
We tend to like Mbition as a pre-licensing option, but the fact that Brooklyn School of Real Estate does not offer its own online program is a major con in our eyes. Because the online learning is outsourced to a national brand, the school loses much of its winning characteristics, such as that it is locally owned and operated.
Only One Package Offering
Unlike many other real estate schools, especially in New York, this real estate school only offers one package option. Though it includes all of the school's offerings, it is not as comprehensive as others we've seen. There is no exam prep add-on and no pass or money-back guarantee. It is simply a one-size fits all course, which may leave some students left in the dust.
Confusing Course Layout
This real estate school specifies that you need to attend 19 sessions to complete the required coursework. Additionally, it does not matter which order you attend the sessions as they can be completed at any time without issue.
While this could be seen as a flexible positive, we find it confusing. The student is responsible for following a course with no set structure and they may find it difficult to remember which courses they've completed and which they haven't got to.
No Pass or Money-Back Guarantee
While not a necessity, we appreciate when schools can give students a money-back or pass guarantee for their purchase. If a student finds that the teaching style of the instructor is not their style, the best option is not to keep them stuck there with no option of a refund.
Conclusion And Verdict
When it comes to this Brooklyn School of Real Estate Review, it's important to consider what previous or current students have to say about the school. As an organization that constantly reviews real estate schools, we are biased toward what we believe makes a great option for students, so we appreciate alumni's candid analysis of their time at a school.
When it comes to Yelp, BSRE does not rate well. Alumni have previously made complaints about the instructor's abilities to lead the course during live sessions. As New York requires 75-hours of instruction to be eligible for passing, it is disheartening to read so many students found that their instructors took frequent breaks or rushed through material allowing class to end early.
Another frequent issue seemed to be that instructors read off material rather than actively taught and engaged students with the curriculum. Other common complaints include run-down classrooms and inadequate supplies for a comfortable learning environment.
Aside from these complaints, other alumni found the course to be a good value for what they got, especially when using coupons found online. They also stated so long as you review the materials outside of class, the coursework is manageable. This school is not a Better Business Bureau accredited institution, so they have not received the stamp of approval from BBB stating that they make quality efforts to fix customer complaints.
When it comes down to it, there are many options for real estate schools in New York, both live sessions and online. After assembling this review and looking through all aspects of Brooklyn School of Real Estate's operation, we do not recommend it at this time. There seems to be too many issues with the live version and the online version is not a true reflection of this locally owned business, but rather Mbition's business model.
If you're not concerned with customer service or transparency as we are, this school could still be an option for you. However, if you have the choice, we strongly recommend studying at another New York real estate school with more well-rounded, stable offerings that will provide a quality education, help you pass the licensing exam, and prepare you to be a great agent in the future. We prefer Colibri Real Estate or The CE Shop.
---
---