---
Inland Real Estate School is a robust real estate option in Illinois that provides students with all of their real estate needs. With so many options out there when choosing a real estate school, it's important that you choose all of your options. In this Inland Real Estate School review we've broken down everything you need to know about the real estate school, including if it's best for you!
---
UPDATED: November 2022
Our Overall Rating

---
Colibri Real Estate: $180 Off Ultimate Learning Course
37 uses today
Last Used: 17 hours
Save 30% on The CE Shop Pre-Licensing Education
41 uses today
Last Used: 1 days
Up to 30% Savings on Aceable Agent Premium Exam
36 uses today
Last Used: 1 days
Save 20% on Prep Agent Real Estate Courses
41 uses today
Last Used: 11 days
Receive 10% Off AYPO Real Estate Courses
36 uses today
Last Used: 1 days
Overview Of Inland Real Estate School
Inland Real Estate School is a fully licensed option serving the state of Illinois. The school aims to provide students with excellent learning solutions that place students at the forefront. Some of the most important aspects of their business model include providing students with quality, student-centered schooling options. As such, they aim to be as flexible and adaptable as possible in their teachings.
The school offers a plethora of course options, all ranging depending on the specific career pathway, but overall, each operates with the core value of students first. For this review, we will focus on the pre-licensing options at Inland, but keep in mind that the school is available for all real estate needs. The school also has a nationwide network of appraisal and mortgage broker options for students who are interested.
When enrolling at Inland, students can expect a school that backs their efforts of creating a promising real estate career. The school recognizes how important it is to choose a quality option, and they do all they can to make sure students are cared for.
According to the website, Inland Real Estate School has many advantages for its students. The school boasts high pass rates for the state licensing exam and sixty years of combined experience for the staff, which works to pass that extensive knowledge onto students during class times.
The website also makes it known that it is not led by a team of brokers or investors. Instead, it is a local, "real-person" team. All staff have the appropriate education and career experience to provide students with the best learning opportunities.
David McGowan
The Inland Real Estate School has a small, localized team consisting of David McGowan and Stephanie Krol. David acts as the owner, president, and CEO of Inland Real Estate School. The school was originally part of Inland Real Estate Brokerage, Inc. From there, he became a Managing Broker at Inland for over ten years before becoming Director in 2007. Since then, David has been active in the school's success, helping to improve curriculum, school offerings, locations, and enrollment.
Stephanie Krol
Stephanie Krol acts as the school's vice president and COO. Dr. Krol is highly involved in the school's success and has a great track record. Her skills and professionalism are obvious for all that know her, and clients and peers both regard her services as being of the utmost quality. Dr. Krol brings years of experience to Inland, roughly 20 in total, where she has wholeheartedly developed her market knowledge while honing in on her effective approach. Among Dr. Krol's list of specificities are residential, commercial, luxury, estate, equine facilities, and a specialty in Chicago, Western Michigan, and Western Suburban, Illinois.
Inland Real Estate School Stats
The school has a nice breakdown of its statistics on its website, which include:
More than 9 programs
More than 120,000 students served, including 12,000 veterans
More than 40 years of industry experience
More than 14 years of education
Inland recognizes that there are many schools on the market that can help students get to their end goal of becoming a licensed real estate agent. However, they also encourage students to select the best option to get them there so they are the most qualified they can be. This real estate school seems to be the path to get there, and the best part is, they're completely committed to the student.
Their business model is that when a student chooses to invest in them, they will invest 110% back into the student. They do this by helping new agents find their footing in the real estate world and creating their own identity so that they can thrive. This process might include helping students whittle down areas of interest or instilling skills that will help them navigate as excellent agents and brokers.
While many other schools are simply looking to get students in and out of their schools, Inland is committed for the long run, and it shows in its commitment to students as a whole. Luckily, this school has built quite a reputation for supporting students long after the schooling is done. Inland recognizes that this is only the beginning step, and they will work with students to help transition them into the field once education is complete.
---
In-Depth Look At Inland Real Estate School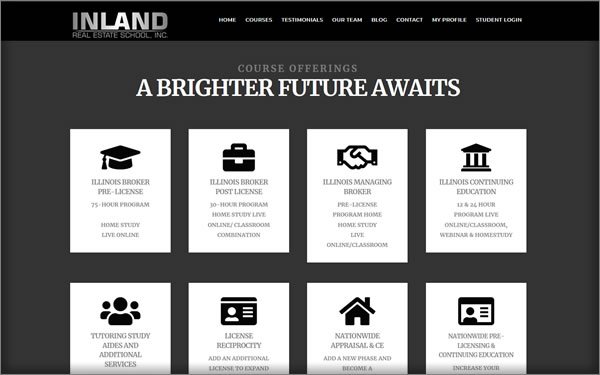 The school has also crafted new, updated coursework that provides students with a flexible learning option that works with students, helping to guide them through their education according to their specs. Courses are offered in multiple subsections of real estate, but for the purpose of this Inland Real Estate School review, we will focus on pre-licensing.
At a glance, the benefits of this school include:
24/7 online course access
Practice exam questions
Automated reminders
Live instructor assistance
Progressive tracking notification
Exam prep
As required by Illinois law, Inland supports a 75-hour real estate course layout. This course option is aimed at preparing students for the licensing exam and being placed with a broker who will help guide their careers further.
From start to finish, Inland has the process of licensure covered for students so they can focus on what matters most, learning. Once a student has selected a licensing school, they will then complete both components, which are a 60-hour theory of real estate law and a 15-hour additional unit that focuses on understanding real estate law and its application.
Within the course are a dozen online quizzes that coincide with chapter divisions. To pass, a student will need a minimum of 75%. From there, the school will send along your certification pass to the state, who will then permit you to take the licensing exam. Before a license can be issued, a student will need to have a sponsoring broker lined up.
Inland Real Estate School Course Breakdown
Courses can further be divvied up into the following sections:
Agency Law – Discussion of the guidelines that must be followed when representing the interests of a client
Finance – Exploration of the current financial issues that impact the purchaser's ability to secure financing
Contract Law – Examination of the aspects of a contract, both valid and enforceable agreements, including a discussion on how contract law impacts the transfer of ownership
Appraisal – examination of the various concepts in the acceptable approaches to establishing value
Deeds and Conveyances – A detailed study of the various means by which property can be conveyed and the impact various deeds can have on the consumer's claim to ownership
Additional areas include environment, legal description, closing, leases, property management, and commercial real estate.
Live Inter-Active Online
Inland offers multiple options for pre-licensing, including an online and in-person option. The school leans toward an online study operation with multiple online real estate course options for students. The primary online course is the 75-hour pre-license course, also labeled the "live inter-active online course." Rather than needing to meet in person or being completely solo online, this option combines the best of both worlds, making for an engaging learning format. As the name suggests, students will need to interact when enrolled in this course option.
During this course, students will listen to live presentations and have the opportunity to interact with instructors and peers as needed. The course is divided into 16 sessions, and the time slots are mornings between 9 am and 12:45 pm and evenings between 6 pm and 9:45 pm. Before enrolling, students must make sure the time they're looking for is available, which can be found online.
Only 15 Hour Add-On
Suppose a student has already studied the initially required sixty hours at another school, or even with Inland but would like to change the format for the second part of their 75-hour Illinois-mandated workload. This 15-hour interactive choice is available live online, and it is structured so that students can simply join the last four sessions of an already happening class.
During this class, students can interact with their peers and instructor to be sure all information has stuck. Additionally, students will be able to ask any questions they have and receive immediate responses from well-qualified instructors. Being as this is the last portion of licensing studies, it's certainly an important one. Students will need to visit online to be sure a day and time work for them.
Home Study
Another option for studying at Inland is home study, which is completely self-reliant. Students won't need to guarantee a time or day slot. Instead, they can study when and where they need to. This option is referred to as home study. It is completely built around providing all students with flexibility while maintaining a set of guidelines that leads to success.
It's important to note that home study is only applicable for the first 60 hours, after which students will need to then select a time for the 15-hour interactive portion. This is required as there is a minimum amount of live teaching necessary as required by law. Though the bulk of the course is self-paced, be sure to leave time for the second section that does require a bit more commitment.
---
Inland Real Estate School Pricing
The live interactive online course option is $577.00. This option includes 16 online sessions in which lectures are live streamed, and students can interact with peers and instructors.
For the 15-hour live interactive course option, it is $135.00. This option includes access to peers and instructors to drive home concepts learned in the previous sixty-hour section.
Home Study, including the 15-hour add-on live course credit, costs $527. This package includes 60 hours of online solo-studying materials and 15 hours of live interaction.
---
Pros And Cons Of Using Inland Real Estate School
Pros
Flexible Payment Options
This real estate school is extremely flexible in what it allows for students to use for payment. Credit card, check, credit union loans, pay with affirm and a low-interest payment plan, cash, PayPal, or PayPal 6-month plan with no interest. All of these options are acceptable, though a student will need to verify they qualify first.
Sleek, Intuitive Website
The Inland website is incredibly easy to follow, and the design is appealing. Far too often, schools neglect their website, thinking it does not matter, but it can make all the difference, especially when choosing to online learn in any capacity.
Well-Qualified Team
Though small, the Inland team is very qualified to instruct courses and educate the new wave of real estate professionals. Each person brings their own unique experiences to the table, and students will be able to absorb that knowledge while studying at Inland.
Robust Statistics
Not only does this school have many positive online reviews, but it also has an excellent history and statistics to prove it. Ten thousand students have been trained at Inland. There are over nine courses, 2,000 reviews, and an average of 4.5 stars. These stats speak for themselves and attest to the school's quality.
Contact Options
In addition to traditional contact options, this school also boasts an online chat option that is more than willing to assist at the moment or refer to someone who knows how to help. When studying online, it is very important that communication remains open.
Cons
Pricing
The price point for this school is a bit higher than competitors, and this is true for both the online and in-person course options. The higher-than-average prices make it difficult for some to choose Inland as their school, though there are often discounts for use, including Groupon.
Conclusion And Verdict
To round out this Inland Real Estate School review, we look to online reviews left by alumni, which provide more accounts of what this school offers and its benefits. Reviews can be found across multiple platforms, including Yelp, Trustpilot, Groupon, and Facebook. Of these sites, reviews are unanimously positive.
On Yelp, the school earns a 4-star rating. Many alumni praise the school's real estate knowledge, specifically instructor Dave. One user also admires Dave's passion for real estate, saying that it's easy to feel via his motivation for students' success and Inland's success. Students also appreciate the pace of the course as things moved quickly, and students were able to cover a lot of ground effectively, though it's important to note this may be an issue for others.
When it comes to Trustpilot, the school earns 4.7 stars. Reviews here are similar to the reviews left on Yelp. Dave remains at the forefront for his excellent teaching skills. Another reviewer described the school as being a positive experience that resulted in a well-rounded education. Other words used to describe the school include impactful and incredible. These are great praises for the institution that speaks to how excellent the school is according to alumni reviews. Alumni also praised the school's knowledge base and ability to make content that is fun and witty to help guide students through the complicated world of real estate.
Final Verdict
Inland may be an excellent choice for hopeful real estate professionals. Between the many benefits, such as their long-term commitment and reviews left by alumni, this school may be an excellent option. We were not impressed though with their response times because we never received any response to our requests. This is not a good sign.
Overall, students are encouraged to reach out to school officials and chat about their options before committing to any school, but as it stands, Inland may possibly make a great real estate educator for many hopeful real estate professionals.
However, for those looking for the very top real estate schools in Illinois, we would recommend Colibri Real Estate or The CE Shop. Both of these schools have very high reviews and truly offer the best education for the money.
---
---