---
Real estate in Chicago is a big business with a lot of earning potential for the right person. If you have been thinking about getting your real estate license, Chicago Real Estate School could be a good choice. With this Chicago Real Estate School review, you can decide for yourself.
---
UPDATED: November 2022
Our Overall Rating

---
Overview Of Chicago Real Estate School
History
Chicago Real Estate School was founded in 2008 with the intention of helping adults get their real estate license in Illinois. Since then, they have been working with all kinds of people and all kinds of learners. This has allowed them to know what it takes to impart the right information to you in the right way.
Since their inception, they have opened up five different physical locations in the Chicago metro area. This expansion has allowed them to increase their knowledge of different types of learners. The more students they work with, the more likely they are to be able to teach you as well.
In the time that they have been open and operating, they have managed to garner many accolades. One of the most important one is their A+ rating from the Better Business Bureau. This rating means that they have not only provided excellent education, but maintain good business practices as well.
Their history of good standards of operation should come as a comfort to any potential student. Knowing that your real estate school has been operating ethically is good knowledge to have. It means that the odds are good that you will feel satisfied with your experience due to their excellent history.
Experience
Chicago Real Estate School's experience during their almost 15 years of business lies in their dedication to their students. They understand that not everyone learns the same way and that they will have to adapt to these different styles. This only comes from years of working with people and learning how to best approach different types of people.
Their experience has also led to them being accredited by the Illinois Department of Financial and Professional Regulation. This governing body only works with businesses that maintain a certain set of standards and a level of experience. This accreditation means that they know what they are doing and can give you the benefit of that expertise.
The Chicago real estate market is constantly in flux and changing with new trends and fluctuating fads. Because of Chicago Real Estate School's experience in the field, they know how to deal with these changes. Because of this, they are a great choice for people wanting to work in Chicago.
Because they have chosen to specialize in Chicago itself, they have experience in the city's market. Real estate is a specialized industry and the fact that they have stayed there means they know the ins and outs. If you want to benefit from this experience in the city's market, they are a good option.
Teaching Style
The teaching style at Chicago Real Estate School is based on ensuring your success as a realtor. They are invested in you becoming a good realtor because that reflects well on them as well. They see their students as their product and they want you to do well in your career as well as the exams.
The teaching philosophy at Chicago Real Estate School is based around keeping you engaged. They understand that people learn much easier if the instructor is passionate and connected. This comes through in their courses and makes it so that you retain the information much better.
They also focus on being incredibly thorough with the material itself as well as engaging. One of the most important things is for you to be as well versed in the curriculum as possible. This will make it so that you have a clear grasp on the principles before you sit for the real estate exam.
They also work to make sure that any questions you may have are answered thoroughly and honestly. They are available to you anytime you need them and want you to ask questions as they come up. This ties into their philosophy of thoroughness and complete understanding.
---
In-Depth Look At Chicago Real Estate School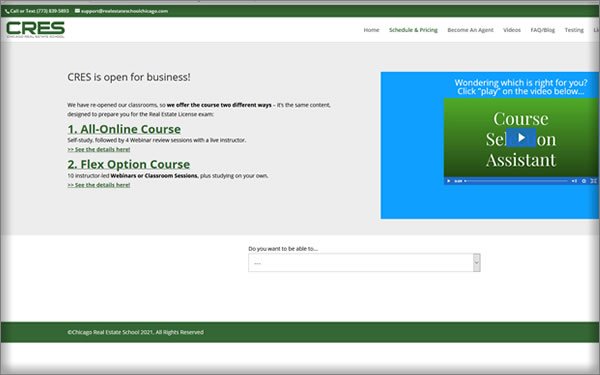 Chicago Real Estate School Instructors
The instructors at Chicago Real Estate School have the experience and expertise to match the school's. Many of them have been working in the real estate industry for many years as agents and brokers. This makes them incredibly qualified and able to impart their experience to you as a student.
Many of the instructors have been working with the school since its beginning and it shows in their style. Their knowledge and personal investment in the school makes them a great asset for you. They understand what it takes to get people to fully absorb the complex world of real estate transactions.
Most of the instructors have worked as realtors for many decades in the Chicago area. Because of this, they can provide a unique insight into what it takes to do the job on a daily basis. Getting this information from someone who has lived it is a great way to succeed in the business.
Many of them have also worked on governing bodies in the city as well. Some have been presidents of different real estate associations over the years and this comes through in the curriculum. Their knowledge and experience is incredibly beneficial to any future realtor.
Chicago Real Estate School Course Options
Chicago Real Estate School has a huge variety of options for completing the 75 required education hours that you need. Many people who are just getting started in real estate also have other jobs and obligations. Because of this, having these options available to you is a fantastic feature that could come in handy.
Chicago Real Estate School has a web-based, on-demand course option for your classes. These can be taken on your own time and at a pace that is comfortable for you as an individual. If you have a full-time job or family, this could be the best choice for your real estate education.
They also offer both webinar-style online real estate courses and in-person courses as options for completing your hours. This type of course is incredibly valuable to all kinds of students due to the immersion. Being face-to-face with an instructor is always a better way to learn since you can ask questions in real time.
One of the things that they have that is incredibly helpful is a flex-style option. This option allows you to take both the on-demand courses and the live ones at the same time. Being able to choose between these options allows you to find the best possible choice for your individual learning style.
Student Resources
Chicago Real Estate School offers a few different student resources for you to take advantage of. These extra features can be very helpful to you, not only as a student, but as a realtor as well. By taking advantage of them, you can give yourself a leg up as you get started in your new career.
On their website, they have a section of videos that can be helpful for some of the early information you need. These videos cover basic things like the fact that in Illinois, realtors are called brokers and not agents. Getting these basic facts for free before beginning can help you avoid early confusion.
They also have an extensive Frequently Asked Questions section on their website. This covers a lot of the basic questions that you may have before getting started on your courses. This section also doubles as a blog that they consistently update with new information.
Unfortunately, Chicago Real Estate School does not have resources that other schools have. They do not have any networking opportunities or things of that nature to help you make connections. This could be an issue if you are just getting started and don't have any contacts in the industry.
---
Chicago Real Estate School Pricing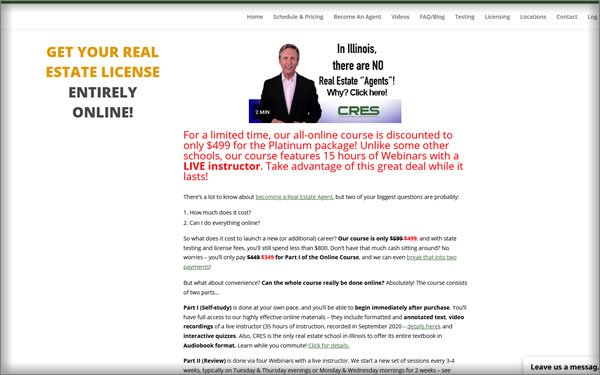 On-Demand Course
For just under $500, you can get the online, on-demand package that Chicago Real Estate School offers. This package includes all the same material that is covered in the live courses as well. Because of this, it could be a good option for people who are busy with other aspects of their life.
The on-demand course is delivered in a series of videos and annotated PDFs that you can review. These can be done at a pace that you feel comfortable with and that you can manage with your schedule. If you are a self-motivated learner, this could be the best choice for you as an individual.
One of the interesting things Chicago Real Estate School does is offer four webinar study sessions. These are done with an instructor at the school and gives you an opportunity to ask questions. This can be incredibly valuable and allow you to clear up any doubts you might have about the material.
Because they offer these review sessions, you get a best of both worlds with the on-demand course. Being able to ask questions is essential to any learning experience. The fact that you get this even with the online course is incredibly valuable to you as a new student.
Flex Option Course
The flex option course offered by Chicago Real Estate School is also incredibly comprehensive. With this option, you get 10 in-person sessions or webinars as well as access to the on-demand course. At just under $600, this is a great option if you have the ability to get to the in-person sessions.
Not all real estate schools in Illinois will allow you to go back and forth between different course types. Often, they will make you choose between one option or the other. This can leave some students feeling stuck if they happen to make the wrong choice.
Because you can go back and forth between course options, this might be the best option for many people. It allows you to get your education without boxing yourself into a schedule or a consistent work load. Being able to study at your own pace is essential to people getting their license in their spare time.
Because the flex option course is only $100 more than the on-demand option, it may be the best choice. If you have the money to cover the extra bit of tuition, it could be worth being able to go back and forth between formats. This small amount of extra money might make all the difference depending on your learning style.
---
Pros And Cons Of Using Chicago Real Estate School
Pros
Flexible Formats – Being able to choose freely between the different course formats is a great feature. It allows you to go through the material without being stressed by the constraints of the schedule. For people who are working other jobs or have family obligations, it is a fantastic feature.
Experienced Instructors – The instructors at Chicago Real Estate School have real world experience in the job. Learning from people who have worked as brokers in Chicago allows you to get a good idea of the day-to-day. Many students find that this is the best way to get accurate training.
Location Specific – The fact that Chicago Real Estate School is based solely in the Chicago metro area is a major plus. They are able to teach you the specifics of the market and show you what to avoid. If you are wanting to work in the Chicago area, they are the best option.
Cons
No Networking Opportunities – Since Chicago Real Estate School doesn't have any networking opportunities, you will have to network on your own. If you do not have these connections, it could be difficult to get a head start in your career.
No Guarantees – Chicago Real Estate School doesn't offer any satisfaction guarantees. This could be off putting for some students who don't have a lot of confidence. If you would like some kind of guarantee, you might want to look elsewhere such as Colibri Real Estate.
Conclusion And Verdict
Most previous students of Chicago Real Estate School have felt that their experience was worthwhile. The fact that they have an A+ rating from the BBB is another fantastic testament to their experience and quality. If you are looking for a school that has top notch courses, they are a good option.
Their flexible course formats are also another great feature that many will find helpful. Being able to switch back and forth between them could be incredibly helpful to the right person. If you can't commit to a stringent in-class schedule, this is a great feature.
Their Chicago-specific curriculum is very helpful as well. Focusing on one real estate market makes them incredibly experienced in that market's ins and outs. This is invaluable if you are hoping to break into Chicago real estate.
By reading this Chicago Real Estate School review, you understand what they have to offer. Their flexible options and market-specific experience speaks for itself. They can give you all the tools you need to get to work as a realtor and set you up for success.
---
---