---
Becoming a real estate agent has never been easier, especially in Idaho. Due to the influx of Americans looking for slowed-down living and privacy, it's a great time to obtain a real estate license. To help narrow down your education choices to become a real estate agent in Idaho, we've broken down one of the most popular school choices in this Idaho Real Estate School review.
---
UPDATED: February 2023
Our Overall Rating

---
Overview Of Idaho Real Estate School
Operating since 2004, this Idahoan real estate school provides students with an in-depth real estate education. Just past a decade and a half, this real estate school has quickly made a name for itself as a leading real estate provider. The website claims that the school is the largest real estate school provider in the state of Idaho. In addition to pre-licensing courses, the school also instructs for broker licensing as well.
The school has a guiding set of principles they follow in order to provide the best education possible for students. These principles primarily consist of teaching high-quality and up-to-date information that is relevant. In other words, the school avoids supplying students with information that is old, retired, and overall outdated.
The Idaho real estate option enforces these guidelines by only employing instructors who are at the very least licensed but also have an abundance of real estate knowledge and instruction. The school fully recognizes that a major part of any quality education is the instructors who, in turn, teach students effectively.
These instructors are also committed to making the course content downright enjoyable. Pulling in personal stories and local aspects that are important to know, this real estate school recognizes how important it is to keep students engaged throughout the process. Friendliness and enjoyment won't detract from the overall informative aspect of the course. Everything is done according to state requirements.
Staff of Idaho Real Estate School
The IRES staff is small and focuses on core involvement to ensure quality is maintained. The three main staff members include Mike Gamblin, Jim Igel, and Tauna Jensen.
Mike Gamblin is the owner and director of Idaho Real Estate School. Long before he initially opened the school, Mike was involved in real estate since 1990; Soon after becoming licensed, Mike opened a self-titled residential brokerage called Mike Gamblin Real Estate. The firm was located in Treasure Valley and grew to include a team of 15 agents. Mike has several qualifications helping to shape him as an instructor, including designations from Graduate Realtors Institute and Certified Residential Specialist. He also received a Certified Distance Education Instructor designation, and he was Ada County, Idaho's division president. In 1998, Mike began instructing agents, and nearly half a decade later, he was opening this Idaho Real Estate option. Mike uses his passion for real estate to help interest the new wave of young professionals in all that there is to offer.
Jim Igel is a man of many talents, and his unique background allows for dynamic teaching. All students can benefit from Jim's personal anecdotes and what he uniquely brings to the table. Jim hails from Chicago, where he was born and raised. He promptly joined the military when he could and became a member of the U.S. Air Force. He spent time around the world, but what wowed him the most was Idaho. When he was done with his service, he moved to the Boise area and emerged into the real estate sector. After obtaining his license in 1991, and his broker was in 2008, Jim went on to become a certified instructor.
Tauna Jensen is an office manager at IRES. Though she might not be instructing students in the classroom, chances are they will come across her at one point or another during their time studying. Tauna moved to Idaho to be close to family and found a position with Idaho Real Estate School. Students may encounter Tauna when they have questions about enrollment or if any issues arise throughout studying at this real estate school.
---
In-Depth Look At Idaho Real Estate School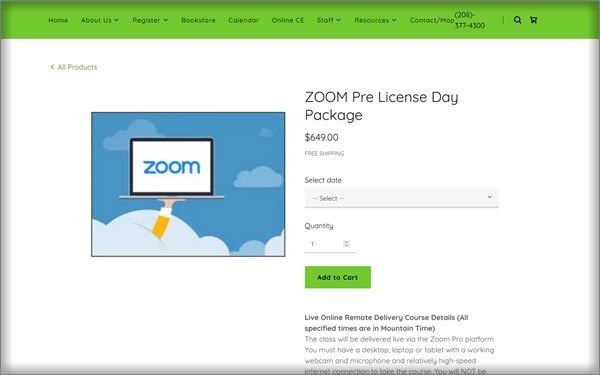 Idaho Real Estate School is available in multiple formats and can easily be adapted to accommodate what a student needs or wants. At the time of writing this Idaho Real Estate School review, there are three package options: live in-person day classes, live in-person night classes, and ZOOM classes. All of which are offered for pre-licensing coursework. The school does offer other programs, but for the purpose of this review, we will be focusing on pre-licensing coursework only.
Zoom Course Breakdown
The Zoom package offered by this real estate school is an option aimed at being more flexible and adaptable for students. This is a great alternative to commutes and in-person meetings. Though it's not completely self-paced, the course does allow students to log in from anywhere they want, so long as they can meet the predetermined class times.
As the name suggests, classes will be held on Zoom, and they are streamed as live sessions. This means that what is happening in real time in the classroom, you will be watching. In order to access, a student must have any electronic device, including a tablet, computer, or laptop. Phones are not permitted as proper streaming devices for coursework. Students will also need a webcam and microphone of some sort so that they can participate in class when necessary.
Classes are organized into a two-week program that operates over Zoom between Monday and Friday. Times are traditionally 8:00 am to 5:30 pm, typical business hours. After those two weeks are up, students will be eligible to move on with their next steps for becoming licensed. Oftentimes this includes final exams and submitting paperwork.
Course materials involved in the learning process for Zoom include a course content outline, which comes in a 3-ring binder, textbooks, as well as a license law and rule booklet. Each of these helpful pieces can be found at the school's head office.
Modules included in the Zoom course options include Module One, which is for beginner real estate professionals who do not have a firm grasp on real estate initially. In this program, students can expect to learn the basics like core issues and concepts that often present themselves in everyday real estate transactions.
After the initial module has been completed, the students will move onto Module Two, a more advanced learning option. Module Two consists of information that students with some knowledge of real estate will be able to navigate. Rather than simply learning glossary terms and reading things at face value, Module Two works on implementing those practices. Students might learn how to sell, buy, close, and list residentials during Module Two.
If a student completes both module One and Module Two, they will be eligible for a state license.
Live In-person Breakdown
The live learning sessions come in two formats, day or night courses. Students may choose one, and the primary difference between the two is the time of day. Therefore, the decision can be made on what works best for your situation.
Included in the in-person licensing program are two modules. The first module, or Module One, is a 45-hour class session divided between Monday and Friday and between business hours. Module One is for beginners, while Module Two is for those who have a bit of knowledge in the real estate field. Both sections are available during the week and at night, though the daytime is 9.5 hours long, making it not feasible for many working individuals.
The night live program is different from the daytime one only slightly, and that is primarily to do with time. In the night live sessions, students will need to complete all 90 hours of work during the four weekdays, Monday, Tuesday, and Wednesday. Just as the earlier options included multiple modules, so does this one, only, since it is nights, it is delivered in a unique format.
Regardless of choice, included in all packages are the tuition, textbooks, materials, and closets. This real estate school has a calendar on its website featuring all available times and available jumping points to begin working toward licenses. At the time of writing this review, all programs last four roughly six weeks.
---
Idaho Real Estate School Pricing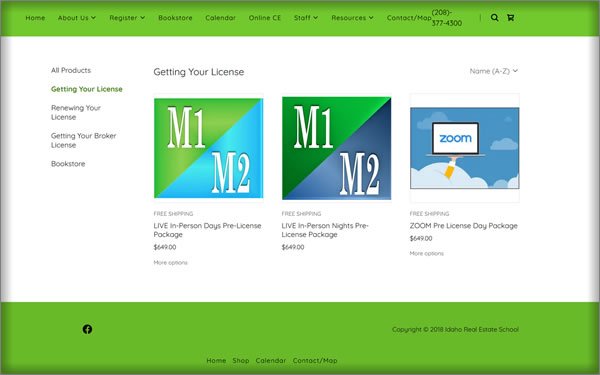 The prices for Idaho Real Estate School vary depending on which one you select:
Live in-person days – $649, includes all required 90 hours of coursework
Live in-person nights – $649, includes all necessary tasks.
ZOOM courses – $649, live-streamed courses from in-person
---
Pros And Cons Of Using Idaho Real Estate School
Pros
Flexible Learning Options
This real estate school offers a certain level of flexibility for students. They have the option to choose between online streaming or in-person courses and the time of day that works best for them. Night classes may be perfect for those with a second job, and the day classes may be the right choice for those who need to care for families at the end of the day.
Small Team
This school's team is small and localized, which allows for a unique experience that is centered around their experiences. The small team is perfect for giving students one-on-one attention and keeping the learning process intimate, helping students to learn.
Well-established School
The school has a long-seeded history in Idaho as it has been operating since 2004. The school provides students with modern, up-to-date information while also being enjoyable and easy to follow. The amount of time in business has led to a full-proof way of teaching that helps students to thrive.
Local Idaho Option
Because the team is owned and operated in Idaho, there is a unique insight into the local Idaho market that cannot be found elsewhere. Many national brands skim over information that is relevant on the state, county, and town level, but this Idaho school is poised to use its personal insight to bridge the gap.
Positive Reviews
This school is full of positive reviews across all platforms. These high reviews attest to the school's ability to instruct effectively and guide students through the process of licensing.
Two Easy to Follow Modules
Everything students need to know in order to pass their licensing course, and subsequent exam is divided into two areas, Module One and Module Two. The first works to familiarize every student, regardless of background, on real estate terms, and the second works to drive those concepts home.
Additional Learning Materials
Students may enjoy the many additional tools that the school offers for learning. In addition to a robust bookstore online featuring many helpful real estate eBooks, the school also offers few elective courses, some of which are free, to round out the education.
Cons
High Price Point
All of the options for studying at this real estate school are priced above average. The high price point makes it difficult for some to get involved with the school because they cannot afford it. While many schools lessen the price of Zoom courses because they're not using as many school resources, this school keeps the prices the same.
Incomplete Information
There is a lot of information left in the unknown when it comes to the school. Students have no way to know the pass rates, pass guarantees, or similar details without contacting the school. Competitors often display this information freely on the site, so it may be difficult not having direct access.
Poor Response Times
Students are supposed to be able to make contact with the school via multiple formats. Call, mail, or an online chat box allows for students to reach out in the format that feels most comfortable to them. Unfortunately, the school does not have an on-demand chat option like competitors, so replies may take time. We tried to connect to this real estate school to check on their response times. Unfortunately, we never received a response from their support staff. This is not a great sign that there will be support once you sign up.
Conclusion And Verdict
Playing an integral role in this Idaho Real Estate School review is reviews left by previous alumni. When it comes to the reviews available online, the school rates well across all platforms.
On Indeed, students rated Idaho Real Estate School a 4.7 out of 5 stars. Some reviewers mentioned that the school was beneficial for career advancement and helping students to absorb knowledge. Other highlights include great teachers, affordability, and a positive learning environment. Another unique benefit is that visitors often come to the classroom to help embellish students' learning.
Students also mentioned that the classes are quick-paced, especially four-hour night ones and that they can be a little difficult to keep up with. Students need to be sure that they are on time and attend all classes, or else they may need to make them up again later.
On Yelp, the school has an average of four stars. Many reviewers praise Mike Gamblin for his ability to teach students in an engaging format. Regardless of learning through their online real estate course or in-person, all alumni agree that the school has an excellent learning format that helps students learn effectively.
The last place that offers reviews for the school's reviews is Facebook. On Facebook, the school has 4.9 out of 5 stars for its average reviews. This time, many praise instructor Jim for his ability to keep students entertained while teaching the most important aspects of real estate. Together, the team at this school provides an excellent learning environment for its students.
Final Verdict
This school offers plenty of benefits for its students, supplying everything they'll need to be successful. From multiple learning modes to engaging teaching styles, it seems there is something for everyone here. One of the highlights of the school is its positive reviews. Students have very high regard for the school and recommend it to friends and loved ones across the board. With so many aspects of the school being highly praised, it's easy to see why people continue to choose this school time and time again.
All in all, we are happy to recommend this real estate school for students of all backgrounds. Between our own findings and past client verifications, this school may be a good choice for Idahoans pre-licensing coursework.
---
---