Becoming a real estate agent in South Carolina is easier than ever, and as a result, there are more choices than ever for education. While it may be a luxury for some, it can be a burden to narrow down your options. To help with this process, we're taking a closer look at some of the schools in South Carolina, and here we focus on one such school in our detailed Real Estate School of SC review.
---
UPDATED: February 2023
Our Overall Rating

---
Overview Of Real Estate School of SC
Unlike many other real estate institutions, this real estate school is unique to South Carolina and its residents. In business for over forty years and serviced by local real estate professionals, the Real Estate School of SC provides insight into the state's unique real estate market that larger school systems can't usually offer. Additionally, this school boasts a list of thousands of alumni taught, high passing rates, and extensive coursework for students that satisfies the South Carolina requirements.
The owner and President of the school, Charles H. "Chip" Browne III, is a highly experienced real estate professional. He has educated and served across the country, currently instructing students at the Real Estate School of SC and constantly creating new curriculum and textbooks for the school. The school's team is extremely small, with four more members in addition to President Browne, all of which contribute in different ways to the instruction and operation of the school.
The first course was offered in 1977 at the Columbia location and since then multiple branches have been founded in the state. Currently, locations include the main campus and headquarters in West Columbia, South Carolina, Aiken, SC, Anderson, SC, and Beaufort, SC. These locations allow for easy and efficient access across the state, providing in-person learning to anyone who learns best during live, in-person sessions. In addition, the real Estate School of SC claims to be one of the first real estate schools to offer video streaming to students online and deems itself as a pioneer in the space.
The Real Estate School of SC offers both an online and in-person learning model with an overall commitment to student's success. The school has locations in cities across the state with buildings that they own and have used to build high-tech classrooms. As for the course options and subsequent schedule, students can enjoy a dynamic learning environment by choosing between online classes, half-day classes, and weekend classes. If you opt for in-person learning, you will be happy to know that all locations are conveniently located near major roads, restaurants, shopping, and plenty of parking.
With a commitment to including all students and hopeful agents, the school makes sure to offer multiple course formats, each of which is consistently refreshed. The school also works to make sure there is an abundance of adaptability via in-person and online learning. Not to mention all coursework at Real Estate School of SC is approved by the state of South Carolina.
In-Depth Look at Real Estate School of SC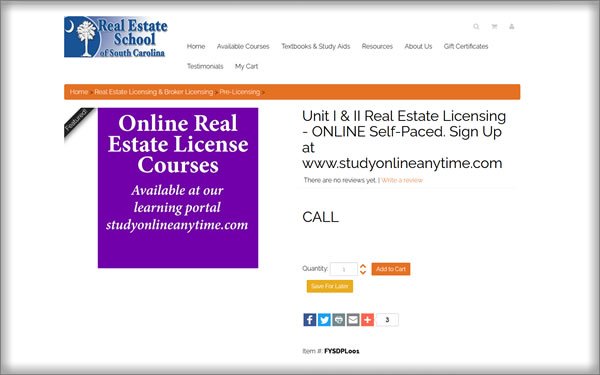 While the school offers a wide array of education for different career specifications, the one this review will be focusing on is pre-licensing. Whether you're looking for an online option or in-person assistance, this institution offers both to help you reach your goal of becoming a practicing real estate professional. It's important to choose the learning route that will provide the best education for you. Below you will find a breakdown of what they provide for each and which might be best for you.
Online Coursework
The online coursework is available as a self-paced course. This means that you will be able to access and navigate the lessons according to your needs. From audio and video lessons to reading materials, practice tests, and interactive elements, all materials are available online for you to navigate between on your own schedule.
In-Person Coursework
For the live sessions in person, the schedule is pre-determined by the school. However, there are multiple options for time of day and days of the week. Your first option includes full-day courses in which you will be meeting every day from Monday to Thursday for a regular workday, or 8 hours. The second is weekend courses which are Saturday and Sunday sessions that run from 9:00 am until 5:30 pm for four weekends equating to a month. The last option is an evening course schedule in which you will meet Monday, Tuesday, and Thursday evenings for four hours, a total of fifteen times.
Both the in-person and online courses cover the same basic principles, simply in different methods. Nonetheless, you can expect the courses to cover both the 30-hour course on advanced principles and the 60 hours course on first-year sales.
Course Structure Example
The course will begin with the first unit, a 60-hour class focused on satisfying the first-year salesperson requirement outlined by South Carolina. From there, you will take an exam to ensure you have a basic understanding of those core principles.
Next is the 30 hours course, which is focused on those advanced real estate principles. Upon completing both of these class units, you will then need to take a proctored final exam with the real estate school. Proctored locations are available across the state. Even if you've completed your coursework online, you must travel to a physical location for the final exam.
After completing both units and passing the final exam, you're ready to take the state licensing exam. Depending on which learning mode you've chosen, in person or online, it may take longer to complete all of these steps if you're dedicating less time to progression than an in-person course would. Regardless, you will take your certificate of completion and schedule an exam test date with the state to move forward with the process.
Support
When it comes to support, the Real Estate School of SC has a fairly decent system. You can reach out via email, phone, or in-person for general questions about the school and course offerings. If you're a current student and studying in-person, you should have minimal technical difficulties and direct access to instructors and administration for pressing questions. If learning solely online, there is a chat option on the student portal that is available between 9 am and 9 pm. While this won't be much help if you're working during the day and studying at night past that cut-off time, the option during extended business hours is a plus.
Real Estate School of SC Pricing
One of the most important aspects of any business you frequent is the price. With so many options on the market for real estate schools, you'll want to be sure you get the best deal. These are the numbers for completing pre-licensing coursework online: $435 for Unit I, fulfilling the 60-hour state requirement. $219 for Unit II, the 30-hour unit as required by the state. If you wish to upgrade your package so that it offers more benefits, you have a few options.
The first is the Career Start Package, which includes both units for $649. This consists of the slightest discount when you purchase both units at the same time. The other package deal option is the Career Start Package which includes both classes and an exam preparation bonus from CompuCram. That package costs $709. If you would like a textbook, no package includes it, and it will be a $50 charge plus shipping and handling if shipped to you and not from one of the school's campuses.
As for the in-person course offerings, they come in cycles throughout the year, broken down into two units and only purchasable as two separate parts. For the first unit, classroom learning will cost $399.00.
If you're looking for a hybrid option, live streaming is available for $375.00.
Pros And Cons of Using Real Estate School of South Carolina
Pros
Online and In-Person Course Offerings
It's not often that schools offer both online and in-person learning these days. However, this real estate school offers both, making it an extremely flexible option for students so that they can learn according to their needs and capabilities. We also love that the school provides a live streaming course so that those who can't or don't want to make it in person can still interact with the instructor should they need to.
A Local South Carolina Option
While there are many national brands that we love, we really appreciate local schools too. This is because they're almost always composed of local professionals who are deeply invested in the state they serve and offer students unique insights and perspectives that others cannot, especially when they live. Additionally, they are also usually invested in the success of those that they teach because they will be working in the same industry and may cross paths.
Positive Testimonials
From the time the school was first in operation to now, after they've helped thousands of students, Real Estate School of SC continues to receive great reviews from alumni who praise its ability to make content refreshing. The school also shows a high return rate for continuing education as many students found success during their pre-licensing coursework with the school.
Flexible In-Person Course Offerings
In addition to offering in-person courses, it's important to mention that this school offers multiple options to fit any schedule. From evening or weekend to a typical workday, there are options for everyone. So if you have a family you support or a day job and are pursuing your real estate dreams. You can trust that the Real Estate School of SC will adapt to you rather than the other way around.
Multiple Locations
Whether you're near the headquarters or far removed, chances are there is at least one location nearby that you can take advantage of. Having multiple locations is paramount for in-person learning, and it means that more students will have the opportunity to study live without threats of long commutes.
High-Quality Technology
Whether you're in-person or on the live stream, you can expect high-tech tools to be used to provide the best experience. For example, cameras stream in 4K, and instructors use the highest quality tools for presentation and interaction to help share the knowledge without any technological distractions.
Online Store for Real Estate Materials
From books to test prep materials, the Real Estate School of South Carolina offers everything you will need to pass your exams confidently. Highlights include the CompuCram software, a vocabulary CD to recite important words, and textbooks, including Everyday Ethics in Real Estate. Though not required, the most committed agents may find the one-stop shop helpful.
Cons
An Expensive South Carolina Option
Compared to its competitors, this school's prices are a bit higher than average. Unfortunately, this inherently excludes many students from participating and may drive them to other less-expensive options. That's not to say we don't understand why in-person classes would cost more than pre-existing online courses, but the fact still remains that many will simply not be able to afford it.
Limited Course Offerings
Despite being a pricier option, this real estate school is extremely limited in what it has by way of choice. As a result, students won't get to pick the package that makes the most sense for them. Instead, it's a one-size-fits-all with a single offering for the online, in-person, and live offerings. We much prefer when a real estate school can allow their children to build a plan that works best for them and cut out what doesn't.
Conclusion And Verdict
In this Real Estate School of South Carolina review, we've taken the time to look at the most important aspects of any real estate school. From the price to the history and qualifications, we now have an in-depth understanding of what this institution offers. However, before you decide what's best for your studies, it's important to look at other Real Estate School of South Carolina reviews from independent sources like the Better Business Bureau (BBB), Yelp, and Trustpilot.
Upon searching, the Real Estate School of South Carolina is not accredited when it comes to the Better Business Bureau. This means there is no rating for the business, and they have not received any complaints from the BBB. Additionally, as for reviews, aside from the testimonials on the website, there are very few. However, of the few, they rate the school highly.
We do not like the way their website is set up. Now this is not a reflection on their school but they could improve upon this.
We can also see that their pre-licensing course is done through Hondros real estate education which is a well-known name in the real estate education industry. They do not teach this course themselves as it is done through this third party.
As such, we feel that we can give this school our limited recommendation to prospective agents based both on the information we were able to find upon analyzing the Real Estate School of South Carolina reviews by past alumni themselves and from our in-depth research.
We believe that the pricing may create a barrier for some since it is a more expensive option. If you can afford it, especially the in-person lessons, we think you will get your money's worth.
If you're looking for a real estate school in South Carolina and you've had trouble narrowing down your options, you might consider the Real Estate School of SCs curriculum. If you want better options, we would recommend AceableAgent or Colibri Real Estate as we feel they are the best real estate schools in South Carolina. However, if you decide to use this school, you will meet all of the state's requirements in a fun and engaging manner via flexible learning options.
---
---