`
---
When it comes to selecting a real estate institution to study at, you will want to review your options thoroughly prior to making a choice. When choosing a real estate school to study at, things that you will want to consider include the schools' background, course offerings, prices, and reviews. The school that we will be reviewing here is the New York Real Estate Institute, or NYREI, a school with over twenty-five years of experience serving the New York area with five locations and online offerings. We've rounded up everything you need to know about the school including New York Real Estate Institute reviews to help New Yorkers with their tough decision of deciding on a real estate school to enroll in.
---
UPDATED: November 2022
Our Overall Rating

---
Overview Of New York Real Estate Institute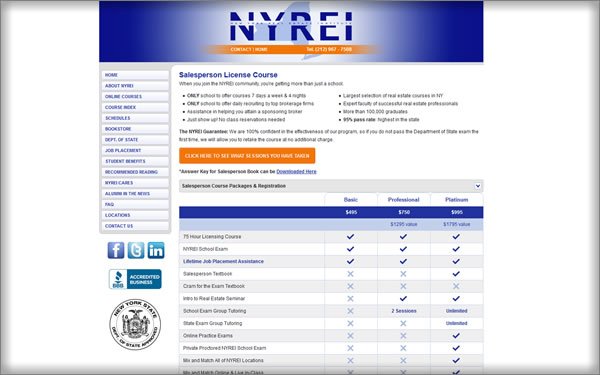 NYREI is a school solely available in New York state as the name suggests. In business since 1987, the school has since expanded to five different locations. Initially created to help business professionals leading business lives, the school was built on the premise of being easily accessible and efficient. The school's original purpose was also to educate ordinary people who might want to know more about the real estate process in order to buy or sell their own home or to begin investing. Since the 1980s, the school has evolved quite a bit with more offerings and earning accreditation from the New York State Department of State, Better Business Bureau, with an A+ rating, and the Real Estate Education Association.
The school offers courses for multiple real estate professions, including mortgage broker, appraiser licensing, and New York state pre-licensing coursework. These classes are taught by licensed and highly respected real estate professionals in the industry. In business for decades and helping more than 100,000 people to graduate with their desired real estate licensing, the NYREI offers successful packages to a wide range of people, as proven by their track run and reviews. For the sake of this review we will focus on pre-licensing, but it's worth noting this institution has the resources for your other needs as well.
If you're unable to attend one of the school's in-person teachings, you will have access to coursework via online courses and live streaming. Additionally, NYREI claims to have helped more real estate professions earn their license than any other school in the entire state. With their rich history and deep roots in New York, that figure makes sense. Though, it's important to take a deeper look before taking the school's word for it.
In-Depth Look at New York Real Estate Institute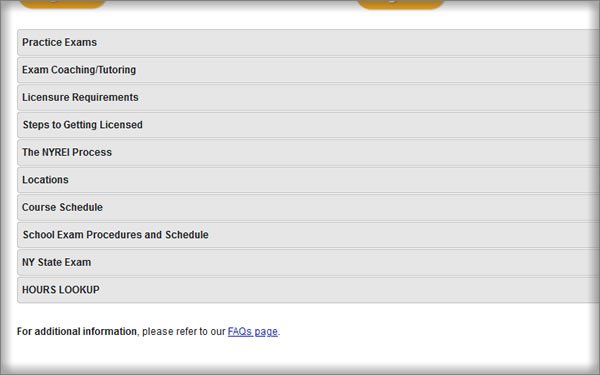 NYREI boasts a simple but effective mission statement in which they try to provide every student with real estate learning attuned to a higher standard. Additionally, the school works to make it so that every single class contributes to developing real estate professional's ability to best help their clients. The New York Real Estate Institute offers coursework unique to the state's requirements. New York requires a 75-hour licensing course to be completed prior to taking the state licensing exam.
When attending the NYREI, you have the options between a solo-online coursework program, a livestream centered course, or in-person, live classes. The school also offers a hybrid for those who require flexibility. Regardless of your choice for the mode of coursework, you will benefit from a school that offers courses every day of the week and four nights, a built-in recruitment program with top New York brokerages, guidance for finding a broker after completing the coursework. Other perks of the New York Real Estate Institute's include a 95% pass rate, which is among the highest in the state, experienced instructors, and a large variety of course options to satisfy New York state requirements.
The individual courses will cover the fundamental real estate pillars, exam prep depending on the package selected, practice questions, a real estate e-book for studying and topics including property management, valuations, fair housing laws, environmental concerns regarding real estate and of course, how to interact with and protect clients best interests. Course learning features include flashcards, vocabulary fill-in-the-blank, practice tests, peer studying and real-life scenarios, its purpose to progress your learning.
Some of the specific courses include titles and content such as, property tax and mortgage valuation, New York ethical business and legal practices, social media ethics and more – all designed to give students updated and relevant coursework.
Course Structure Example
NYREI's coursework is designed to be an all-in-one stop for real estate agent hopefuls. Upon enrollment, you will be given your ebook to follow along with, which is included in the price of the course package. From there, you may begin to study your coursework immediately, relying on the written materials, seminars, and more. In the state of New York, you can expect one of the shorter hourly requirements in the country with 75 hours of coursework. For the purpose of NYREI's structure, they have divided these 75 hours into twenty parts, or twenty class sessions essentially.
Once you have completed all coursework, you will be able to take your final exam, the precursor to the state licensing exam. You will need to pass your New York Real Estate Institute final exam before you can be awarded a Certificate of Completion so you can schedule your state licensing test.
Support
Access to support, whether technical or for coursework related issues, is extremely important for any real estate institute. Luckily, there is contact information for every school including address and phone numbers on the NYREI website. Additionally, there is an online contact form that can be submitted with general questions. Fast Class, the online schooling program utilized by NYREI, also offers its own support with access via call, email, or contact form. You may also reach out to course instructor, Richard Delorenzo directly. Lastly, the school does have social media which allows you to connect in a modern way. The only thing of concern here is the lack of live chat. Many large real estate schools offer live chat, yet NYREI does not, which is unfortunate in today's world.
The following are the physical locations offered:
NYREI Manhattan Branch 132 W 36th Street, 2nd Floor, New York, NY 10018
NYREI Queens Branch 221-17 Northern Blvd, Bayside, NY 11361
NYREI Brooklyn Branch 539 3rd Ave, Brooklyn, NY 11215
NYREI Long Island 24 Oak Dr, Syosset, NY 11791
NYREI Westchester Branch 2 Ogden Ave, Cortlandt, NY 10567
New York Real Estate Institute Pricing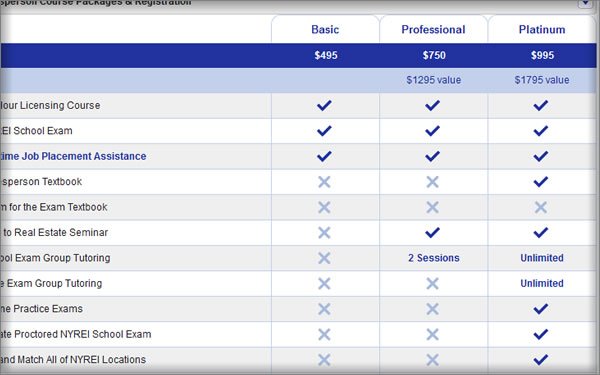 With various packages ranging in features, the prices vary in affordability as well. Focusing specifically on the pre-licensing coursework prices, the basic salesperson licensing course is $495. This price includes 75 hours of required courses. The other pre-licensing package offered by the school is the platinum selection, which includes the coursework, an e-book on New York real estate, and other tools to ensure success. These include job placement assistance, seminars, tutoring, hybrid courses, and discounts on all future courses (such as continuing education).
Purchasing the New York Real Estate for Salesperson ebook separately from the platinum package would be an additional $45.00. This book is a requirement for in-person courses, meaning you will need to purchase it or opt for the package that includes it at a higher cost.
If you're worried about exam preparation, there is an add-on for exam prep through a program called CompuCram. This program will consist of different learning features including vocabulary and practice testing as well as simulation and real-world scenarios to guide your learning. This feature costs $89.00 and is built to serve as a one stop shop for exam studying.
Pros And Cons of Studying at NYREI
Now that we have a general understanding of the school and what they offer, it's important to weigh the pros and cons before selecting a choice. When it comes to NYREI, there are both a few areas for change and some of concern.
Pros
In-person and Online Offerings
Given the increasingly virtual world, it's a growing necessity that courses are offered in multiple formats, including in-person and online. Students will enjoy the flexibility of choice at this school and even have the choice of opting for a hybrid workload. There are no reservations or requirements for those that wish to show up in person, they will simply just arrive to class and begin their studies among peers.
Peer Support
Speaking of being amongst peers, students at NYREI will love being able to interact with other students and the instructor. There is nothing quite comparable to being able to find support in those studying the same material as you, so if selecting in-person coursework, this is a major benefit. You will be able to form study groups and learn in a real time, responsive environment, a luxury that oftentimes can't be replicated online.
Financial Assistance
Any sort of financial assistance is extremely helpful when considering the diverse needs of real estate hopefuls. Afterall, every agent's background and goals are different, so why should the payment model not be flexible too? To accommodate this, New York Real Estate Institute offers payment plans, PayPal Bill Me Later, Veterans and GI-Bill sponsored programs. For your specific needs, you will need to contact the school for more information.
Convenient Locations
For those that are looking for in-person coursework, NYREI offers in-person, live meetings in five locations. While this may not have a benefit on those studying online, in-person students will appreciate the flexibility and ability to study at a school that works best for them and their location.
Job Placement
This institution is committed to helping its alumni find jobs after completing their coursework and achieving their real estate licensing. From big names like Keller Williams and Oxford to Anchor Associates and City Habits, there are plenty of options for your brokerage placement after becoming licensed, and NYREI is there to help! Recruiters from qualified brokerages visit the school's campuses nearly every day of the week to find new agents looking for placement.
Tutoring
In addition to regular coursework and class time with instructors, there are one-on-one tutoring packages as well. These sessions cost $45.00 for three hours of tutoring if you have selected the basic package. However, if you have selected the platinum or advanced packages, you will have unlimited access to tutoring services. This bonus is a rare commodity and I highly recommend taking advantage if there are any concepts you're struggling with during your studies.
Cons
Course Timeline Limitations
The school's pre-licensing coursework must be completed in just four months from the point of registration. This means there is no flexibility in the case that something happens. If you need to extend your access to the coursework, you will need to pay a fee depending on the length of time needed. Because many people are studying while they're also working other jobs, raising families, or have other obligations, it's ideal to have a longer length of time to ensure enough time to properly complete.
In-Person Final Exam
Despite offering online coursework for those interested, the NYREI still states that all final exams must be taken and proctored in person at one of the school's locations across New York. Real estate schools across the country, including in New York, offer online, proctored final exams for course completion. When students are looking for an exclusively online learning experience, they usually are not interested in traveling for an exam day either.
Package Simplicity
While NYREI offers two packages, they're extremely basic and may not be exactly what any one student is looking for. The basic package includes only the required 75 hours of coursework by the state and while the Platinum package does offer more benefits and accessories, there is not a middle ground for those who want some services but not others.
Pricing
The cost to take the pre-licensing real estate courses with New York Real Estate Institute is much higher than other real estate schools. In our opinion you might as well spend much less to get the same quality education.
Conclusion And Verdict
Given all of the above information regarding the institute, the last thing to analyze is what past, verified students think of the course via New York Real Estate Institute reviews. Across the board, including the Better Business Bureau, Yelp, and Trustpilot reviews, New York Real Estate Institute rates an A+ on BBB with only one complaint made in the last three years.
However, informal reviews speak equally as loud as the formal ones. When looking at Yelp, many students complain that the in-person locations were outdated with old technology and poor-quality classrooms. Other than that, the coursework itself is rated highly amongst students. If you're looking for an in-person course, you may not enjoy the learning environment as others have voiced their concerns as well. Alternatively, you can choose to study online and focus on the quality coursework via live streaming or self-paced pre-recorded lectures.
In regard to pricing, the cost of New York Real Estate Institute is much higher than other New York real estate schools. You can take an online course using Colibri Real Estate or AceableAgent for a fraction of the cost and still get the same quality education.
We also contacted the New York Real Estate Institute to get some pre-sales help and to learn more about the school but we never received a response. This is not a good sign.
All in all, based on both school features and the New York Real Estate Institute reviews, we consider the school to be a good choice for students looking to obtain licenses in New York. The school does offer both online and in-person coursework, though we recommend taking advantage of the online offerings for the best experience. However, if you don't mind a little bit of an outdated teaching style, such as white board writing rather than smart board, and older videos, materials, then, in-person can still be a great option for your education!
While this review is intended to help guide your decision in selecting a real estate school, it is important that you consider what is best for yourself by thoroughly researching all parts of your education.
Overall, we prefer Colibri Real Estate (see Colibri Real Estate) or AceableAgent (see AceableAgent review) as the best real estate schools in New York. However, we are still pleased to recommend NYREI as a viable real estate education option, it's just not our favorite option for New York real estate schools.
---
---