---
A real estate license is a potentially lucrative investment for the right person. If you have been considering using Real Estate University for your pre-licensing requirements in Connecticut, we have you covered. In this Real Estate University review, we will go in-depth with their classes, instructors and more to help you decide.
---
UPDATED: November 2022
Our Overall Rating

---
Overview Of Real Estate University
History
Since 2005, Real Estate University has been helping students get through their education requirements for pre licensure. They have a focus on the licensing exam and the basic principles that make up real estate fundamentals. With their broad selection of courses and instructors, you can design the perfect education experience.
Real Estate University's founder, Karena Piedmont is a licensed real estate broker in the state of Connecticut. She has been working in the industry for over 20 years and is experienced in both sales and investment. This understanding of what it takes to get licensed is one of the most important features of her involvement.
She has owned her own real estate brokerage in Connecticut for years. Because of this, she knows what brokers are looking for when they hire a new real estate agent. This knowledge is incredibly helpful for giving students the skills and information that they need in order to succeed.
Since Real Estate University's inception, they have taught over 7,000 students under her leadership. Because of this, they have been able to tailor their curriculum to a wide range of people. The real estate industry is incredibly diverse, and Real Estate University understands this and has taken it into consideration.
Experience
Because they have worked with a large group of students over 15 years, they have experience with many learning styles. One of the most important things to look for in a real estate school is adaptability. Not everyone learns the same way, and it is important that a school designs their courses with that in mind.
Real Estate University makes sure that their staff and instructors are experienced in the industry. By working with people who know the ins and outs of the business, they can give you firsthand knowledge. This is incredibly important if you want to know what it is really like to work in the field.
Even though Real Estate University has been in business for only 15 years, their staff has a huge amount of experience. Many of them have been working in real estate decades and have seen the ups and downs of the market. They understand the fluidity of the real estate industry and can teach you how to navigate it.
Being able to benefit from years of expertise is invaluable to you as a student. Every market has its own quirks and specific traits. Since the staff at Real Estate University have been working in Connecticut for years, they know these individual market characteristics well.
Teaching Style of Real Estate University
The teaching style at Real Estate University is based on personal interaction and good relationships. The instructors rely on their rapport with students in order to impart their knowledge to them. This is a great feature since many students are coming back to education after a long time out of it.
Many people who are getting their real estate license are doing so while working full time jobs. The instructors at Real Estate University understand this and try to make it as accessible as possible. By keeping their teaching style light and humorous, they are able to make new students feel more comfortable.
By being able to connect with students on a personal level, Real Estate University becomes more effective. It is well known that when material is made to be more exciting and interesting, people have better retention. The instructors at Real Estate University use this to their advantage in order to make the material easily understandable.
The material covered in a real estate course can be incredibly complex. By adding that personal touch, instructors can connect with students and make the classes more memorable. Many students have reported that they felt connected with their instructors and therefore, more connected with the material.
---
In-Depth Look At Real Estate University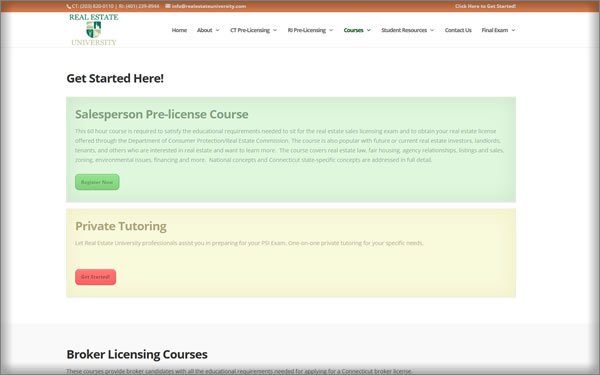 Instructors
The instructors at Real Estate University are all working in the industry alongside teaching. Because of this, they are able to stay up to date with trends and fads in the business and the market. You as a student can benefit from this by taking in the most up to the minute information possible.
Many of the instructors at Real Estate University are highly regarded in the business. Many are involved in different governing bodies and associations in the state of Connecticut. They are owners of brokerages, presidents of management companies and other organizations.
Because they have such a wide variety of expertise, they can help you with any questions you have. They know the minutiae of working in every aspect of the industry including investments and asset management. By having such a diverse background, you can get a full understanding of everything that being an agent entails.
On top of their professional experience, many of the instructors have years of teaching experience. Many of them have been educators for as long as they have been involved in the real estate business. Because of this, you can be sure that you are getting the best possible instruction from experienced teachers.
Real Estate University Course Options
Real Estate University teaches their courses in an online, webinar style format rather than self-paced like other online real estate schools. Because of this, they are able to cater to a huge variety of students from many different backgrounds and professions. Not everyone has the ability to come to an in-person class every day and they understand this.
One of the benefits of the online webinar style of classes is that you get the best of both worlds. You can get your real estate license from the comfort of your own home while still getting a face-to-face experience. This can make the courses more accessible to people who otherwise wouldn't be able to take them.
Many students feel that they learn much better in the online webinar style classes. Some real estate schools only offer on-demand courses with videos and PDFs. If you are not someone who is self-motivated, the webinar classes might be your best option.
By taking courses in this format, you also get the benefit of working with other students. This can help you fully retain the information by learning alongside other people. By having that barometer with which to measure your understanding, you can retain much more of the material.
Student Resources
Real Estate University offers a great deal of resources to their current and former students. By taking advantage of these resources, you can set yourself up for success and get a head start. This is incredibly helpful, especially if you are new to the industry and don't have many connections.
One of the resources they offer is a career center portion of their website. At this career center, you can browse job listings at brokerages in Connecticut and in your specific area. This is invaluable to someone who is just finishing up their pre-licensing requirements.
One of the other resources they offer is an exam prep course. The state real estate exam is one of the most anxiety-inducing aspects of getting a real estate license. By getting a little extra help, you can feel more confident when the time comes to take the state and national exam.
They also offer private tutoring if you feel that you need more help after taking your courses. Private tutoring is available specifically for the real estate exam, in case you are a very nervous test taker. If you are someone who benefits from this kind of one-on-one help, this could be a great resource.
---
Real Estate University Pricing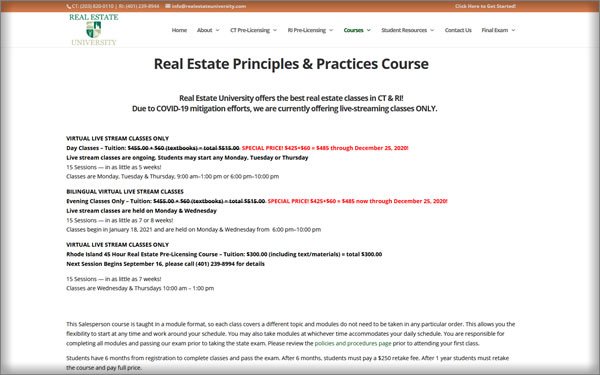 One of the biggest barriers to entry for education is the cost of tuition. Many people put off going back to school, simply because they can't afford the cost of attending. Others end up taking out student loans that are incredibly expensive and can be a major downside of education.
However, real estate school is quite a bit less expensive. It is mostly paid in one single payment and that takes care of the entire cost of pre-licensing. Because of this, real estate school is much more accessible than a four year institution.
In Connecticut, you must receive 60 hours of real estate education to get your license. This can be done in as little as five weeks if you have the time to dedicate to it. This makes a real estate license much more viable for people who are working or have families.
Real Estate University offers courses for both Connecticut and Rhode Island. Even though Rhode Island only requires 45 hours of education, it is recommended that you take all 60. This way, you can get the benefit of the entire span of information.
Pre-licensing Courses
The online, webinar style courses at Real Estate University for Connecticut cost just over $500 to take. This includes your textbooks, which are in hard copy and ebook form, and courses together. At a four year institution, the cost of books alone is well above this price point.
Although $500 is not a negligible sum of money, it is much more affordable than other education options. Against the national average, this is on the lower end of the spectrum for real estate education hours. Because of this, their classes are much more accessible to people from all kinds of socio-economic backgrounds.
One of the downsides of the cost being so low is that it has to be paid all at once. Real Estate University does not offer any kind of financing options or scholarships. Because of this, you will have to be able to pay the price of entry completely before beginning your courses.
If you are getting your license in Rhode Island, the cost is just $300, which includes textbooks and courses. Because there are only 45 hours required, the price of tuition is reduced. This is even more affordable, although it is recommended that you take some elective courses as well.
Private Tutoring
If you decide that you would like to take advantage of their private tutoring, this will also cost extra. For private tutoring, Real Estate University chargers $100 for two hours. With this, you will get one-on-one instruction and study help for the state and national real estate exam.
While this private tutoring is more expensive, it could end up being very helpful for the right person. If you are someone who gets nervous and would like to be prepared as possible, one-on-one tutoring is your best option. Then, you can be sure that you have all your questions answered and are ready for the exam.
---
Pros And Cons Of Using Real Estate University
Pros
Webinar Classes – Webinar style classes are the best way to get an education online. With this type of format, you can get the same feel that you would get in an in person classroom. However, you can take the courses from the comfort of your own home.
Experienced Instructors – Since the instructors at Real Estate University are working in the industry, you get the benefit of that experience. By working with people who know exactly how the business operates, you get the most out of your education. They will be able to answer your questions and give you the best advice possible.
Entertaining Courses – Real Estate University is dedicated to making their courses interesting. By focusing on this aspect of education, you can look forward to taking your classes. Many students find this to be helpful for understanding the often confusing world of real estate.
Career Resources – The resources section of Real Estate University's website is helpful for new agents. If you are not someone who already has connections in the industry, the job board is a great feature. You can get the chance to work with people who know the types of agents that they generate.
Good Response Time – We contacted this school and received a response within 2 hours. This indicates good response times and something you will want to consider if trying to decide about this real estate school.
Cons
No Pass or No Pay Guarantee – A lot of real estate schools offer a pass or no pay guarantee such as Colibri Real Estate. This means that you do not have to pay tuition if you don't pass your courses. However, Real Estate University does not offer this guarantee.
Relatively New School – Many real estate schools have been in operation for many decades. However, Real Estate University has only been in business since 2005. Because of this, if longevity is important to you, you may want to look elsewhere.
Only Six Months to Complete – Once you sign up for your courses, you only have six months to complete them. If you are not sure that you can complete them in this time due to other commitments, try somewhere else. Other real estate schools will offer you up to a year to complete your courses.
Conclusion And Verdict
One of the things that former students brought up is that their classes were very entertaining. Many of them reported that they looked forward to their courses instead of dreading them. If this is something that is important to you, they could be a great option for you.
Many former students also reported that the ability to take courses in any order was very helpful. Since so many people are getting their licenses on the side, they found that this helped them. If you are already working a full time job, they could be a great option.
Hopefully, this Real Estate University review has helped you get a good idea of how they teach and operate. By being armed with as much knowledge as possible, you can go in knowing what to expect. If you are new to real estate education, this can be incredibly helpful.
By reading this Real Estate University review, you have already started on the path to your license. You are now on your way to your exciting and rewarding career as a real estate agent. All that is left to do is decide if this school is for you are should you look for another.
---
---