---
Getting a real estate license can be an exciting prospect. If you're looking for the best online real estate schools in Alaska, you're in luck. We have put together a list of online real estate courses in Alaska to help you narrow down your choices.
---
1. Colibri Real Estate: Best Alaska Real Estate School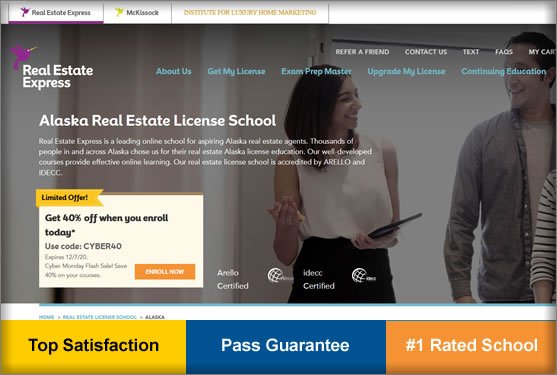 Overview
Colibri Real Estate has been working with students to get their real estate license for many years. In this time, they have put together a curriculum that is both comprehensive and accessible. Serving a wide variety of students, they understand that not everyone learns the same way or has the same needs.
Colibri Real Estate is accredited by the Association of Real Estate License Law Officials and International Distance Education Certification Center. These are incredibly important accreditations for students and professionals. Since they are recognized by these governing bodies, you can be sure they offer a quality education.
The online real estate classes in Alaska offered by Colibri Real Estate are all web-based. This makes them perfect for busy students and people looking to get licensed in their spare time. If you are someone who is working full-time while getting your license, they could be a great choice.
The web-based classes can be taken at your own pace. This makes them a good option if you have a consistently fluid schedule. Not everybody can set aside the same time every day or week for classes. Because of this, busy students should have no problem completing their real estate classes in Alaska.
Course Options
Colibri Real Estate has a wide variety of class package options for you to choose from. These options are designed to cater to many different learning styles and schedules. For example, if you know that you are an independent, self motivated learner, they have a package option for you.
The basic package comes in at around $225. This package includes the 40 hours of required education hours and not many extras. It comes with two real estate e-books and the prescribed curriculum for the Alaska real estate exam. If you are someone who does not need things like test prep, this could be a great option.
The exam preparation package is just $25 more and has features that can help you on the real estate test. This is done in the form of exam simulations and practice tests. If you feel comfortable with the test before taking it for real, odds are you will do much better.
The exam prep plus package comes with everything that the above packages have, plus an instructor Q&A. By being able to work face-to-face with an instructor, you can ask questions in real time. Many students find this to be incredibly helpful by being able to address individual concerns with an experienced teacher.
Colibri Real Estate: $180 Off Ultimate Learning Course
33 uses today
Last Used: 16 hours
---
2. Royse and Associates: Online Real Estate Classes in Alaska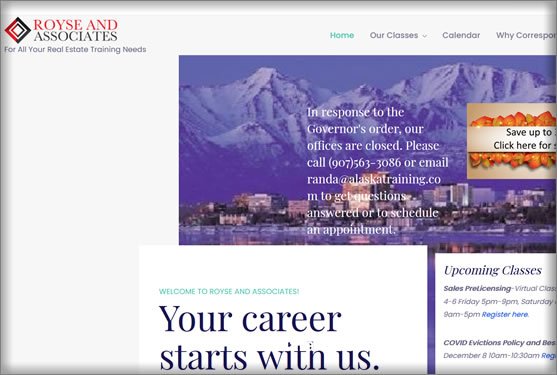 Overview
Royse and Associates is one of the premiere real estate schools in Alaska. They have worked with thousands of students over the years and translate that experience to quality. Their students often return for more education, which is not the case for all online real estate schools in Alaska.
The founder and president of Royse and Associates has years of on-the-job training in the real estate industry. He has been an instructor for real estate classes in Alaska for over a decade. Over this time, he has also worked on over 1,100 real estate transactions in the state.
This type of experience is incredibly valuable to students. By taking the solutions and techniques he has learned and turning them into curriculum, you have a lot to gain. Not all real estate schools in Alaska have this kind of hands-on experience to turn into lessons.
Royse and Associates offers both in-classroom and web-based real estate classes in Alaska. They use a combination of technology and old-fashioned schooling to provide a well rounded experience to their students. If you like options when it comes to how you learn the material, they could be a great choice.
Course Options
Royse and Associates offers one class package that can be taken in a number of different ways. Because you do not have to choose one delivery method, you can mix and match as you see fit.
This could be a fantastic feature if you are someone who has a consistently changing schedule and needs flexibility.
The delivery methods offered by Royse and Associates are correspondence-based and webinar style. If you would like to take both and have access to all of the choices, that is included. This ability to change how you are taking your classes is not typical of all real estate schools in Alaska.
At $349, the courses at Royse and Associates are in the middle of the price spectrum. However, they also include things like test prep and flashcards to help you study. Since the package is all-inclusive, it may not be the best choice if you do not need extra exam prep.
The live classes are taught by the founder and president himself. This kind of face to face instruction is very important and could be the defining feature for some. Because of this, the live webinar courses may be the best option if you can schedule time to attend them.
---
3. Alaska Real Estate Education: Online Real Estate School Review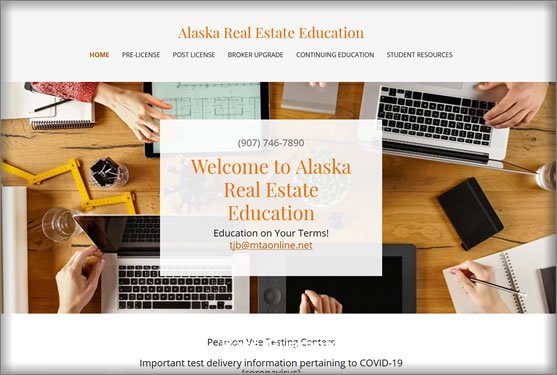 Overview
Alaska Real Estate Education is dedicated to giving their students the most localized and accurate education. They are deeply connected to the community and feel that it is important that you are as well. Knowing the Alaska market that you will be working in can be a valuable thing when you are first starting out.
The founder and instructor of Alaska Real Estate Education, Traci J. Barickman, is highly experienced. She has been awarded several important distinctions such as Accredited Buyer Representative and Certified Residential Specialist. These distinctions mean that she has been working in the industry for years and has experience to show for it.
One of the things that sets them apart is their commitment to excellence. The standards at Alaska Real Estate Education are incredibly high and this comes through in the courses. If you are someone who wants to get the most thorough education possible, they could be a great choice.
Alaska Real Estate Education believes that real estate is all about integrity. Many real estate schools in Alaska will just try to get you in and out and licensed. Instead, Alaska Real Estate Education likes to nurture their students and get them prepared for their career.
Course Options
The courses offered by Alaska Real Estate Education are a combination of live webinar and correspondence. This means that you get a mix of self-guided, independent lessons as well as a live classroom experience. This combination can prove to be incredibly effective and give you the best chance at retaining the information.
The benefit of combining these two types of courses is that you will have a chance to absorb the information. For example, something may come up in your independent study that you have a question about. If this happens, you have a chance to go over it with Traci and ask any relevant questions about it.
At $375, they are at the top of the price spectrum when it comes to real estate schools in Alaska. However, with Traci's wealth of experience, you are sure to get the most relevant and important information you possibly can. Because of this, they are a great choice for people who are incredibly serious about starting their real estate career.
With that price of admission, you will also receive a hard, printed copy of the textbook. Printed textbooks have been shown to give students an edge on the real estate exam and the material in general. Many real estate schools will simply send you a PDF of the textbook, which is not nearly as effective.
---
Final Thoughts for Alaska Real Estate Classes
Getting your real estate license is by no means easy, no matter what kind of learner you are. However, by choosing the right real estate school, you can give yourself the best possible chance at success.
There are many factors at play when picking a real estate school. We hope that by reading about the best online real estate schools in Alaska, you have a better understanding of the options. The only thing left to do now is register for your courses and get started in your new career.