---
Looking for the best online real estate schools in Kentucky? Then we have the answers you're looking for.
Choosing to pursue real estate as a career can be a positive step for residents of Kentucky. There is money to be made and work-life balance to be achieved. No matter what stage of life you are in, whether you are starting your first career or changing careers, real estate can be for you.
We have researched and put together a list of the best online real estate schools in Kentucky. This list is designed to give you the information you need to get started on your real estate journey. Choosing one of these top real estate schools in Kentucky will be a step in the right direction for any student.
---
---
---
---
4. My Classes: Top Real Estate Online Exam Prep Review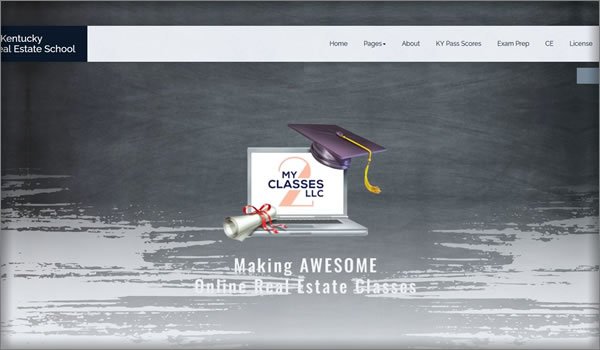 Another one of the real estate schools in Kentucky that is just in Kentucky, the 2 My Classes LLC is a company that prides itself on education. They are educating the future generation of real estate agents.
With over 30 years in the industry of real estate education, the founder and owner of this school is a sought after instructor. Her acclaim isn't just in Kentucky, but all over the country as well.
One of the main things this school can offer that other real estate schools in Kentucky can't is passion. Long with experience, passion has taken this real estate school and the students to new heights.
The cost of tuition is affordable, at just under $400, it is something that a larger demographic of students can have access to.
Once you register and pay for your Kentucky real estate course, you will have immediate access to the course materials. Students can get started right away so they can complete the course on their timeline.
The tuition cost also includes the textbook, written by the founder of 2 My Classes LLC, as well as the videos that go along with it and the Real Estate Law Review.
The sections are designed to fit into a busy life. If you only have about 15 minutes you can still get something done. In fact, most sections can be completed in that amount of time.
This system is top of the line. With a bookmarking system, you won't have to think about where you left off because the system has done it for you.
With a review built-in, you will be well prepared for your exams. However, if you get stuck or have any questions, the instructors are available. You can set up an appointment with them through nearly any method.
Your instructor is going to be the founder of the school and the author of the book. Joyce Bea Sterling is the woman who built this Kentucky Real Estate school and makes herself available to the students.
2 My Classes LLC does continuing education as well as exam prep help. The time you have from enrollment to complete the class is six months. This is plenty of time, however, life does get in the way sometimes.
If you need an extension in your classes, you can get a 6-month extension for $100. This cost does go up if the book has been updated.
---
Prerequisites for Kentucky Real Estate Pre-License Courses
There are prerequisites that must be met before you can take the pre-licensing courses. Students first of all must be at least 18 years of age. Students also must have a high school diploma or equivalent.
Kentucky Real Estate License Requirements
If you meet the prerequisites then you are ready to start gathering what is required to be fully licensed.
Kentucky requires 96 hours of pre-licensing courses to be completed before taking the state or national exam.
Once you have a passing grade on the exams you will need a background check. Provided you pass the background check, you will need to find a sponsoring broker.
If you complete all of those steps then you are a licensed real estate agent.