---
Looking for the best online real estate schools in Kentucky? Then we have the answers you're looking for.
Choosing to pursue real estate as a career can be a positive step for residents of Kentucky. There is money to be made and work-life balance to be achieved. No matter what stage of life you are in, whether you are starting your first career or changing careers, real estate can be for you.
We have researched and put together a list of the best online real estate schools in Kentucky. This list is designed to give you the information you need to get started on your real estate journey. Choosing one of these top real estate schools in Kentucky will be a step in the right direction for any student.
---
1. Colibri Real Estate: Best Online Real Estate Class In Kentucky Review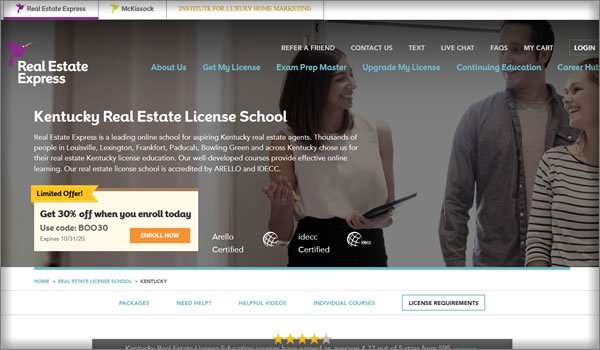 Colibri Real Estate is one of the top online real estate schools in Kentucky. While they have a great reputation in Kentucky, this isn't the only state they serve.
As a national chain, students all over the country can benefit from their well designed real estate classes in Kentucky. They are very consistent with their class structure and design.
Their reviews show that students are widely satisfied with Colibri Real Estate and find the platform user friendly. They do provide options for their students in the form of different packages.
Many real estate schools in Kentucky offer different packages but what the packages offer is what makes the schools different.
The packages that are offered have the real estate classes in Kentucky that are required for licensing. These are part of every package that is offered.
The first package that is offered is called "the basics." That is just what it is. This package has a price of just over $300, which makes it affordable for many students.
It includes the pre-licensing courses, ebooks that are needed, and instructor support. The packages build on each other.
The next package has everything the basic package has but adds extra features for Kentucky students. With exam prep, a pass guarantee, and prep for success membership, this package is a great choice.
It is still affordable staying under $400 for everything.
The next package that is available is the exam prep plus package. If you need extra help preparing for your Kentucky licensing exam or the national exam, this may be the package you need.
This package adds to the previous two by including the required post-licensing courses as well as a real estate dictionary and a Q&A session with a Kentucky state-certified instructor.
The very last and most expensive package is the ultimate learning package. In addition to what the exam prep plus has, this one includes a printed textbook and a one-year professional development membership.
Regardless of which one of the packages you choose at the Kentucky Real Estate License School from Colibri Real Estate, you will be set up for success.
Colibri Real Estate: $135 Off Ultimate Learning Course
33 uses today
Last Used: 2 hours
---
2. The CE Shop: Top Online Real Estate School In KY Review
See the video below for a complete walk-through of The CE Shop course:
The CE Shop is one of the best online real estate schools in Kentucky. This can be contributed to the updated course materials they have. The CE Shop is always updating their courses based on what is happening in the world of real estate.
The Kentucky Sales Associates program that is offered through the CE Shop has some appealing features. The best feature is the free trial offer.
Not every one of the online real estate courses in Kentucky is going to be the best for every student. Having the ability to try the course first is a great feature. The CE Shop is one of the only real estate schools in Kentucky that offers a free trial for students.
The website for these online real estate courses in Kentucky also offers a demo video. Often potential students have questions about the format of the course. Navigation is also usually a concern for students.
The demo video The CE Shop offers takes many of the questions away from the students. As well as free trials and demos, they also offer students four packages to choose from.
Offering a range of packages for students in Kentucky can make online real estate classes in Kentucky more accessible for a larger amount of students.
The most basic and affordable package is the courses only package. While all of the packages have books, career resources, flashcards, glossary, study schedule, downloads, and webinars, each package offers different features.
The basic package only has the courses. The next package, the standard package, adds on the exam prep course for both the national exam and the Kentucky state exam. This package also comes with a pass guarantee for Kentucky students.
The value package is the most popular package and is the best value. This package continues to build on the resources offered in the basic and standard packages.
The value package helps you get a jump start on your business by adding the business building package. This is a course that goes through real-world real estate scenarios for students.
The last package for these online real estate classes in Kentucky is the premium package. This package includes the post-licensing course all Kentucky real estate agents have to take during the first year of working.
If you are still on the fence about taking real estate classes in Kentucky from The CE Shop, the passing rate might be what sways you. This school has a national passing rate of 95% and a Kentucky state passing rate of 79%.
---
3. Kentucky Real Estate College: Online Course Review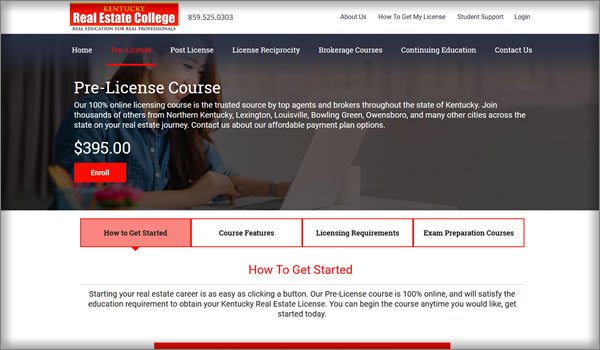 Kentucky Real Estate College is one of the online real estate schools in Kentucky that offers fully online and on-demand classes. This is ideal for busy students that need everything to be user-friendly and streamlined.
This is not a national chain of real estate schools. This one of the online real estate schools in Kentucky that solely focuses on helping Kentucky residents realize their real estate dreams.
Because they are only focused on the state of Kentucky, they are able to keep up with the changes in the industry as they come. This allows for the most up to date course materials and instruction.
Kentucky Real Estate College doesn't offer different packages. There is only one pre-licensing package that the students can choose from but it is a complete course.
The complete course that is offered through one of the several real estate schools in Kentucky, is what is considered all-inclusive.
The course offers students in Kentucky the classes that are required, instructor support as well as tech support, unlimited access to practice exams, personalized exam help, and a student forum so they can get peer help.
This course is very affordable and a great value. Everything that we mentioned is less than $400.
One of the great things about this school is that they don't only offer a pre-licensing course. This is a full-service real estate school.
They offer the post-licensing course as well. Each real estate agent in Kentucky will need to take the post-licensing course during their first year of practice. This allows them to be able to renew their license.
Kentucky Real Estate College also offers brokerage classes for those that want to take their career to the next level. Brokers in Kentucky can have their own real estate office and build a team. This type of real estate course is not offered by all of the real estate schools in Kentucky.
If this is a goal of yours, then you might want to consider a school that offers all you will need for your career.
Whether you are just getting your license or are ready to take your career to the next stage by truly being your own boss, Kentucky Real Estate College is one of the online real estate schools in Kentucky that can help you achieve your goals.
---
4. My Classes: Top Real Estate Online Exam Prep Review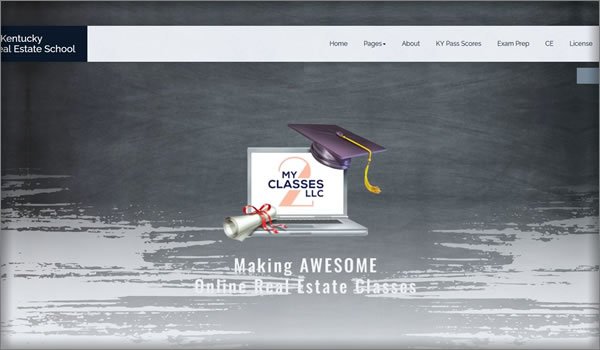 Another one of the real estate schools in Kentucky that is just in Kentucky, the 2 My Classes LLC is a company that prides itself on education. They are educating the future generation of real estate agents.
With over 30 years in the industry of real estate education, the founder and owner of this school is a sought after instructor. Her acclaim isn't just in Kentucky, but all over the country as well.
One of the main things this school can offer that other real estate schools in Kentucky can't is passion. Long with experience, passion has taken this real estate school and the students to new heights.
The cost of tuition is affordable, at just under $400, it is something that a larger demographic of students can have access to.
Once you register and pay for your Kentucky real estate course, you will have immediate access to the course materials. Students can get started right away so they can complete the course on their timeline.
The tuition cost also includes the textbook, written by the founder of 2 My Classes LLC, as well as the videos that go along with it and the Real Estate Law Review.
The sections are designed to fit into a busy life. If you only have about 15 minutes you can still get something done. In fact, most sections can be completed in that amount of time.
This system is top of the line. With a bookmarking system, you won't have to think about where you left off because the system has done it for you.
With a review built-in, you will be well prepared for your exams. However, if you get stuck or have any questions, the instructors are available. You can set up an appointment with them through nearly any method.
Your instructor is going to be the founder of the school and the author of the book. Joyce Bea Sterling is the woman who built this Kentucky Real Estate school and makes herself available to the students.
2 My Classes LLC does continuing education as well as exam prep help. The time you have from enrollment to complete the class is six months. This is plenty of time, however, life does get in the way sometimes.
If you need an extension in your classes, you can get a 6-month extension for $100. This cost does go up if the book has been updated.
---
Prerequisites for Kentucky Real Estate Pre-License Courses
There are prerequisites that must be met before you can take the pre-licensing courses. Students first of all must be at least 18 years of age. Students also must have a high school diploma or equivalent.
Kentucky Real Estate License Requirements
If you meet the prerequisites then you are ready to start gathering what is required to be fully licensed.
Kentucky requires 96 hours of pre-licensing courses to be completed before taking the state or national exam.
Once you have a passing grade on the exams you will need a background check. Provided you pass the background check, you will need to find a sponsoring broker.
If you complete all of those steps then you are a licensed real estate agent.