---
New York is home to some of the country's greatest treasures, and equally special is the state's real estate market. As more people pour into New York in search of excellent housing, more agents are needed, and one of the options for education is the New York School of Real Estate. We've rounded up everything you need to know about the school in this New York School of Real Estate review.
---
UPDATED: November 2022
Our Overall Rating

---
Overview Of New York School of Real Estate
This real estate school teaches both online and live courses to students across the state. One of the younger schools in New York, this institution has quickly made a name for itself, in large part because of its instructors. Doug Vairo is the director of the institution and has decades of experience training both mortgage and real estate professionals across the country. Through his teaching commitments of weaving together both entertainment and educational elements into the coursework, the school has also shaped its curriculum around his beliefs.
Joining Doug Vairo are Robert Tuzzo, Eric Busuttil, and Ralph Andrews, all professionals in the real estate profession with varying specialties. This entire team, comprised of two mortgage professionals and a New York State Real Estate Attorney, brings a unique perspective to the school. As such, students can expect to receive a very in-depth education that is well-rounded and based on decades of professional experience.
Because the school is new, it has not received any awards for its services. However, it is a state-approved real estate licensing institution. Additionally, they do boast many testimonials from students across the state, with students praising the instructors, learning style, and entertaining classroom involvement. When a school is relatively new like this one, reviews from alumni speak volumes, particularly when not much other information is known about the school.
In-Depth Look at New York School of Real Estate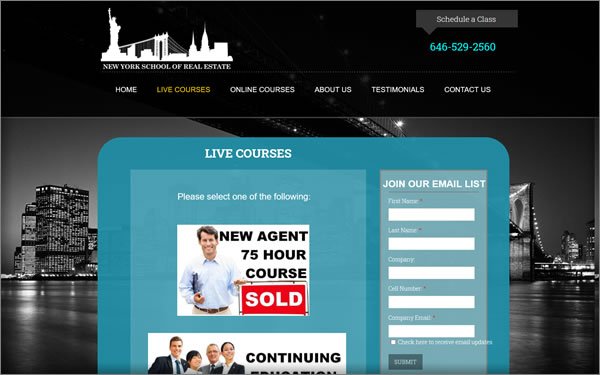 As mentioned above, the New York School of Real Estate offers both in-person live classes and online coursework. Additionally, this school does offer continuing education and mortgage courses, though this review is focused on the pre-licensing coursework. There are a few locations, including Staten Island and the Bronx and expansion is expected as the school continues to gain notoriety.
In-Person Coursework
As for the in-person course working, you can expect the 75-hour state requirement filled via an expansive curriculum. Courses can include law of agency, land use regulations, property management, property insurance, human rights and fair housing, and income tax issues in real estate transactions. Upon completing the required time commitment, you will need to pass the course's final exam with a score of at least 70% before advancing forward with the application process.
Online Coursework
When it comes to the online coursework, the New York School of Real Estate works in conjunction with Mbition to provide students with online learning. This means that the school does not run its own online education system and instead uses a third party via referral. As such, any issues, concerns, or support for online learning will need to be directed to this third party. So, while the school advertises online options, the courses and curriculum are not the same as the in-person experience at the school.
In-Person Support
As for support, the NYSORE does offer online contact forms, a number, and an address for contact. However, the site remains outdated and does not offer on-demand assistance. On the other hand, if you opt for an in-person course structure, you will have direct access to the instructor and peers as part of a support system.
Online Mbition Support
When opting for the online coursework through the partner Mbition, the site is much more current. It offers online chat, email, and an online contact form for technical issues rather than instructor support for career guidance. For clarification, Mbition is a national brand offered in multiple states and is not unique to NYSORE.
Upon completing the school's 75-hours of coursework, students will be guided through the rest of the process to become a real estate agent from submitting a student affidavit, passing the state licensing exam, the school's proctored final exam, as well as locating a credible broker.
New York School of Real Estate Pricing
The school's pricing depends on whether you're taking the in-person or online version of the coursework. Online coursework is sponsored through Mbition. Mbition offers three package options ranging from Silver to Gold to Platinum. Each package tier offers its own unique benefits and subsequent pricing.
Mbition's Silver Package
This package includes the state's required 75-hour pre-licensing coursework consisting of interviews and video and audio lectures that can be listened to at the individual's pace. The package also includes MathMaster, which helps students understand real estate transaction math. Additionally, the package also includes technical and instructor support, though the instructor support is not necessarily from the New York School of Real Estate's certified instructors. At the time of writing this review, the Silver Package costs $229.99.
Mbition's Gold Package
In addition to the above features included in the Silver Package, the Gold Package also consists of a New York Real Estate Exam Prep and a first-time pass guarantee. The price for this tier at the time of writing is $294.99. This means that if you do not pass your state licensing exam on the first attempt, Mbition will fund your retake. This is accompanied by the exam prep to help increase your chances of first-time passing.
Mbition's Platinum Package
The third and highest Mbition online learning package is Platinum, which comes in $344.00 at the time of this review. This is the most comprehensive package. It includes all of the Gold tier's benefits and Real Estate Exam Prep Toolkit, which is more in-depth than the original exam prep and a New York Real Estate textbook for Salespersons sixth edition.
In-Person Pricing
As for the in-person live learning sessions, the price is universal without package tiers, but the exact price is unknown as this institution does not have its prices published online. However, the industry average is between $200-$300 for online coursework and with the added fee for live training, it could run anywhere for $400-$800.
Pros And Cons of Using New York School of Real Estate
Pros
Locally Based
This school is New York created, based, and owned. As such, there is unique information that the instructors and leaders can offer to students who choose to attend in-person sessions. In addition, they will possess unique insight into the local market and offer guidance based on the decades of experience they have. Students can feel confident in knowing that they're being trained by people who not only know but have thrived in the same market they will soon enter.
Extensive Coursework Coverage
Students can enjoy a wide breadth of course offerings at this school. All of its coursework is published online so it's easy to take a look and make sure what is being covered is ideal for you before committing. But when choosing to study at NYOSRE for your pre-licensing coursework, you can expect to learn the ins and outs of the industry, from a light introduction to mortgages to property management best practices.
Excellent Testimonials
Students rate their experiences at NYOSRE very highly and praise all aspects of the learning environment. Many praise the curriculum's ability to be taught engagingly and interactively rather than a lecture-based course that can bore students to the point of not absorbing information effectively. This is due in large part to the instructors.
Experienced Instructors
When it comes to the live teachings, an all-star team has been constructed at NYOSRE to help students learn effectively and efficiently. From the director and trickling down to the other team members, these instructors boast decades of experience that cannot be learned or replicated. Experience cannot be taught and in this case, all of the learned knowledge will be a major benefit for students.
Convenient Locations
Though a young real estate school in New York compared to others who have been long standing, there are already multiple locations that allow for students across the city to attend live course sessions without long commutes or complete inaccessibility.
Cons
Pricing
Pricing is unclear on the site for in-person learning. However, the online coursework via Mbition is completely on par with industry averages. Thus, the pricing is not necessarily a pro for choosing this school, especially because the partner Mbition is essentially independent of the New York School of Real Estate.
Outdated and Incomplete Online Information
Unfortunately, this institution's website is severely lacking in modernity and thoroughness. There are broken links, and compared to competitors, there is not nearly as much information for prospective students to analyze before making a decision. Students must directly reach out to the school for any questions and information beyond the little published on the site.
Lack of Support
The support system for NYSORE is severely lacking. The online contact form and phone number are the only ways to get in touch with the business. Considering most people do not care to make phone calls these days for information and phones are usually only staffed during business hours, many will find it impossible to receive assistance when needed. However, if you happen to run into an issue when physically in class, you may speak directly with your instructor for help. If you choose to use online learning via Mbition, they have a great support system, though, once again, it is not necessarily related to NYSORE.
New and Novice
As with any new business, there are many kinks in the beginning stages that make it difficult for students to receive the best possible education. We believe that as the school continues to gain its footing and potentially moves to its own online curriculum, it may be a better experience for students, but as of now, that is not the case. In choosing NYSORE for your online education, you're choosing an affiliate without the benefits that a locally grown school can offer.
Must Call to Schedule a Course
There are no schedules or course availability posted on the website. Instead, prospective students are expected to call and schedule a course if they're interested. This may be a hurdle for some as it's easiest to look at all options ahead of time rather than having to contact the school and speak with someone when there may not even be a course available or one that fits your schedule.
Unsecured Website
When a website gathers data from people, whether via a contact form or accepting payments, they should always be sure their site is secured via the hosting company their site is published through. If they do not ensure this, customers' data is vulnerable to hackers collecting and selling. For example, if NYSORE were collecting credit card payments for courses or asked people to create an account on their site with a password and email, that data is completely unsecured. We would not want to put any data into a domain that is not secured, and we do not recommend any others do either.
Final Thoughts
To reach a definitive decision on whether this institution is worthwhile, we believe it's important to review what previous students have to say about the school. While the website does have testimonials available, and they are believed to be true, we like to look at other sources for more information and New York School of Real Estate Reviews that is hopefully unbiased.
The New York School of Real Estate is not a Better Business Bureau accredited business. This means that the school has not been vetted by the highly reliant Better Business Bureau and received a score for its services and interactions with customers. Low ratings may mean fewer customers for a business, while many may find high ratings the motivation needed to choose a specific business. NYSORE offers neither and thus does not have a rating.
On the same note, NYSORE does not have a Yelp page or another online space for alumni to submit reviews regarding their time at the school. The lack of information regarding experiences at this institute is alarming when paired with little to no information on the website regarding services.
When it comes to Mbition, the partner that this school's online program is through, reviews are widespread and, for the most part, positive. However, Mbition's separate reviews are not applicable to NYSORE and its business practices. Though linked through a referral, the two businesses are completely individual and are not interchangeable.
Conclusion And Verdict
Given all of the information found while analyzing the New York School of Real Estate, we cannot recommend this institution for any student's pre-licensing coursework at this time. As with any business, there are many pros and cons. However, the cons outweigh the pros entirely here, and there is little to benefit in the end.
Unfortunately, the issues begin with something as vital as the lackluster website and scale upwards into a lack of information and transparency. The saving grace here seems to be the online coursework, yet it is not the school's curriculum or instructors guiding that learning. It is a third-party, Mbition.
(See our guide to the best online New York real estate schools for better choices.)
If we were to recommend any part of this school, it would be to validate their partnership with Mbition, a national brand that often lands on top of our list for recommendations state to state. (Although Mbition is never our top choice for a real estate school but they're ok.) However, we would not wholly cast off NYSORE, and in the future, as the business continues gaining its footing, we hope that things are improved on all fronts.
New York State is sprawling and densely populated. As such, there are many real estate institutions across the state, both in-person and online, and both local and national brands. As such, we feel more confident in recommending other schools, such as the New York Real Estate Institute, or a more developed online real estate school like The CE Shop or Colibri Real Estate.
---
---