---
Real Estate School for Success is an option you might come across when searching for a real estate school in South Carolina. The school has great options to consider, but a few causes for concern you will want to consider before making a commitment. Everything you need to know about this school can be found in this Real Estate School for Success review.
---
UPDATED: February 2023
Our Overall Rating

---
Overview Of Real Estate School for Success
Real Estate School for Success, also known as South Carolina Real Estate School for Success, was formed in 2005. The school has gone on to educate thousands of students, all led by lead instructor Frankie Griffin. Frankie Griffin hosts a radio show sharing his real estate endeavors on 1007.1's Success in Real Estate with Frankie Griffin.
In addition to Frank Griffin, the other instructors at this school are well-qualified and committed to your success. Beginning at the top, Stacey Starnes is the owner of the school and oversees its operations. She is a top-selling real estate agent and opened the school shortly after obtaining her own license.
She noticed a gap in education for South Carolina students and wanted to help bring quality options home. As such, she, and her colleagues, are committed to giving students everything they need to be successful agents.
When asked what makes her real estate school different from the others, owner Stacey Sanders said it's that she cares, wants her students to succeed, and because all officials at the school are active, practicing agents themselves.
Transparency speaks volumes, and luckily, this real estate school includes a lot of information about its instructors and practices online. Students won't need to wonder who is teaching them and why they are qualified to do so. All of the information is easily available.
The school's mission statement, in short, is to provide quality education to professionals that want to become quality real estate careers. Their education is to be provided by the most qualified and experienced instructors the school can supply.
Through these high standards and best practices, the school is certified by the South Carolina Real Estate Commission.
---
In-Depth Look At Real Estate School for Success
Offering both online and in-person learning, this real estate school is a dynamic option for residents. The school offers real estate licensing courses as well as brokers, continuing education, property management, home inspection, and appraisal licenses. For the purpose of this review, we will focus on the pre-licensing coursework, also known as the real estate salesperson license.
As mentioned above, this school offers its courses both online and in person. When it comes to online, the experiences are pretty universal. Students can expect recorded video lectures from previously held, real classroom teachings, online discussion boards, video-based training, and an optional weekly live Q & A.
The course can be purchased all at once, or it can be divided into two units and purchased/taken separately. Unit One focuses on Real Estate Principles, and Unit Two focuses on Advanced Real Estate Principles. The first unit is 60 hours and the second only 30, for a total of the state-mandated 60-hour workload.
The in-person live learning sessions are held at a number of locations, making it convenient for students across the state. Locations include:
Aiken
Charleston
Columbia
Florence
Greenville
Myrtle Beach
Orangeburg
Rockhill
Spartanburg
Sumter
The in-person courses are offered in flexible schedules with weekdays, half-day, weekends, and weeknight options. The duration of courses is set based on the type, of course, you can attend.
If you are able to attend weekdays, Monday-Thursday from 8:30 to 5:30 pm, you can be done studying in as little as eight days!
But, if you choose to attend the weekend-only classes (which are only on Saturdays), the course will take eight weeks or more to complete!
You will need to spend some time comparing your schedule capabilities with the desired length of trying to get your license before making a decision.
Regardless of whether you decide to study online or in person, you can expect the process to remain the same. Attend all required courses, pass the school's final exam, receive a certificate of completion, pass the state exam, and submit your application.
What the Courses Consist Of
Agency and Property Disclosure: Your Guide to Success.
Real Estate Contracts: A Master's Approach.
Ethics and Real Estate For the New Agent.
Making It Count! Measurements and Valuation.
Investing in Real Estate
Exam Preparation Course
Though not included in your course purchase, it's important to include their exam preparation course as it works In conjunction with normal coursework. The exam prep is led by Frankie Griffin and covers all necessary topics, including agency, property ownership, land use controls and regulations, contracts, real estate calculations, and more.
---
Real Estate School for Success Pricing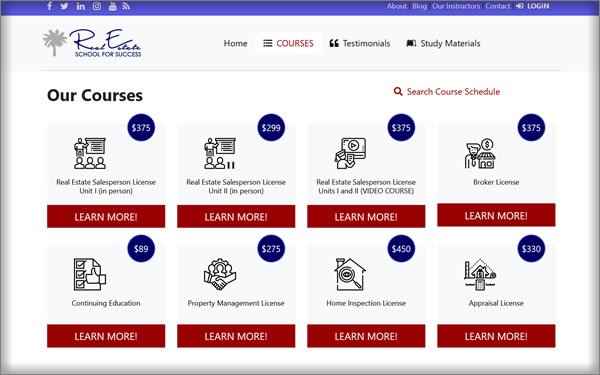 For online courses, they can be purchased as one package deal or separately in the two units. If purchasing together, you can expect to pay a total of $644. If purchasing separately, expect to pay $375 for Unit One, the sixty-hour course. For the thirty-hour course, Unit Two, the cost is $299. So by purchasing both at once, you save $30.
The price difference to purchase the two units separately is fairly small in the grand scheme of things. You might consider it as a fee for the convenience of purchasing separately.
As for the in-person courses, the complete course, including both units, runs for $644.00. If you need to separate the courses into two units for time or money restrictions, the first unit is $375. Because the in-person classes run at pre-scheduled times throughout the year, you will need to wait to schedule your second unit until later on. The second portion of classes will be $299.
It is rare that a school offers their online and in-person courses for the same amount, so this school's ability to do so is great. Students won't be punished with higher prices for choosing the online course offering. Instead, it will be the same as the online option.
So while there aren't package tiers at Real Estate School for Success, there are a few different course structure options that provide a bit of flexibility.
Also, the exam preparation course offered by the school is available for $149 and is strictly available online.
---
Pros And Cons Of Using Real Estate School for Success
Pros
Pricing
Pricing for Real Estate School for Success is fairly standard. A unique feature of this course is that it offers both online and live learning for the same price. Instead of having your course hiked up depending on the mode, in-person learning remains affordable as well.
Customer Approval
Real Estate School for Success claims to have one of the highest customer approval ratings in the business. This is evident in their many praising reviews, with students citing engagement and instructor support as major positives.
Flexible Formats
A major component of this review is that they offer classes in adaptable formats. Even more so, the courses remain of the utmost quality across different formats. This means if you choose to study online, you won't need to worry about receiving a half-effort education.
Well-Qualified Instructors
Not only are the instructors passionate about the real estate industry, but they're also well-qualified too. In choosing this school, you can study easily knowing that your instructors are locally based and trained with unique insight into the South Carolina market.
Contact and Support
Students and potential enrollees will love the easy access to questions and concerns. In addition to the online chat option, which operates during business hours, you can find an email, phone number, and address for further contact online.
In House Marketing Agency
An all in one shop, this real estate school also has an in-house marketing option that can help you start your career on the right foot with quality marketing materials. While there will be an additional fee, you won't need to go searching for this extra service as it's easily available.
Multiple Course Exam Chances
Before you go on to take the state licensing exam, you'll first need to pass the course exam at the school. Therefore, they give you three chances to pass the course exam. After the third attempt, students are required to purchase the course again with a 50% discount before they may test again.
Generous Absence Policy
If you're enrolled in the in-person courses and miss a day of instruction, you have options. You're encouraged to take the next class in rotation that covers your missed day's curriculum. If that is impossible as well, you will have a total of six months to finish all course materials and pass. So long as you finish all requirements by that point, you're good to go.
Exam Preparation Materials
Studying is made much easier with quizzes weaved throughout course instruction as well as study guides. However, if you would like any additional study assistance, you must purchase an exam prep add-on.
Multiple Locations
If you choose to study in person, it is made convenient with multiple locations across Southern Carolina. While competitors might offer no in-person learning option, or limited location and availability, Real Estate School for Success prides itself on flexibility and accessibility.
Peer and Instructor Interaction
Both school formats, though especially the in-person option, offer interaction. In person, you're able to ask questions on demand and engage with peers during classes. Online you'll have access to weekly Q & A sessions that allow for dedicated help.
Multiple In-Person Time Frames
While the online course option may be accessed anytime, the in-person option tries its best to be as flexible. Students can choose between days and times that work for them. If you have a full-time job during the week, opt for the weekend class and vice versa.
School Blog and Information Corner
The school also offers a wide-ranging blog on all things real estate. This is a great information corner to gather up-to-date information on what's happening and some tips and tricks that may help you practice real estate better down the line.
Cons
Unsecured Site
One of the most important aspects of choosing an online real estate school is security, though it might not be your first thought. When putting information into a webpage and investing time, money, and energy into something like online education, you'll want to be protected from start to finish. Unfortunately, this school's website is unsecured, leaving all parties vulnerable to danger.
One Package Offering
Unfortunately, this school only offers one tier level for their courses. While other schools might include a basic, deluxe, and premium, you'll only find one option here. If price is a deterrent, or if you're looking for something more customizable to your needs, this school may not be the best choice.
Conclusion And Verdict
Analyzing Reviews
A Real Estate School for Success Review wouldn't be complete without fully assessing what alumni thought of this school and its offerings. To have the best idea, we look to sites like TrustPilot and Better Business Bureau to better understand what students think of this school outside of potential prompted reviews by the school.
When it comes to the Better Business Bureau, this school is not accredited. While this doesn't negatively reflect on the school, it does not act as a layer of authority like the accreditation does for other schools. The BBB recognizes businesses for their best business practices and efforts to satisfy all customers. This also means there have been no major issues resulting in a BBB complaint, which is a positive.
On Indeed, the school rates very well. Of 32 reviews, the school has an average of 4.7. Highlights of these reviews included alumni agreeing their course had good teachers, was affordable, had flexible class hours, and a positive environment. Students also said the school was a great preparer for the national and state portion of the licensing exam.
Final Verdict
After weighing all of the school features and even other's Real Estate School for Success reviews, we are happy to recommend this school for students in South Carolina. Regardless of whether you're looking for in-person or online learning, this school has you covered. However, we suggest proceeding with caution.
You can expect passionate, well-qualified instructors and an engaging curriculum to prepare you for the ultimate goals of becoming licensed and being an excellent agent.
Moving forward, the school would benefit from strengthening its security for students' sake. We would also like to see them offer more flexible options that cater to all students instead of simply lumping one general offering together.
With these adjustments, the school would have glowing recommendations from us. However, as things stand now, we still recommend it, but it's just not one of our best South Carolina real estate school options. We would recommend Colibri Real Estate over Real Estate School for Success.
---
---